Rangers Josh Hamilton Has Two Fractured Ribs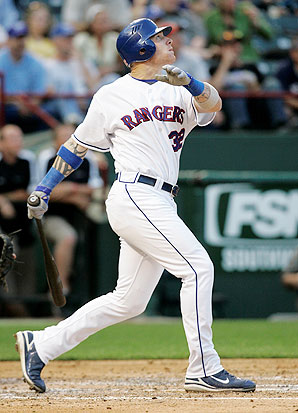 ESPNDallas.com is reporting that Texas Rangers AL MVP candidate OF Josh Hamilton has been diagnosed with fractures to his seventh and eighth ribs. He and his doctors discovered this during a series tests that took place on Monday.
Hamilton received a anti-inflammatory shot and a epidural in an effort to give the slugger some pain relief. If the treatment works and the pain becomes manageable Hamilton will be cleared to return to baseball related activities.
Manager Ron Washington was hoping to get Hamilton some at-bats before the post-season started, but if it doesn't work out that way he will still be on the playoff roster.
The Rangers are eight games up on the Oakland Athletics in the AL West and playing consistent baseball winning 7 of 10. Hamilton hasn't played since crashing into the wall in Minnesota on September 4th. The Rangers are 8 of 14 over that stretch.
Related Articles on SteroidsLive: