Joey Votto Slugs His Way to NL MVP Honors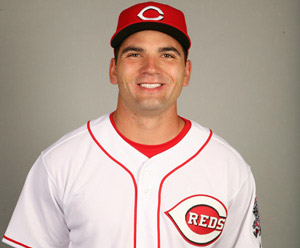 The Associated Press released Monday that Cincinnati Reds 1B, Joey Votto, is the 2010 Major League Baseball NL MVP. Votto received 31 of 32 first-place votes from the Baseball Writers Association of America. He was named to his first All-Star game and helped lead the Reds to their first post-season appearance in 15-years. Votto hit .324 with 37 HRs and 113 RBIs during the regular season.
St. Louis Cardinals 1B, Albert Pujols, received the only other first place vote and finished runner-up in the voting. Rockies OF Carlos Gonzalez finished third, Padres 1B Adrian Gonzalez finished forth, Rockies SS Troy Tulowitzki finished fifth, and Phillies SP Roy Halladay finished sixth.
This is the 12th time the Reds organization has had a player receive NL MVP honors. Votto is the first Reds player since Barry Larkin to achieve this feat – Larkin won the award in 1995.
Related Articles on SteroidsLive: