The Yankees Suck . . . But Let Me Tell You Why!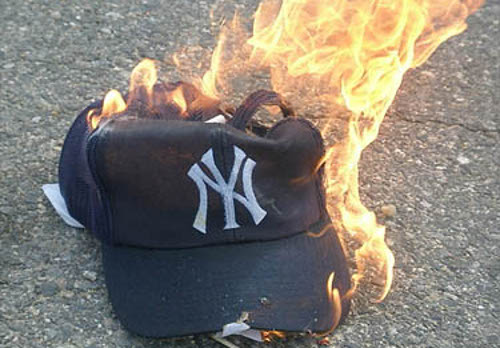 Let's face it. The Yankees lost the series with the Texas Rangers because they suck. As a Yankee fan I could try and jump to their defense, but I watched the series. I saw the same games you saw. I'm not going to sit here and deny it – the Yankees blew it. They just plain sucked!
How It Happened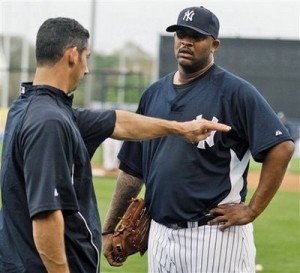 Let's begin with the starting rotation. C.C. Sabathia not pitching well after 10 days rest to start game one is just plain crap. He's supposed to be the "ace of the pitching staff." Tell me he wasn't practicing during that 10 day "rest" to keep his arm ready for the series. He's paid a hell of a lot of money to be ready.
Game two showed flashes of what the Yankees should have been able to do, but they never really stuck to the "Yankee way" of hitting. They weren't patient enough at the plate, they didn't take pitches, they didn't work the counts. They were mystified by the Texas starters.
Game three was the "Cliff Lee" game. Pettitte pitched great, making one mistake — a two run homer. Cliff Lee was lights out! This was arguably the best postseason pitching performance ever. The only question I have is, if a guy is pitching this much of a gem, why not throw your bat at him, drop down a bunt, or just do something to piss him off? At the very least the Yankees could have done something to try to throw off his rhythm.
We know that Jorge Posada and A.J. Burnett had words a while back and that Francisco Cervelli now catches for Burnett, but we are in the post-season folks. Check your ego at the door and do what's best for the team. Having Jorge Posada, a clutch hitter, sit on the bench was not a good decision – and we should have Sabathia on short rest anyway!
Boone Logan, Joba Chamberlain, and Sergio Freakin' Mitre sucked! The Yankees middle relief was pathetic. They need to stop the bleeding when the starting pitching couldn't get out of the 5th inning in most cases.
Did Girardi Just Give Up?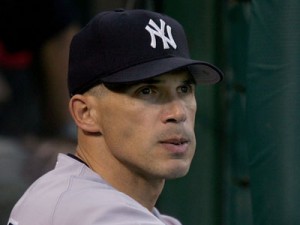 Knowing all of this, why didn't Girardi go to K. Wood and Mariano Rivera earlier? Why was Sergio Mitre in any game? Did Girardi give up? What kind of message does it send to your team when you're putting in your 'mop up' guy?
The turning point of the series was in game 4 with the Yankees down 2 games to 1. Burnett was on the mound, 2 outs in the 6th inning and Girardi decides to walk Mitch Moreland, the number 7 hitter. Why walk the number 7 hitter to pitch to Benji Molina?
This puts the go ahead run on first – you NEVER put the go ahead run on base. Now is the time to bring in Kerry Wood and the four waste pitches would take Burnett out of his rhythm.
What does Benji do? He hits a pitch "middle in" (middle part of the plate and in on a right handed hitter is usually a home run or a very long foul ball….not a smart pitch) for a three-run homer!
That's it, series over! From that moment on, you could see the demeanor of the Yankees go south. It didn't matter what happened in game 5 and 6 that was it. The series was over, the Yankees were finished.
Series Over!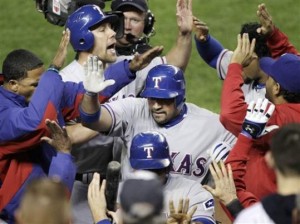 Texas completely dominated the entire series. They out batted the Yanks .304 to .178. The Texas pitching staff dominated the Yankee hitters with 52 strike outs and a combined a WHIP (walks + hits per 9 innings) of 1.23! Texas scored 39 runs to the Yankees 19. You have to tip your hat to the Texas Rangers… The Yankees just weren't that good.
The Yankee bats were pathetic with A-Rod batting .190, Swisher .091 and Teixera, .(000) – that's correct, a big fat zero. The Texas staff had the liberty to throw anything they wanted. Why throw a strike to Jeter when Swisher who is batting behind him can't hit? This makes Jeter swing at balls, which makes it harder for him to connect squarely. It is a trickle down effect, why pitch to Teixeira when you have A-Rod batted who (.190) behind him?
The bottom line is Nolan Ryan, GM for the Rangers and the greatest pitcher of all time with 7 no hitters and over 5,000 strike outs, Ron Washington, and the Texas Rangers are a powerful team that can pitch, run, hit and field. Much to the displeasure of this Yankee fan, they will be around for a while.
Additional Reading on SteroidsLive: