Vikings Fire Brad Childress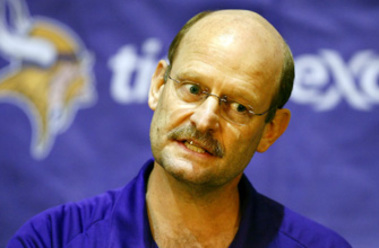 The Minnesota Vikings have decided to relieve Brad Childress of his coaching duties. They have named defensive coordinator Leslie Frazier as the interim head coach for the remainder of the season.
This comes one season after Childress received a contract extension from the team through 2013 — the final year being a team option. The past two seasons Childress has led the Vikings to the top of the NFC North. resulting in a 1-2 post-season record. Last season was a lost to New Orleans in the NFC title game.
They made the move to bring in Brett Favre last season which worked out to the tune of a 12-4 record. Although the two reportedly don't like each other, Childress hitched his wagon to the 41-year-old QB. The Vikings have struggled this season with a 3-7 record and twice this year Childress has taken personal shots at his QB.
Anonymous Minnesota players were quoted in the Chicago Sun Times about how much they dislike having Childress as head coach. Owner Zigy Wilf made it clear that Childress was almost fired for the way he handled the Randy Moss situation earlier this season.
The news that Childress is fired comes off of a second consecutive loss to a division opponent and the Packers finishing off a two-game season sweep. Childress leaves Minnesota with a 39-35 record in four-plus seasons with the Vikings.
Frazier will lead the Vikings to Washington to play the 5-5 Redskins who are returning from an overtime win in Tennessee.
Related Articles on SteroidsLive: