Drop the Puck: First Quarter Report Card-Eastern Conference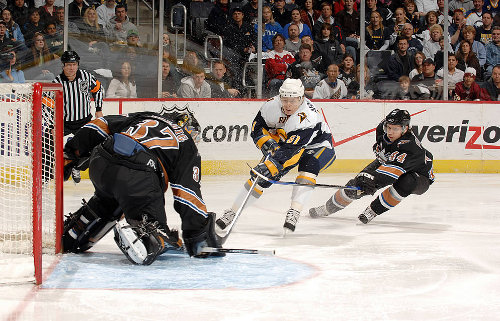 The first quarter of the 2010-2011 National Hockey League has passed for most teams and, while Stanley Cups are not won or lost in November, the time is arriving soon to sort out the pretenders from the contenders. What follows is a report card for all 15 teams in the Eastern Conference through the first 20 games of this new season.
Eastern Conference
Philadelphia Flyers
Through 22 games, the Flyers have compiled 30 points and lead the Atlantic Division by 4 points. The Flyers are second in the league in goal scoring with an average of 3.5 goals per game and have scored +23 more than their opposition, the best in the NHL.
Jeff Carter, Danny Briere, and Mike Richards provide solid scoring with RW Claude Giroux surprisingly leading the club in goals with 12. The biggest surprise, by far, though has been in goal where Sergei Bobrovsky has given the Flyers a level of play that couldn't have expected. Bobrovsky has 11 wins, a 2.29 GAA, and .925 save percentage and has given the Flyers an edge in goal they have not had in years.
Grade: A
Washington Capitals
The Capitals are once again leading the Eastern Conference in wins and points with 30 and are in first place in the Southeast Division by 4 points. Surprisingly, Alex Ovechkin is leading the team in assists, not goals, with that honor going to Alexander Semin, with 14. The Caps once again are near the top of the NHL rankings in goals scored and power play percentage but are giving up lots of goals.
Michal Neuvirth has won the goalie job with a record of 12-3-1. As always, the Caps feature a diverse and deep outfit with 15 players scoring 2 goals or more. Washington is 10-1-1 at home but below .500 on the road and that must change as the season progresses.
Grade: A-
Montreal Canadiens
With 27 points, the Canadiens are leading the Northeast Division by three points. Tomas Plekanec leads the team in goals with 7 and points with 20 but Montreal has won with defense.
The team ranks second in the NHL with goals against, and first in penalty killing. The defensemen have been solid all season, led by Alexandre Picard's +7, and P.K. Subban's +6. The real difference-maker, though, has been goalie Carey Price, who is 12-7-1, with a 2.05 GAA, .932 save %, and 4 shut-outs.
Grade A-
Pittsburgh Penguins
The Penguins, with 26 points, are in second place in the Atlantic Division and have been inconsistent in their new digs with a 5-5-1 record. The penalty-killing squad is ranked 4th, while the power play as struggled mightily, and is ranked 20th in the NHL, even with talents Sideny Crosby and Evgeni Malkin playing prominent roles.
Crosby leads the team with 15 goals and 35 points, while defenseman Kris Letang has been a pleasant surprise with 19 points. After a terrible start, goalie Marc-Andre Fleury has rebounded to even his record at 6-6-1 while Brent Johnson has provided solid relief with a record of 6-2-1. The Pens will look for more consistency and a better power play in the second quarter.
Grade: B
Tampa Bay Lightning
The Lightning, with 12 wins and 26 points, are in second place in the Southeast Division, just four points behind the Capitals. Tampa Bay's special teams have been special, ranking in the top-five in both PK and PP.
Conversations about the Lightning start and stop with Steven Stamkos, who is tied for the lead league in points with 35 and leads the league with 20 goals. Martin St. Louis has played a great supporting role but LW Ryan Malone has been a big disappointment with just 3 goals and a -12 rating. Goaltending has been mediocre at best, with Dan Ellis and Mike Smith splitting time.
Grade: B
Boston Bruins
Playing without injured centers Marc Savard (post-concussion symptoms) and David Krejci, the Bruins still have managed to land in second place in the Northeast Division. The Bruins have relied on goaltending and penalty killing to secure key victories, with goalie Tim Thomas leading the charge with a 10-1-1 record, 1.49 GAA, and 4 shut-outs. Nathan Horton and Milan Lucic lead the team in scoring, though the Bruins overall lack scoring depth, while Andrew Ference and Zdeno Chara are +10 and +11 respectively.
Grade: B-
New York Rangers
With third place in the Atlantic Division, the Rangers are just five points behind the Flyers with 25 points. The Rangers feature a balanced scoring attack, with LW Brandon Dubinsky leading the team in goals with 12 goals.
Goalie Henrik Lundqvist has been somewhat of a disappointment with a 7-7-1 record and a 2.75 GAA but Marton Biron has provided solid back-up play. Martin Gaborik has been injured for half of the quarter but has scored 9 points in 10 games.
Grade: B-
Ottawa Senators
Despite a -15 scoring differential, the Senators are 10-10-1 and in third place in the Northeast Division. Daniel Alfredsson leads the team in goals with 8 and newcomer Sergei Gonchar has 14 points, but the team is near the bottom of the league in goals scored. The goaltending has been a sore spot on the team and the Senators rank near the bottom in goals against.
Grade: C+
Atlanta Thrashers
The Thrashers have played a high-scoring brand of hockey, top ten in goals scored, and near the bottom in goals allowed as they have played their way to a 9-9-3 record. Left wingers Evander Kane, Andrew Ladd, and defenseman Dustin Byfuglien lead the team in goals but Kane is also a -9 and defense has been an issue. Goaltending has been a mixed bag.
Grade: C
Carolina Hurricanes
Fourth in the Southeast Division with a 9-9-2 record, the Hurricanes have overcome below-average goaltending and special teams, with goal scoring that ranks 5th in the NHL. Eric Staal leads the team in assists and goals and 11 players have 3 goals or more. Goaltender Cam Ward is 9-7-1 but is sporting a 2.84 GAA. Carolina will need to shore up their defense to make a move in their division.
Grade: C
Toronto Maple Leafs
Toronto started out 4-0 but had to deal with an 8-game losing streak; they find themselves with an 8-9-3 record. Phil Kessel leads the team in goals with 9 but also has a -4 rating. The goaltending has been average but, as of late, Jonas Gustavsson has come on lately and has a 3-4-1 record with a 2.30 GAA. The Leafs are improved but are still below the line.
Grade: C-
Buffalo Sabres
Buffalo, highly regarded at the beginning of the season as a possible playoff game, has been a major disappointment with a 8-12-3 record. Franchise goalie Ryan Miller has played in just 14 games and has a 6-6-2 record and, other than Derek Roy (9 goals, 14 assists), the offense has disappointed.
Grade: C-
Florida Panthers
The Panthers are treading water at 9-10 and are saddled with one of the league's worst power play units. Goalie Tomas Vokoun has kept Florida in many of their games with a 2.38 GAA and a .924 save percentage. His presence goal, though, might be missing by mid-season as he is Florida's biggest trade bait. Unless something changes, the Panthers could stay at the back of the pack.
Grade: C-
New Jersey Devils
With a 3-5-2 record at home and just 16 points, the once-proud Devils are languishing at the back of the pack. New Jersey's game has fallen apart in almost all categories. Ilya Kovalchuk has been a huge disappointment with just 10 points in 20 games, Olympian Zach Parise is on IR, and goalie Martin Brodeur has proved to be mortal with a 4-10-1 record and a 2.74 GAA. It would not be surprising to see a coaching change by mid-season if this team doesn't right its record.
Grade: D-
New York Islanders
The disaster on the Island looks like this: 4-12-5 record, 14 losses in a row, -28 goal differential. The Islanders top-tier talent, John Tavares, Matt Moulson, and veteran Doug Weight have been big disappointments, and Rick DiPietro has been a disaster in goal. The Islanders have already changed coaches and nothing has changed. This is a bad team.
Grade: F
I hope you've enjoyed this edition of Drop the Puck. Be sure to check back for more insider hockey info and opinions. Until next time, hit the ice running and don't draw any unsportsmanlike penalties.
Additional Reading on SteroidsLive: