Drop the Puck: Week Two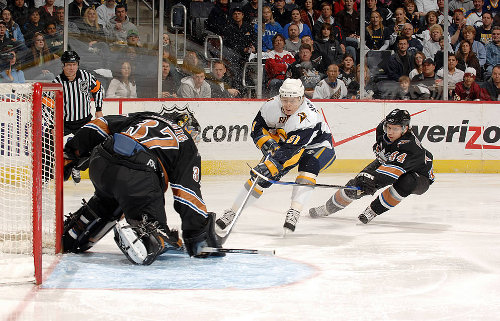 The NHL got into full swing last week with a full schedule, starting with matinees on Columbus Day, October 11, and culminating in a full slate of games October 16, punctuated by two goals from perhaps the game's biggest star, Sidney Crosby, in the home rink of a team he loves to torture. In between, there were shoot-outs, over time wins, shutouts, and overtime shutouts. Buckle-up your chinstrap, the NHL is just getting its skates started.
Monday, October 11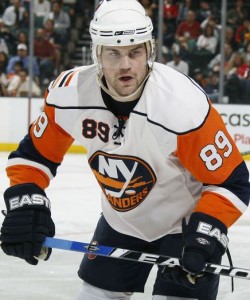 The Columbus Day holiday brought on 7 NHL games and a spate of matinees, including two in the New York metro area. The New York Islanders defeated the New York Rangers 6-4 with right winger Blake Comeau ringing-up three points for the winning Isles.
Across the Hudson, in Jersey, the Devils, short-handed by suspensions and injuries, lost to the visiting Pittsburgh Penguins, 3-1, and were hurt with 2 points and a goal from ex-Devil, defenseman Paul Martin.
The Washington Capitals also were in action and defeated the Ottawa Senators, 3-2, in overtime, as (who else?) Alex Ovchekin netted his third goal of the season for the game-winner.
Tuesday, October 12
Only two games were played on this day but one of the games was a beauty. The Colorado Avalanche defeated the Detroit Red Wings 5-4 on a shoot-out goal by Brandon Yip on the Avs sixth attempt. Eleven players tried, unsuccessfully, to get a goal past Detroit's Jimmy Howard or Colorado's Peter Budaj, truly a marathon event.
Wednesday, October 13
This night featured two overtime victories, including an OT shutout by a goalie who is accustomed to stoning the opposition, and the third straight loss at home by a Stanley Cup contender. Martin Brodeur made 24 saves for the New Jersey Devils in posting his 111th career shutout against Ryan Miller and the Buffalo Sabres, 1-0 in overtime.
The other OT game on this night happened in Montreal where the Tampa Bay Lightning defeated the Canadians 4-3 on a game-winner in overtime by Ryan Malone for this third point of the night. Washington defeated the NY Islanders, 2-1, for another close victory and the Pittsburgh Penguins lost at home for the third straight game, 4-3, to the Toronto Maple Leafs.
Thursday, October 14
The Lightning continued their hot streak, defeating the Philadelphia Flyers, 3-2, while Tomas Vokoun posted a shut-out as the Florida Panthers posted a shut-out win against the Calgary Flames. The Ottawa Senators won their first game of the year, 3-2, against the Carolina Hurricanes, while the Nashville Predators ran their early season record t 3-0 with a 4-3 victory over the St. Louis Blues in which goalie Anders Lindback made 32 saves.
Friday, October 15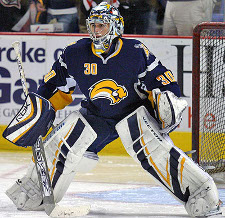 The NHL had a full slate of games on Friday night. Buffalo's Ryan Miller again had tough luck as his team lost another 1-goal game against a hot goalie Carey Price helped the Montreal Canadians to a 2-1 victory.
Both the Maple Leafs and the Penguins scored overtime victories, the Leafs running their early season record to 4-0 and the Pens finally getting a win in their new building. Young goalie Craig Anderson made 41 saves, the most impressive performance in goal, as the Avs defeated the Devils, and Atlanta Thrashers' goalie made n 37 saves in his team's 5-4 shootout victory over the Anaheim Ducks.
Saturday, October 16
The NHL had 24 teams in action, and there were some real good offense performances. Sidney Crosby delivered three points with two PP goals and an assist in the Penguins' 5-1 victory at their chief rival, the Philadelphia Flyers, home rink.
Vokoun notched his second straight shut-out in goal as the Panthers defeated the Lightning 6-0 behind Bryan McCabe's four points, while the Caps won their second straight overtime game, 3-2, against the Nashville Predators with a goal from Brooks Laich, assisted by (who else!) Ovechkin!
Brodeur and Tim Thomas accounted for 67 saves as the Boston Bruins defeated the Devils 4-1, and, out west, Dallas, Detroit, and Calgary all won close contests.
Winners
Toronto Map Leafs 4-0
The Leafs extended their early season winning streaks with victories at Pittsburgh and at Madison Square Garden against the Rangers. Clarke MacArthur and Phil Kessel  are the leading scorers for the Leafs and goalie Jean-Sebastian Gigure is 3-0.
Nashville Predators 3-1
The Predators went 2-0-1 behind the strong goaltending of Lindback and four goals from center Steve Sullivan.
Dallas Stars 4-0
The Dallas Stars started off the year on a surprising run with four straight victories. Keri Lehtonen was 4-0 with a 2.39 GAA. Brendon Marrow and Loui Eriksson had 4 goals a piece and Brad Richards accumulated 9 points with 2 goals and 7 assists.
Losers
New Jersey Devils  1-4-1
The Devils have scored 8 goals under new head coach John McLean's new offensive system, but is it working? Ask Marty Brodeur.
Ottawa Senators  1-3-1
Other than Milan Michalek, no one has been able to find the goal for the Sens, while the goaltending still has not changed.
Buffalo Sabres  1-4-1
The Sabres have been outscored 17-12 as Miller has gone 1-3 with a 2.66 GAA. Seeing 146 SOG will do that to you – as will having two of your players with -5 ratings, including Rob Neidermeyer and Mike Grier.
Fantasy Corner
Offensive stars abounded in week one. Here are some of the guys you are glad or wish you had:
#1 Star
Marian Hossa, Chicago Blackhawks
5 Goals, 9 points. Hossa is raising some eyebrows with his early season output.
#2 Star
Brad Richards, Dallas Stars
2 Goals, 9 points. Richards continues his status as #2 star, and his 7 assists lead the league.
#3 Star
Alex Ovechkin, Washington Capitals
4 Goals, 8 points. Alex still is the guy and will be all season.
Honorable Mention
Clarke McArthur, Toronto Maple Leafs
5 Goals,6 points. For a LW that has not scored more than 17 goals in any of his first four seasons, this could be the break-out star you want and he has seen his fantasy stock rising 43%.
Goalies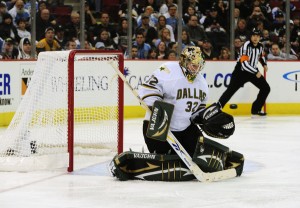 There has been a few goalies who have had hot starts but it is too early to judge GAA.
#1 Star
Kari Lehtonen, Dallas Stars
4-0, 2.39 GAA, .932 save %. The surprise goalie on the surprise team of the season.
#2 Star
Michal Neuvirth, Washington Capitals
4-0, 2.16 GAA, .930 save %. Better grab him now as he is taking a strangle hold on the #1 goalie job for the best team in the NHL.
#3 Star
Tomas Vokoun, Florida Panthers
2-2, 1.26 GAA, .952 save %, 2 shutouts. Two shut-outs in two game is impressive.
Honorable Mention
Jonathan Quick, LA Kings
3-0, 0.97 GAA, .963 save%. Once the Kings get some more games under their belt, Quick will pay big dividends.
Until next week – hit the ice running and don't draw any unsportsmanlike penalties.
Additional Reading on SteroidsLive: