Drop the Puck: Week Three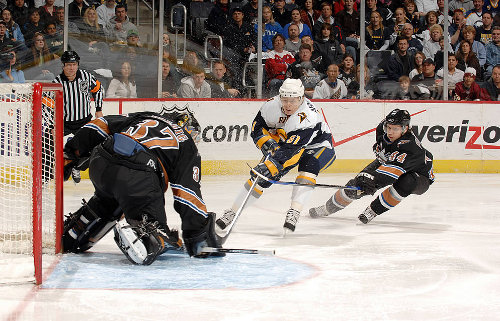 This week in the NHL saw suspensions from ugly incidents and vicious hits to the head, a new set of OT thrillers, and a lack of attendance in Phoenix, Anaheim, and Atlanta, though no one in those cities particularly cared.
By week's end, the past two Stanley Cup winners were rising near or at the top of their respective conferences, a hockey team in a market known more for strumming than stick-handling had compiled the most points, and a playoff regular was struggling just to get points.
Suspensions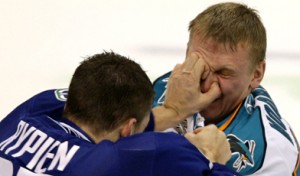 Question: What happens when a player puts his hands on a fan? Answer: He sits, for a long time.
On Tuesday, Rick Rypien, forward of the Vancouver Canucks, made contact with a fan when walking down a runway after receiving a 10-minute misconduct penalty. The spectator was taunting Rypien as he was leaving the ice, and Rypien reached up and grabbed the guy, nearly pulling him down.
The incident brought a bright spotlight down upon Rypien, who had played in just three games with no goals or assists, and was seen on highlight shows across North America. The NHL came down hard on Rypien, suspending him for six games for crossing a line that many commentators and players feel should not be blurred in sports.
The NHL also suspended right wing Shane Doan of the Phoenix Coyotes for his hit on Dan Sexton of the Anaheim Ducks last Sunday. Doan has been in league for fourteen years, has been a regular goal scorer, but not known of racking-up penalty minutes. In fact, he is the captain of the team and, for the record, Sexton was not injured on the play. However, Doan made the mistake of hitting Sexton in the head and, with all the attention lately on concussions in sports, the NHL had to set the tone regarding plays they want to eliminate from their games.
Attendance
Let's start with Phoenix. Yeah, maybe hockey in the desert isn't such a good idea, even after nearly two decades. With just 6,706 and 8,109 fans in attendance in two games this week, you have to wonder if hockey will survive for the fans of the Phoenix Coyotes.
Fans in Winnipeg, Quebec, and Ontario would love to have hockey back up north of the border where it matters, but the NHL has committed too much time, money, and resources to back out of non-traditional markets such as Arizona, California, Georgia, and Florida.
The Atlanta Thrashers and Anaheim Ducks saw less than 10,000 fans in their building this week also and the Panthers just nudged over that mark. Maybe it is time the NHL rethink their expansion strategies and either contract or move these teams to places where fans really care about the game.
Day By Day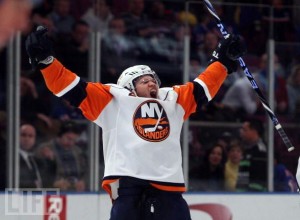 Monday, October 18
Monday's games featured two overtime thrillers. The New York Islanders snapped the Maple Leafs winning streak to open the season with a 2-1 victory behind Dwayne Roloson's 29 saves and John Tavares' 2 points. Craig Anderson continued his strong play as a goaltender with 31 saves in a 3-1 Avalanche victory, Marty Turco had 32 saves in a 3-2 Chicago win over the St. Louis Blues, and Sidney Crosby tallied two more points in a 5-2 Pittsburgh Penguins win over the Ottawa Senators in the return of defenseman Sergei Gonchar to Pittsburgh. Steven Stamkos tallied three points in a 5-4 Tampa Bay Lightning win that handed the Dallas Stars their first loss of the season.
Tuesday, October 19
On Tuesday, the goaltenders stole the show as Tim Thomas of the Boston Bruins, Miikka Kiprusoff of the Calgary Flames, and Cam Ward of the Carolina Hurricanes all had strong showings leading their teams to victory. Ward led all goalies with 41 saves and Kiprusoff pitched a shut-out for the Flames in a 1-0 overtime victory over the Nashville Predators. Thomas might have had the most impressive night, though, posting 35 saves as the Bruins cooled off the Washington Capitals 3-1.
Wednesday, October 20
The smallest crowd of the night showed up to watch their team lose as only 8,820 attended in Atlanta as Ryan Miller and the Buffalo Sabres defeated the Thrashers. Only 9,802 were announced in Anaheim as the Ducks fell to the Columbus Blue Jackets. Rick Nash scored two goals in the win. Marty Turco recorded his second straight overtime win helping the Blackhawks defeat the Vancouver Canucks in a shootout. The Los Angeles Kings improved their early season record to 4-1 with a 4-3 victory over the Hurricanes riding the hot scoring of Anze Kopitar.
Thursday, October 21
Thursday was a busy night for the NHL with a full slate of games. We'll start with the Eastern conference.
Tim Thomas and the Boston Bruins continued their mastery of the Capitals with a 4-1 victory. Thomas made 38 saves and Patrice Bergeron recorded his first two points of the season. The Rangers shut down the Maple Leafs, who suffered their second straight loss of the week, as goalie Martin Biron recorded his first win of the year. How about Martin Brodeur? He rang-up his second shut-out of the season and 112th of his career, this time with the Montreal Canadians as the victims. The Lightning and the Islanders were involved in each team's second consecutive one-goal game. In this game, the Islanders prevailed, 3-2, in overtime.
Philadelphia, Pittsburgh, and Florida all played non-conference games against the west with only the Penguins prevailing 4-3 in overtime in Nashville against the Predators as Sidney Crosby and Kris Letang each tallied three points, Letang netted the game-winner.
In the west, Jimmy Howard stoned the Flames as the Detroit Red Wings won 4-2, while San Jose as Antero Niittymaki extended his record to 2-0-1. Minnesota and Phoenix also posted victories, though, in hardly anyone in Phoenix was around to witness the win.
Friday, October 22
Three hat tricks highlighted the Friday night games. Rene Bourque netted three goals and four points in the Flames victory at Columbus, Daniel Alfredsoon scored his second, third, and fourth goals as the Sens record just their second win in a row, and Steven Stamkos rang-up goals 6, 7, 8 as the Lightning extended their early season record to 5-1-1. Jaroslav Halak stoned the Blackhawks, 4-2, as the Blues beat their division rival and Vancouver easily dispatched the Wild, 5-1.
Saturday, October 23
On a night when some big offensive outputs were recorded, the most impressive performance came from a goaltender. Facing the team he eliminated in last season's playoffs, Halak had his second consecutive game with 31 saves against the Pens in a 1-0 overtime victory.
On the other side of the spectrum, Alexander Semin stopped the Caps losing streak with three goals in an overtime victory over the Thrashers. One of the Red Wings' top guns, Henrik Zetterberg compiled 4 points, including two goals, helping his team to a one-goal victory, while John Tavaras had a hat trick in his team's 4-3 loss to the Panthers.
Other teams gaining victories included the Rangers, Sabres, Canadians, Flyers, Predators, Blue Jackets, Kings, Hurricanes, and Sharks. The stand-outs included goalie Pekka Rinne of Nashville, who pitched a shut-out, and Mike Richards, who scored three points, in Philadelphia's victory.
Winners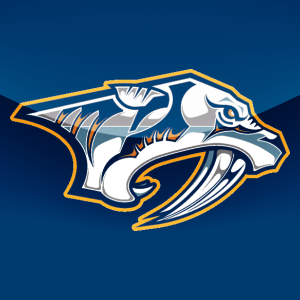 Nashville Predators
5-0-3
The Preds suffered three straight OT losses but still managed to compile 5 points on the week and have the best record in the NHL. Rinne and Anders Lindback are solid in goal and center Steve Sullivan leads the team in points.
Los Angeles Kings
The Kings, led by scorers Dustin Brown, Ryan Smith, Justin Williams, and Kopitar rose to a 5-2 record, including a 2-1 record last week. This team can score and score in bunches.
Pittsburgh Penguins
5-3-1
With 11 points, the Pens are once again tied at the top of the standings in the Eastern Conference with the Lightning and the Canadians. Crosby is their leading scorer with 6 goals and 11 points and both Evgeni Malkin and Kris Letang have 8 points. Goaltender Brent Johnson is 4-0.
Losers
Edmonton Oilers
2-4
It's the same old story in Western Canada after a strong start. Rookie phenom Taylor Hall has one assist, that recorded in his first game. Ouch.
Ottawa Senators
2-5-1
At least Daniel Alfredsson scored a hat trick and has 8 points – good thing too since six players are a +/- of -4 or worse.
New Jersey Devils
2-6-1
A record of 0-4-1 isn't going to cut it in New Jersey. The two wins? Brodeur shut-outs.
Fantasy Corner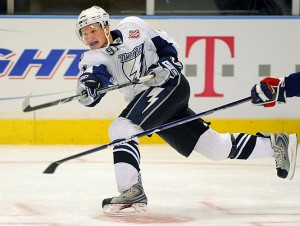 Reliable offensive stars are rising to the top of the scoring sheets. Here are some of the guys you are glad or wish you had:
#1 Star
Steven Stamkos, Tampa Bay Lightning
8 Goals, 15 points. The kid is proving he is not a one-year wonder.
#2 Star
Patrick Sharp, Chicago Blackhawks
8 Goals, 11 points. Sharp and Marian Hossa (also with 11 points) feed off each other for Chicago.
# 3 Star
Daniel Sedin, Vancouver Canucks
7 Goals, 11 points. The Canucks are glad he is back in full force, and so is his twin.
Honorable Mention
Sidney Crosby, Pittsburgh Penguins
6 goals, 11 points. Sid is on the rise
Goalies
There have been a few goalies who have had hot starts but it is too early to judge GAA.
#1 Star
Tim Thomas, Boston Bruins
4-0, 0.75 GAA, .978 save %. People are starting to take notice of this guy's production as his fantasy stock has risen by +49.3%.
#2 Star
Brent Johnson, Pittsburgh Penguins
4-0, 1.39 GAA, .951 save %. Made sitting the "Flower" a bit easier for the Pens.
#3 Star
Pekke Rinne, Nashville Predators
2-0-2, 1.58 GAA, .955 save %. Two OT losses aside, this guy has been a wall.
Honorable Mention
Mike Smith, Tampa Bay Lightning
4-0, 3.12 GAA, .884 save%. Okay, so the GAA and save % aren't breaking records, but the guy has been winning.
Until next week – hit the ice running and don't draw any unsportsmanlike penalties.
Additional Reading on SteroidsLive: