Drop the Puck: Week Five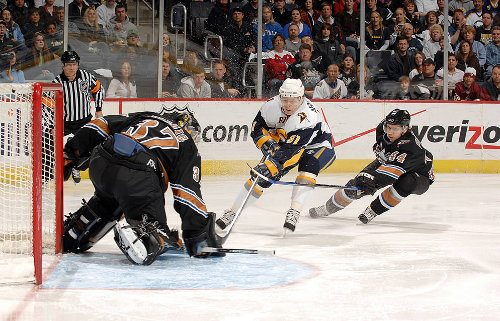 As frost began to settle on yards and atop roofs across the Northeast, the National Hockey League began to heat-up as the calendar flipped to November.
For games played November 1 through November 6, the Philadelphia Flyers and Washington Capitals rose to the top of the standings in the Eastern Conference while the St. Louis Blues, with the best record in the NHL, and the Los Angeles Kings ruled the West. At the same time, some serious injuries to star players changed the make-up of several contenders.
Injuries
The Boston Bruins, Colorado Avalanche, New Jersey Devils, Pittsburgh Penguins, and Tampa Bay Lightning all have lost star players due to injury. Marc Savard, who has been suffering post-concussion syndrome since last season's hit by the Pittsburgh Penguin's Matt Cooke, has yet to make his debut for the Boston Bruins. He should return in mid-December and the team recently lost another key player in David Krejci, also to a concussion. He should be out for about two weeks.
The Devils have been plagued by injuries all season, including Brian Rolston and even goalie Martin Brodeur, but the most serious injury, by far, was to star Zach Parise. Parise suffered a torn meniscus in his right knee and will be out for at least three months – a huge blow to the struggling Devils and to Parise's fantasy owners.
Just when the Penguins thought they were getting Jordan Staal back from a foot injury, he broke his wrist in practice and will be about another 6-8 weeks. Staal is also a major loss. Finally, the Lightning are without Simon Gagne, their big off-season acquisition, and there is no timetable for when he may return from a neck injury.
The Week in Hockey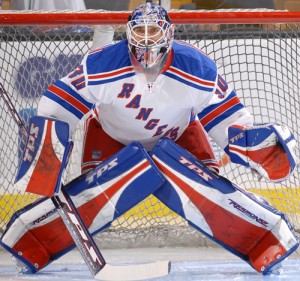 Monday, November 1
The week started with strong goaltending from two of the elite goalies in the league, Henrik Lundquist, who made 33 saves in a 3-2 New York Rangers' win over the Chicago Blackhawks, and Roberto Luongo, who stopped 30 shots for the Vancouver Canucks in a 3-0 shutout over the struggling New Jersey Devils. Philadelphia continued its winning ways with a 3-2 victory over the Carolina Hurricanes.
Tuesday, November 2
Vancouver won its second straight game in a narrow 4-3 victory over rival Edmonton Oilers. Raffi Torres recorded a hat trick and Daniel Sedin netted his 8th goal of the year in the victory.
Two shut-outs were posted – the Columbus Blue Jackets defeated the Montreal Canadiens 3-0 behind the work of goalie Mathieu Garon while the Minnesota Wild downed the San Jose Sharks 1-0 in a goaltending battle between Niklas Backstrom (36 saves) and Antero Nittymaki (15 saves).
Wednesday, November 3
Mid-week, the NHL schedule heated up with a full slate of games. Goalie Tim Thomas continued his stellar season, making 33 saves in Boston's 5-2 win over the punch-less Buffalo Sabres. Thomas is 7-0 on the season with a ridiculous 1.04 GAA.
The Dallas Stars dominated the Penguins 5-2 as the Stars were led by Loui Eriksson, who tallied three points including a goal on a penalty shot. Washington, the Detroit Red Wings, Atlanta Thrashers, Phoenix Coyotes, and Anaheim Ducks all won one-goal games.
The Capitals won on a shoot-out goal by Alexander Semin, while Chris Mason stopped 52 pucks for Atlanta. The high goal-scorer for the night was Phoenix's Ed Jovanovski, who scored three goals, a rare feat for a defenseman.
Thursday, November 4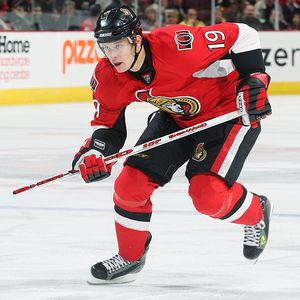 The Flyers, Blues, Kings, and Canucks all stayed hot, while the Ottawa Senators posted their second straight win behind a four-point by Jason Spezza. The Flyers-Rangers game featured a whopping 38 minutes of penalty time as the two teams got physical and violent, who two big fights, and lots of chippy play.
The Blue Jackets' Garon posted his second straight shut-out of the week for Columbus, and Jaroslav Halak and Jonathan Quick each continued their strong play in goal with 2-0 and 1-0 shut-out victories.
Friday, November 5
The Rangers bounced back from their slugfest against Philadelphia to post a 3-0 victory over the Devils as Lundqvist stopped 33 pucks. Dallas' Eriksson followed-up on his 3-point night against the Pens with a 4-point outing against Phoenix in a 6-3 Stars' win.
Against Boston, the Capitals used a balanced attack to win 5-3 while Minnesota's Backstrom earned his second straight impressive win in goal with a 2-1 victory over the Calgary Flames, in which he stopped 33 pucks, giving him 69 saves on the week. Pittsburgh, meanwhile, lost its second straight road game with a 3-2 loss to the Ducks, despite two goals from Sidney Crosby.
Saturday, November 6
If you tuned in to Saturday night's game between the Blues and the Bruins looking for a match-up of elite goalies, you got one, just not involving the two players you might have expected. Halak was brilliant again in goal, making 33 saves in 2-1 shoot-out win, but, instead of Tim Thomas, Tuukka Rask was in goal for the Bruins. He was equally spectacular, making 35 saves, and might have earned more PT.
Don't look now but the Senators have won three straight games, including a 3-2 win over Montreal. The Flyers won their third game of the week as Sergei Bobrovsky won another game and Mike Richards notched two points.
Carolina, Buffalo, and Minnesota all won close games, and Chicago won in a shoot-out over the Thrashers 5-4 as Jonathan Toews tallied four points, including two goals. Vancouver and Los Angeles continued their hot starts with victories while the Penguins emerged from their slump with a 4-3 shoot-out win over Phoenix, in a game that saw goalie Marc-Andre Fleury get pulled half-way through the first period after allowing two more bad goals.
Winners
Philadelphia Flyers
9-4-2
The Flyers remain the hottest team in the league, going 3-0 last week, behind the strong goaltending of Sergei Bobrovsky, who stopped 80 of 84 SOG this past week. They also got back to their physical ways, including a big "Fight Night" against the Rangers.
Ottawa Senators
7-6-1
After a disastrous start, the Senators pulled themselves a game over .500 with three straight wins last week. Goaltender Brian Elliot won all three games and Jason Spezza and Alexi Kovalev provided the sparks on offense.
St. Louis Blues
9-1-2
At 9-1-2, the Blues have best winning percentage in the NHL and have won 7 straight games, including three in a row last week. With 2-0, 2-1, and 2-0 wins, the Blues have been winning with defense and goaltending. The Blues have some of the best young defensemen in the league with Erik Johnson, Barret Jackman, and Alex Pietrangelo, and a truly elite goalie in Halak.
Losers
New Jersey Devils
4-10-1
The Devils have still not won at home, Brodeur and Parise were hurt, and the team has the lowest number of points in the NHL.
Buffalo Sabres
4-9-2
Another winless week in Buffalo and now Ryan Miller is apparently hurt. There's always the Bills? Oh yeah.
Pittsburgh Penguins
7-7-1
Losing 5-2 and 3-2 in Dallas and Anaheim was bad enough but what is wrong with Fleury? He is 1-6 with a 3.54 GAA. Nothing wrong with Crosby, who leads the team with 19 points, but where are the wingers? Combined, they have scored 12 goals – that's a good month for Ovchekin.
Fantasy Corner
A big offensive week jumped a new guy into the scoring leader board but the cream always rises to the top:
#1 Star
Sidney Crosby, Pittsburgh Penguins
9 Goals, 19 points. Don't look now but "Sid the Kid" is now second in the league in points.
#2 Star
Loui Eriksson, Dallas Stars
9 Goals, 16 points. Seven points in two games will do that. Did you pick-up this hot LW?
# 3 Star
Steven Stamkos, Tampa Bay Lightning
11 Goals, 22 points. A slow week but still number #1 in scoring.
Honorable Mention
Alex Ovechkin, Washington Capitals
18 points in 14 games – wait until he starts playing more.
Goalies
The shut-outs and saves keep piling-up. Who are these guys?
#1 Star
Sergei Bobrovsky, Philadelphia Flyers
8-2-1. 2.19 GAA. .926 save %. If you haven't jumped on the bandwagon yet, it is probably too late.
#2 Star
Jaroslav Halak, St. Louis Blues
8-1-1. 1.46 GAA, .944 save %. The guy is a wall – a cement wall.
#3 Star
Tim Thomas, Boston Bruins
He is 7-0 with a 1.04 GAA and a .967 save percentage but he was pulled on Friday night and replaced by Rusk the night next. Should you be worried? Who else do you have on your roster?
Honorable Mention
Mathieu Garon, Columbus Blue Jackets
4-10, 1.28 GAA, and .951 save percentage are all great but he still splits time with Steve Mason at goal so he is a risky pick-up.
Until next week – hit the ice running and don't draw any unsportsmanlike penalties.
Additional Reading on SteroidsLive: