Derek Jeter and 3 Other Must-Sign Franchise Players
The New York Yankees are facing one of the toughest decisions in sports – contract negotiations with the face of the franchise, shortstop Derek Jeter.
There are certain players in sports that, when you think of an organization, you think of a signature player. They don't just represent the era in which they played, but what the organization stands for as a whole.
Jeter is 36 years old and has been with the team full-time since 1996. He is coming off of a very down season where his numbers were well below his career average – batting average .270 (.314 career) and a slugging percentage of .370 (.452 career).
At 36, Jeter's best seasons are clearly behind him offensively and defensively which has to factor in when negotiating a new contract. How do you factor in five World Series championships, Yankees career hit leader, and the leadership a captain brings to the organization?
The Yankees organization understands that Jeter's presence with the team and in the club house is irreplaceable, but may need to replace his presence in the line-up. With Jeter approaching the mile-stone of his 3,000th hit they realize that they must get this deal done.
Jeter and his agent, Casey Close, are unhappy with the years of the initial Yankees offer – reportedly three-years totaling $45 million. Close was quoted several times in the New York Daily News sounding astonished by the Yankees negotiations thus far.
"There's a reason the Yankees themselves have stated Derek Jeter is their modern-day Babe Ruth." Close went on to say, "Derek's significance to the team is much more than just stats. And yet, the Yankees' negotiating strategy remains baffling."
Both sides want to get this done and many baseball analysts believe they will reach an agreement. ESPN baseball writer, Keith Law, figures that the two sides will settle around three years equaling somewhere around $20 million per season.
I believe they will have to and will get a deal done some time shortly after the first of the year. The Yankees know that they are bidding against themselves and no one would even offer Jeter the initial offer the Yankees did. However, what Jeter has done in the past, how he has conducted himself and represented this organization, and what he will do in his remaining years is worth the money they'll spend.
The Yankee-Jeter situation is going to become more common with organizations' identification with their greatest players. Who are some the other athletes that will be collecting a pay day for their past accomplishments and symbolism to their respected organizations?
The World's Most Expensive Horse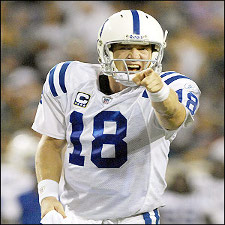 The Indianapolis Colts have one of the most recognizable faces in sports at the most glorified position, QB Peyton Manning. The Colts owner, Jim Irsay, stated early this year that they intend on making the 33-year-old Manning the highest paid player in NFL history.
For the longest time the Colts signature franchise player was Baltimore Colts legend, Johnny Unitas. Manning has notched a place in Colt history right next to Unitas. Indianapolis has cheered Manning through four NFL MVPs and a Super Bowl victory.
In a sport where some of the most legendary QBs have moved on with new teams (Brett Favre and Joe Montana), I believe the Colts will not only make Manning the highest paid player in league history, but ensure he never dons another jersey.
A Different Ending Than MJ
Many people view Kobe Bryant as the second-coming of Michael Jordan. They may achieve similar accolades throughout their careers, but the ending will be slightly different.
Bryant is currently 32-years-old. The Lakers have him locked up until 2012-2013 season. Bryant has never played for any other team, although he was drafted by the Charlotte Hornets and has threatened to force a trade, he has only worn the purple and gold.
Bryant has won league scoring titles, league MVP, and five NBA championships with the Lakers. Jordan faded out with the Washington Wizards, but I can't see Lakers owner, Jerry Buss, letting Bryant fade out in any city but Los Angeles.
Face of New ERA in MLB
Baseball has fought its way through the steroids-era and the last great power hitter standing with no blemishes from that time is Albert Pujols. Pujols entered the league in 2001 when MLB was littered with guys using performance enhancing drugs (PEDs).
Pujols not only represents the St. Louis Cardinals organization with class, but signifies that talent and hard work alone can make you a great ball player. In all 10 seasons Pujols has been in the big leagues, he hit 30 or more HRs, had a BA of .300 or better, and had 100 plus RBIs.
Pujols has won three NL MVPs, a World Series, and was named Sports Illustrated Player of the Decade. His contract expires after the 2011 season and I would surprised if they don't match all offers or give him an extension that would make him a Cardinal for life.
It Becomes About More Than Numbers
At some point Manning's body will break down like Favre's, someday Pujols will see his numbers drop well below his career average, and even Bryant won't dominate the basketball court forever.
The point is that all of these guys have created countless memories, created countless fans, and given everything to a franchise that has capitalized on their talents. The fact that they have to overpay them at the end of their careers is the price of having legends.
Ask any owner in sports and I bet they would love to have the problem of having to overpay an iconic athlete. The Jeter situation isn't a curse, it's a blessing and every organization in sports is willing to embrace it in the end.
Please let me know which "face of a franchise" player I left out by contacting me via Twitter. Chime in with which player you would overpay based on their career achievements with one single organization.
Additional Reading on SteroidsLive: