Buffalo Bills Release QB Trent Edwards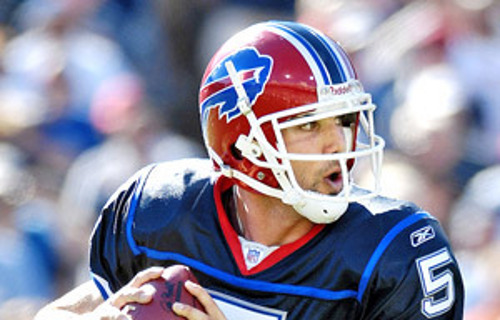 The Buffalo Bills released quarterback Trent Edwards Monday morning. This came one week after Edwards lost his starting job to Ryan Fitzpatrick.
Head coach Chan Gaily entered the regular season with high hopes for Edwards and the Bills' chances with him at the helm. Edwards failed to increase that confidence by starting the season 0-2 with losses against the Miami Dolphins and Green Bay Packers.
According to ESPN's Adam Schefter, the Bills shopped the QB before finally releasing him. The Bills are planning to re-sign 7th-Round QB from the University of Troy, Levi Brown.
Edwards is in his fourth season in the NFL and has a starting record of 14-18. In those 32 games Edwards has thrown 25 touchdowns and 27 interceptions. In a Sports Nation poll on ESPN, 84% of the fans voted "No" on whether or not Edwards is a legitimate starting QB in the NFL.
Related Articles on SteroidsLive: