Chickpeas: More Than Just Ho-Hummus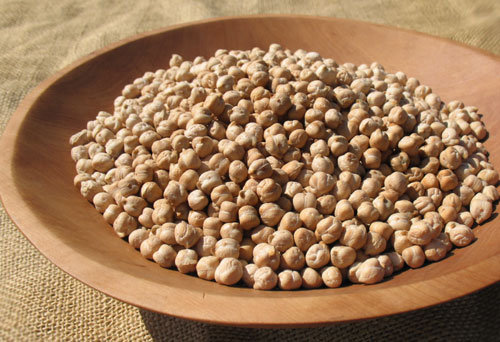 There are things you know you should eat, right? You should eat your fruits and veggies. You should eat (or drink) your greens. Aside from that, there are very few things agreed upon in the realm of nutrition. Well, I'm here to tell you that one thing you should be eating is chickpeas.
Whether you prefer to have them in the form of hummus, falafel, Burmese tofu, or au natural, they're a definite "must" if you want an easy, nutrition-packed meal!
A Rose By Any Other Name…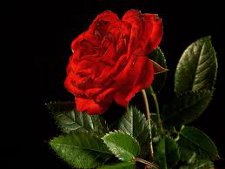 You may call them garbanzo beans or ceci beans instead as well as Bengal grams or Egyptian peas, and that's ok. It's actually just a testament to how widespread the use is of this little legume!
The Middle East is the original home to these little gems, and they're widely used in the cuisines of the countries nestled in this part of the world. It is estimated that they've been eaten there for over 7,000 years and purposefully cultivated for at least 3,000 years.
From the Mediterranean basin, use spread to India and Ethiopia. They're also integral to the cuisines of Greece, Italy, and Egypt. The Latin name is Cicer arietinum, meaning "small ram."
By the 16th century, they made their way to the subtropics on the boats of Spanish and Portuguese explorers. Those who immigrated from the Indian subcontinent often brought the little beans with them, as well, introducing them to new parts of the world. Today, most chickpeas are produced in India, Pakistan, Ethiopia, Turkey, and Mexico.
Health Benefits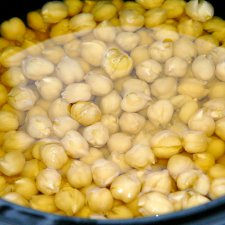 In all honesty, I find chickpeas to be one of the easiest and most versatile protein staples in my house (close behind quinoa and lentils). I like to cook up a pound of them to use for two or three recipes throughout the week. If you need something even easier, you can use canned (just be wary of the refined salt).
Chickpeas are high in protein, with a one-cup serving containing almost one-third of the RDA for adults. More than that, they have more than 80% of the daily requirement of manganese, 75% of the folate you need, and half of your fiber. They also contain about a quarter of the phosphorus and iron you need.
Just imagine how easy it would be to get significant amounts of much-needed vitamins and minerals if you ate just one cup of these beauties each day!
The fiber content is impressive because they contain both the soluble and insoluble varieties. Soluble fiber helps carry cholesterol out of the digestive track, whereas insoluble fiber helps keeps the bowels clear and moving as they should.
Perhaps the most exciting aspect of chickpeas and other legumes is their ability to lower the risk of heart attack. In a 25-year, 16,000 sample study conducted the world around, no matter the makeup of the diet, people who ate legumes had a heart attack risk a whopping 82% lower than those who didn't.
We all know that legumes are great for us, but what about chickpeas specifically? A study published in the Annals of Nutrition and Metabolism showed that a diet supplemented with chickpeas rather than wheat lowered cholesterol lowered LDL ("bad") cholesterol 4.6% in only five weeks!
Chickpea Recipes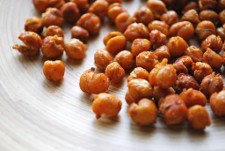 When you want to quickly add chickpeas to your diet, it's a great idea to toss a few onto your salad, or dip fresh veggies into some hummus (homemade or store bought). When you're looking for something more substantial, you can try these favorite recipes of mine.
I use chickpeas in so many ways that I had to really restrain myself to not give you an entire chapter of my personal cookbook today. I decided to include the recipes I make most often, as well as one that's really surprising.
Did you know that you can make soy-free tofu? Oh yes, chickpea flour can be used instead of soy milk to make a delightful chickpea tofu that works well in most cases. I've just started making this myself, so I haven't tried skipping the turmeric and trying it in sweet applications (such as puddings). The texture is a bit different, but it works beautifully in savory applications.
Spicy Roasted Chickpeas
Recipe from Noblepig.com
2 15-ounce cans chickpeas (garbanzo beans)
3 Tablespoons olive oil
1/2 teaspoon salt
1/2 teaspoon black pepper
1 Tablespoon chili powder
1/8 teaspoon ground red pepper (cayenne)
Lime wedges
Rinse chickpeas in a colander. Drain them well, shaking the colander to remove as much water as possible. It's okay to take out a bit of aggression on the peas, they won't mind.
In a medium sized bowl, combine rinsed chickpeas, olive oil, salt and black pepper. Mix well to coat the chickpeas. Spread the chickpeas out on a foil lined baking sheet, one large enough to hold chickpeas in a single layer.
Bake in a 400 degree oven for 15 minutes or until chickpeas begin to brown, shaking pan twice during baking.
Remove chickpeas from the oven. In a small bowl, combine chili powder and ground red pepper. Place the mixture in a small sieve to sprinkle over the cooked chickpeas. Bake another 5 minutes or until a dark, golden-red.
Burmese Tofu
Recipe from Elizabeth Catanese
3 cups chickpea flour
15 cups water
1 tsp. olive oil
1/4 tsp. ground turmeric
1 tsp. salt
whisk
two large bowls
cheesecloth
pan
12-by-4-by-3 inch tray
Combine water and chickpea flour in large bowl and mix together with a whisk. Let sit for 12 hours.
Strain the mixture into another bowl using the cotton cloth as a sieve. Remove water and chickpea flour chunks that gather on top of the cloth. Leave the strained mixture in the bowl for three additional hours. Carefully throw away six cups of the strained liquid.
Coat a pan with oil and add the rest of the liquid. Put in turmeric and salt. Save the thick part that doesn't easily pour. This part is called chickpea sludge and will be used later.
Bring liquid to a boil over moderate heat. Stir constantly for 30 minutes. Add chickpea sludge and cook with low heat for 10 additional minutes. Line tray with clean cotton cloth and pour in completed mixture. Cool overnight. Use as you would soy tofu in savory recipes.
Chickpea and Quinoa Curry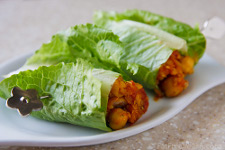 Recipe from Fatfreevegan.com
1 medium onion, chopped
2 cloves garlic, minced
1 tablespoon minced ginger
1 15-ounce can chickpeas, rinsed and drained
1 1/2 teaspoons good curry powder
1/4-1/2 teaspoon cayenne or other ground red pepper (or to taste)
1 15-ounce can diced tomatoes (fire-roasted preferred)
1 cup cooked quinoa
salt to taste
Heat a medium-sized, non-stick sauce pan over medium-high heat. Add the onions and a sprinkle of salt and cook, stirring, until onions soften. Add garlic and ginger and cook for another minute.
Add the chickpeas, curry powder, and red pepper, and stir briefly. Add the tomatoes and cooked quinoa, reduce heat to low, and cover. Simmer for about 10 minutes to allow flavors to blend. Add salt to taste.
Serve in wraps, pita bread, or lettuce leaves or with naan or other flatbread. Serves four.
There are so few foods that taste great and are great for you that it's worth your while to give these little gems a shot. Whether you use them regularly now or not, once you discover how simple and delicious chickpeas are, they're sure to become a go-to option for great nutrition.
Whether you prefer your chickpeas smooth and creamy as they are in hummus or tangy and spicy as they are roasted, be sure you have them in your diet. Along with their great taste, they help keep your body fueled and healthy!
Additional Reading on SteroidsLive:
Related Articles on SteroidsLive: