Silvio Samuel Wins Ironman Pro 2009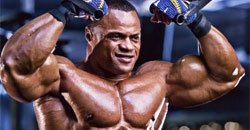 The new pro bodybuilding season has kicked off with the Ironman Pro Championships at the Los Angeles Convention Center on Saturday night. That L.A. night, 28 bodybuilders stepped on the stage. The winning of Silvio Samuel was no surprise.
Check out complete final report below.
Silvio Samuel
Moe Elmoussawi
Ronny Rockel
Hidetada Yamagishi
Ahmad Haidar
Eddie Abbew
Mohammad Bannout
Mark Dugdale
Marcus Haley
Johnnie Jackson
Troy Alves
Oliver Adzievski
Martin Kjellstrom
Thomas Benagli
Constantino Demetriou
Adorthus Cherry
Aiman Faour
Cesar Mendible-Baptista
Daron Lytle
DeShaun Grimez
Don Long
Evgeny Mishin
Fedel Clarke
Marc Lavoie
Oleg Empelyanov
Omar Deckard
Rusty Jeffers
Tamer El Shahat
Source of the image: almostperfectmen.blogspot.com.
Related Articles on SteroidsLive: