UFC 103 Main Card Preview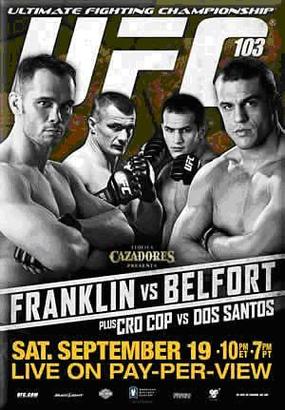 Well, the UFC has decided to give us quite a show for their "filler" card.  There won't be any championship bouts, but a lot of important fights here will decide future title shots.
The main event between former middleweight champ Rich "Ace" Franklin (25-4) and returning former light heavyweight champ Vitor "The Phenom" Belfort (18-8)in a catchweight bout at 195 pounds.  Franklin has been all over the place lately, fighting at 185 for the middleweight title, at 205 against Matt Hammil and at 195 against Wanderlei Silva, which cost Silva a title shot.  Franklin looks to play spoiler yet again with Belfort being groomed for a potential shot at Anderson Silva's middleweight belt.
Belfort has been around since 1997 when he first came onto the scene at UFC 12 when he won the heavyweight tournament and thus earned his nickname.  Since then he's lost to a who's who of mixed martial arts (Randy Couture, Tito Ortiz, Chuck Liddel, Alistair Overeem) but has really gone on a roll since he dropped down to 185.  This will be his third stint with the UFC and he looks to win his third title, but he has to get through Franklin first.  I expect this fight to stay standing throughout, as both fighters love to throw down.  Franklin will have to be wary of Belfort's speed, which could definitely be a problem for him.
Another exciting fight which with heavyweight implications is the co-main event between Mirko "Cro Cop" Filipovic (25-6-2-1) and Junior "Cigano" Dos Santos (8-1).  Cro Cop is a legend in the sport, known for his famous left high kick, which has KO'd the likes of Wanderlei Silva, Aleksander Emilienenko and Bob Sapp.  This is his second stint in the UFC and he is trying to redeem himself after a poor 1-2 showing.  Cro Cop believes he is two fights from getting a shot at the heavyweight belt, he was quoted saying "If I take both of those fights, I believe the third will be the title shot" (Quote from MMA Mania)
Dos Santos is a relative newcomer to the UFC who has made waves in his first two fights, which were brutal knockouts of Fabricio Verdum and Stefan Struve.  Dos Santos trains under the tutelage of MMA forces Antonio Rodrigo Nogueira and Anderson Silva, and with a big win here, could be well on his way for a future title shot as well.  Both fighters bring an exciting striking game, and while I believe Filipovic is the more well rounded striker, Dos Santos is faster, more powerful and trains with better technical fighters.  Look for an exciting KO finish in this bout.
Next up is a welterweight bout between contender Martin "The Hitman" Kampmann (15-2) and newcomer Paul "Semtex" Daley (21-8-2).  Daley is a late replacement for Ultimate Fighter season 1 veteran Mike Swick.  This bout originally had number one contender implications, but Swick was injured in training and was forced to back out.  With a spectacular showing, Kampmann could still potentially get his title shot against Georges St. Pierre, but it is no longer a guarantee.
Daley was brought in after Afflictions third event folded and looks to get a big win over The Hitman.  He fights out of Nottingham, England and is known as a scrapper, 17 of his 21 victories have come via knockout, TKO or submission from strikes.  Kampmann, on the other hand is in his third fight since dropping down to 170.  He trains out of Xtreme Couture with fellow UFC fighters Randy Couture, Forrest Griffin and Gray Maynard.  He most recently was in an absolute war with Carlos Condit at UFC Fight Night 18, which he won via split decision.  Kampmann is a jack of all trades, winning several fights by submission and KO.  I fully expect him to capitalize on his versatility over Daley, who has yet to appear in a cage.
Another welterweight matchup between Ultimate Fighter season 1 vet Josh Koshcheck (12-4) and returning veteran Frank "Twinkletoes" Trigg (19-6) is next in line.  Both fighters have similar credentials as they each were four-time wrestling All-Americans.  Trigg has said that Koscheck is a younger, faster version of himself, and that appears to be a big advantage for Koscheck who at 31, is 6 years the junior of Trigg.
Koscheck has really been improving his stand up at the American Kickboxing Academy, but has been known to leave himself open when he gets wild (i.e. Paul Thiago), and Trigg should look to take advantage of that.  Trigg returns to the UFC after losing back to back battles to Matt Hughes and Georges St. Pierre at UFC 52 and 54, which included a title shot.  Trigg knows his time is running out and has publicly stated he wants to make one last run for the welterweight title before retiring and going into MMA broadcasting full time (where he is excellent).  Look for Koshcheck to utilize his speed and power advantages here with a decisive victory.
The last bout on the main card looks to be exciting as well between UFC lightweight veterans Tyson Griffin (13-2) and Hermes Franca (19-7).  Five of Griffin's eight UFC bouts have won "Fight of the Night" honors as well as a "Submission of the Night" at UFC 63.  Both fighters have lost to Sean Sherk and Frankie Edgar by decision while defeating every other UFC opponent, so there is not much to learn there.  Franca specializes in Brazilian jiu-jitsu but as Griffin showed in his last bout with Rafael Dos Anjos, he can grit his way through a tough submission and still eek out a victory.
I don't expect anything less than an entertaining, back and forth war between these two, but keep an eye on Griffin utilizing his wrestling advantage to gain top control.  He also trains out of Xtreme Couture, so I fully expect a game plan which involves grappling, strong conditioning, and power punching.  Franca is coming off a knee injury, which caused him to back out of an Ultimate Fight Night 17 main event with Joe Lauzon, and has yet to be truly tested since.  Griffin should be able to eek out a decision here in yet another fight of the night caliber bout.