College Pick'em Rally September 19, 2009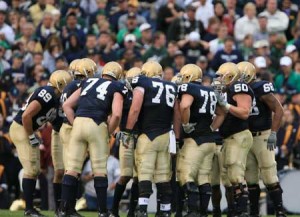 Notre Dame better huddle up and figure out how to NOT screw this one up!
College Football is upon us and now some schedules are getting meaty. (I know, I know, I missed a week, but I just started writing last Sunday! Geez, give a brother a break! ;o)
I'm going to make sure that I cover as many big games as I can, but I also don't want to write a 4000 word column when some of you really only want to know about a few schools. Don't worry, I won't leave out the smaller schools or conferences, but I just can't cover everybody… (But I will make it interesting.) Rally time baby!
(First, let me get this off my chest. I was at a friend's house when I saw how badly GT was losing to the U. I am disgusted…Tech needs to learn how to throw the ball, like yesterday!)
Ohio State @ Toledo 12 P.M.
How badly do you think Ohio State is going to annihilate Toledo? I'm guessing Jim Tressel is not happy about losing to USC (when they had the game won) and he took it out on his players. Well, they get to take it out on Toledo. If this does not happen as expected then Ohio State is not as good as we thought they were. Period.
Eastern Michigan @ Michigan 12 P.M.
All I have to say is: Rich Rod better not screw things up and lose to a directional school like the Spartans did last weekend. I think about covers it…
Duke @ Kansas 12 P.M.
I don't know what genius at Duke agreed to this, but they better be getting paid a lot of money to embarrass themselves against Kansas.
East Carolina @ North Carolina 12 P.M.
This should better game than we think. Skip Holtz isn't an idiot. He's Lou's son for Pete's sake! I know he's NOT Lou, but he's had a really nice team the last couple seasons. I bet it will be close, but Butch Davis can recruit and he's got the guns to do his will when it counts against the Pirates.
UNC – 34 ECU – 24
Boston College @ Clemson 12 P.M.
Boston College and Clemson is no small game. These two teams are hungry. Clemson had a big rally at the end of their game against Georgia Tech and got their hopes dashed right at the end of the game. Boston College is coming of a solid win against Kent State. I'm thinking BC is hungry to play a tough team and Clemson is hungry for redemption. This one's a close call.
BC – 21 CLE – 19
Tennessee @ Florida 3:30 P.M.
Lane Kiffin has been talking smack since day 1. In a way it's good: In a way it's bad. Who was the first person he called out? Urban Meyer! Um, bad move. You don't think that Urban Meyer has been planning Tennessee's demise since the day Kiffin made all those disparaging comments over the summer? Florida is out to embarrass UT. You watch…the Vols won't even be able to move. I bet they don't even record 100 yards of total offense.
UF – 66 UT – 3
(Those 3 points will be luck on Tennessee's part)
USC @ Washington 3:30 P.M.
Steve Sarkisian gets to welcome his old boss to Seattle and do a nice "show and tell" for Coach Carroll. Don't get me wrong, I think US will win the game, but Sarkisian can flat coach. Washington is a strong team that is getting deeper by the second. They'll give USC everything they could want, but it won't be enough, they just aren't there yet. (It will be a good game though.)
USC – 31 UW – 20
Nebraska @ Virginia Tech 3:30 P.M.
Bo Pelini has got some Black Shirt swagger going on in Lincoln again. It feels good to know Nebraska is back on the map. Virginia Tech is probably still a little miffed about losing a winnable game against Alabama, and I can't decide who I like more: The old school staple (Frank Beamer) or the up and comer (Bo Pelini). Either way, this shapes up to a be a tight game where we'll see a tough old-time type defense and running game from the Huskers and a chance for Tyrod Taylor to show that he still has "it" (whatever the 'it' was that everyone saw when he was such a highly touted recruit.) Another close one.
NEB – 20 VT – 18
Michigan State @ Notre Dame 3:30 P.M.
Well, well, look what the cat dragged in. The Spartans lost the
Central Michigan (oops) and the Irish lost to Michigan (double oops). There goes two seasons in the tank. Notre Dame needs it more (actually Charlie Weiss needs it more. They can't fire him, but his life will suck more if they don't win this one.)
ND – 17 MSU – 10
Cincinnati @ Oregon State 6:45 P.M.
You know, I heard the other day that UC doesn't even have a practice field. Can you believe that?, and they're still ranked #17. Oregon State's baseball team has a better chance of winning this game!
UC – 28 OSU – 7
Florida State @ BYU 7 P.M.
Florida State is just not the same. They couldn't pull it together to beat Miami and now they have to go all the way to Provo to get smacked around by BYU? Man that hurts. This will not be pretty folks.
BYU – 31 FSU – 10
Georgia @ Arkansas 7:45 P.M.
Bobby Petrino is a loser, and he better hope all the Georgia boys playing for UGA aren't still miffed about him quitting on the Falcons. Yeah, people around Atlanta haven't forgotten that one.
UGA – 41 ARK – 13
West Virginia @ Auburn 7:45 P.M.
Let's face it. These two teams need their old coach more than they need the one they have now. Gene Chizik has at least made the Tigers somewhat redeeming. Bill Stewart at WVU has not. It's a shame really.
AUB – 24 WVU – 3

Texas Tech @ Texas 8 P.M.
Mike Leach has a chance (albeit a slim one) to get one over on Texas again……yeah, that isn't gonna happen. He ruined the Horns' season last year and he ain't doing it again. No Crabtree (and he's a stupid dumbass, by the way) and no Harrell = losing a lot!
TEX – 57 TT – 13
All in all I'd say this is a moderate weekend for college ball. Nothing too serious around the corner. Some season could be broken, but I don't think anyone is going to make their own day on Saturday. Look for the results of this week to effect what happens next week. These teams could be setting the table for a monster weekend on September 26.
Peace.