NCAA Rules AJ Green Ineligible for Selling Game Jersey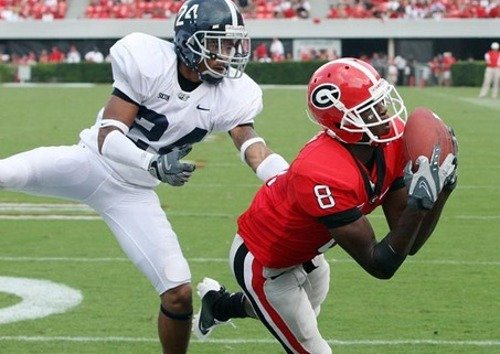 The NCAA has ruled that University of Georgia wide receiver A.J. Green is ineligible for the next three games for selling his game jersey. The team held Green out of the 55-7 opening week win over Louisiana-Lafayette hoping the NCAA would rule on the situation by Wednesday.
A source close to the NCAA investigation on Green told ESPN.com that Green did not sell the jersey on eBay and received less than $1,000 for it.
Green is also part of an NCAA investigation involving inappropriate contact with an agent. He has denied attending the agent-sponsored party in Miami and says he has never even traveled to south Florida.
Green, the top WR on the Bulldogs and All-SEC selection will miss the SEC opener Saturday against No. 25 South Carolina, in addition to games against No. 14 Arkansas and Mississippi State.
According to ESPN, Georgia will appeal the three game suspension handed down by the NCAA.