A Tough Start For MMA Lady, Kim Couture
Hey, because you are married to an MMA legend doesn't mean that you will become one. Kim Couture found out just how hard it is to be a world class fighter. She had a rough start in her first professional MMA bout.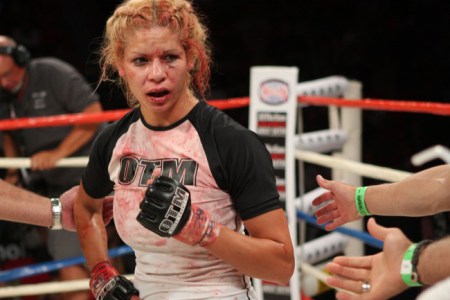 MMAJunkie.com:
"Making her pro debut, Kim Couture — the Vice President of Xtreme Couture and the wife of UFC heavyweight champion Randy Couture took on Kim Rose, who also debuted professionally.

Couture was tagged early in the fight, and the jolting blow and a constant flood of blood created ongoing problems throughout the three-round fight. Although she landed a fair share of ground and pound, successfully fended off some slick submission attempts, and proved she has an iron chin, Couture simply had no answer for Rose's powerful striking.

A steady stream of aggression earned Rose a shutout, 30-27 victory on all three judges' scorecards.

After the fight, Xtreme Couture coach Shawn Topkins told MMAjunkie.com that Couture may have suffered a broken jaw early in the fight."

While Kim didn't win, it's quite possible that we will be seeing her in the future. After all, she is training with one of the best fight camps there is, Xtreme Couture. Hopefully, there was a lesson learned that will give Kim some inspiration in her training for future fights.

Keep your iron chin up Kim! We hope to see you in the ring again soon!