Minnesota Vikings Trade for Randy Moss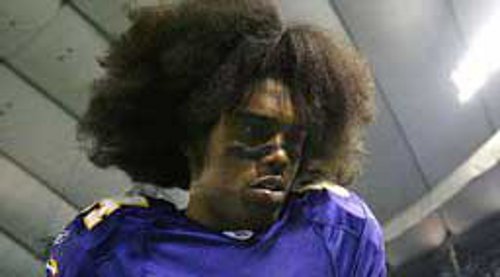 The Minnesota Vikings and New England Patriots made a trade early Wednesday morning, sending All-Pro wide receiver Randy Moss and a 2012 seventh-round pick to the Vikings. In return the Patriots get a 2011 third-round pick from Minnesota.
Moss had expressed his unhappiness with the organization about not having a contract pass this year earlier in the off-season. ESPN's Adam Schefter reported on Mike and Mike in the Morning that, although Patriots head coach Bill Belichick had never publicly expressed his frustration with Moss's public unhappiness, it was bothersome to him.
Moss played three full season and the first four games of this year, which included a record setting 23 touchdown season. Moss is returning to the team that originally drafted him in 1998, and he is second all-time in all of the major receiving categories.
The Vikings had been engaged with the San Diego Chargers in trade talks for their holdout WR Vincent Jackson, but the asking price was too much. Since the trade this morning reports have surfaced that Moss has signed a contract extension worth $27 million over 3 years.
Vikings quarterback Brett Favre and Moss have both spoken in the past about how they would love the opportunity to play together. With Sidney Rice's hip injury, the Vikings have lacked the ability to stretch the field. The Vikings feel that at age 33, Moss gives them that threat.
Moss will make his 2010 Vikings debut on Monday night against the New York Jets. Moss will return to Foxboro in week 8 to play his former Patriots teammates.
Related Articles on SteroidsLive: