UFC 112 Preview and Predictions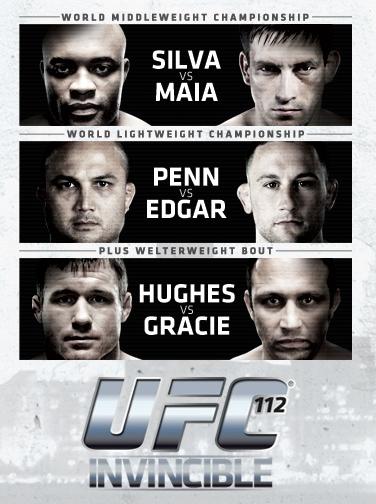 UFC 112 takes place this Saturday and it has a lot going for it.  It's the first UFC event to take place in the Middle East and what really makes it stand out is it's the first outdoor UFC event ever.  The threat of rain has always created pause when an outdoor event was considered before, but those chances are not very likely in the desert.  Again taking place on foreign soil, this is a very important card for the Zuffa brand because its success will have implications on how quickly the sport is actually growing.  If this event is a hit, it will likely foreshadow an annual show in Abu Dhabi.
The fights themselves are intriguing as well, apparently two UFC titles are on the line.  Two of the UFC's most dominant champions, BJ Penn and Anderson Silva look to defend their belts against Frankie Edgar and Damien Maia respectively.
The first televised fight of the night is a lightweight match between submission specialists Terry Etim and Rafael dos Anjos.  Etim and dos Anjos have both been on a roll recently in the UFC.  There was a lot of buzz around dos Anjos just for his ingenuity in the submission game after the viscous calf slicer he locked in on Tyson Griffin last April.  While Etim has been winning submission of the night awards in his recent fights against Justin Bucholz and Shannon Gugerty, it has been dos Anjos's recent decision victories that have caught my eye.  His overall MMA skills appear to be more dynamic than anything Etim has to offer, and while both men's BJJ skills are evenly matched, it's dos Anjos's striking that will help him prevail here.
Prediction: Dos Anjos by decision
Next up is an interesting middleweight matchup between the wrestler Mark Munoz and the jiu jitsu/striker Kendall Grove.  Munoz is a talented prospect and displayed some absolutely devastating ground and pound in his recent first round stoppage win over Ryan Jensen.  Grove has had problems against overpowering grapplers and powerful strikers in the past, but his recent submission victory of all-American wrestler Jake Rosholt should be proof that this won't be a walk in the park.  It all comes down to who can impose their will on their opponent.  Grove will look to keep the distance with his significant reach advantage and if the fight goes to the ground he will try to rely on his dangerous guard.  Munoz on the other hand will try to land some bombs standing and if that doesn't work out he will be taking this fight to the ground and try to pound out Grove.  If that happens, he's going to have to be a little more careful than Rosholt was, but I think he can be successful.
Prediction: Munoz by TKO 1st round
The next fight will probably be cheered on just as much as the main event title fights as UFC legend Matt Hughes takes on legendary grappler Renzo Gracie.  Hughes defeated Gracie's UFC Hall of Fame cousin Royce Gracie back in 2006 and Renzo has been looking to get revenge for his family ever since.  While this fight is intriguing, I don't know how seriously to take Renzo Gracie.  He has the legendary name behind him, but he also hasn't fought competitively in over three years since a DQ victory over Frank Shamrock.  Hughes hasn't been that impressive either, going 2-3 in the past 3 1/2 years, losing his welterweight title to George St. Pierre in the process.  It's my opinion that one of those wins, a decision victory over Matt Serra last year could have easily gone the other way.  This is more a battle of the old guard trying to be relevant than anything.  Neither of these men have the all-around skillset to be competitive or challenge for a title any more but the storylines still make the bout interesting.  Hughes has a 7 year youth advantage, and on top of Gracie's 3 year layoff, I think that will be the key difference.
Prediction: Matt Hughes by TKO 2nd round
In lightweight action, BJ "The Prodigy" Penn will defend his belt against Frankie "The Answer" Edgar.  Edgar earned his title shot after an impressive decision victory over former champ Sean Sherk and an even more impressive display of striking and submission skills against the undefeated Matt Veach this past December.  In that fight, Edgar displayed very crisp and accurate boxing as well as an aggressive ground game that helped him lock in the choke.  While the New Jersey native Edgar has continued to improve in each fight, he brings nothing to the table that BJ Penn can't handle.  Penn's striking is heads and shoulders above any UFC lightweight, and he's already proven his ground skills by winning the world jiu jitsu blackbelt championships.  No one has been a more feared lightweight than Penn, who has cruised to 5 straight stoppage victories in the division.  While I think Edgar has tons of potential, this is still the era of BJ Penn, and I don't see a single way Edgar can win this fight.
Prediction: Penn by submission 3rd round
If anyone has been a more dominant champion than BJ Penn, it's been Anderson Silva, who defends his middleweight belt against Demien Maia.  Silva is going for a UFC record 6th title defense, a record he currently shares with Tito Ortiz and Matt Hughes.  While Silva's two most recent defenses have been less than impressive against Patrick Cote and Thales Leites, it was his first round destruction of former light heavyweight champion Forrest Griffin that got the top pound for pound fighter in the world talk started up again.  Maia had a ton of buzz surrounding him after very impressive submission victories over Ed Herman, Nate Quarry and Chael Sonnen but he was knocked down off his pedestal by Nate Marquardt at UFC 102 after foolishly trying to stand and trade with the world class striker.  Maia rebounded by impressively standing and winning a unanimous decision victory over Dan Miller at UFC 109, but he displayed very little power despite showing improvements in his striking defense and accuracy.  Silva will not fear his striking ability whatsoever.
The plan for nearly every fighter against Anderson Silva has been to take the fight to the ground and try to earn a decision or submission victory, but no one has been successful yet.  The closest anyone has ever come was Dan Henderson when he stole the first round from Silva in his title fight at UFC 82.  Silva rebounded by crushing Henderson on the feet before choking him out in the second round.  If Maia has any chance whatsoever he will need to close the distance and use his technical mastery of jiu jitsu to get this fight to the ground and try to finish it early.  I don't think he can win a decision, he will have to somehow submit Silva, who is a blackbelt jiu jitsu practitioner himself.  Maia has already promised that he won't stupidly stand and trade with Silva like in his Marquardt fight, but I have little faith in his ability to get close enough to Silva without being knocked out in highlight-reel fashion.
Prediction: Silva by KO 2nd round