Two Cesar Gracie Fighters On The Same Card!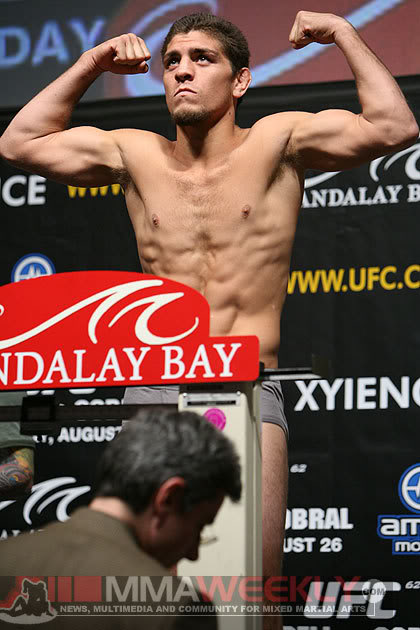 The second event of EilteXC is boasting two Cesar Gracie trained fighters on the card, The fight is to take place on July 26th in the hard core City of Stockton, California.
MMAFighting:
"Nick Diaz (17-7), who was pulled from a proposed DREAM title bout on July 21 against Hayato "Mach" Sakurai to fight on this CBS card on July 26, will meet King of the Cage veteran Thomas Denny (26-16).
Diaz and Denny were actually scheduled to fight each other at a Gracie Fighting Championships event in January 2007, but the show was cancelled due to low ticket sales. During the weeks leading up to the fight, Diaz ripped on Denny for his colorful hairstyles and flamboyant image.
After numerous roadblocks, Jake Shields (20-4-1) will get his latest chance to claim the EliteXC welterweight title. His opponent will be Bodog Fight welterweight champion Nick "The Goat" Thompson (36-9-1). Since the fall of the Bodog Fight promotion, Thompson competed for World Victory Road's "Sengoku" twice, winning both times.
Drew Fickett was latest opponent who was supposed to meet Shields for the title, but was scrapped from this card for fighting at a Rage in the Cage event and violating his contract with EliteXC in the process.
The second CBS-EliteXC "Saturday Night Fights" event will be headlined by a rematch of a title bout from the first event between champion Robbie Lawler and challenger Scott Smith."
I am looking forward to the Nick Diaz fight. While Nick has been labeled a "Bad Boy" and is not liked by many MMA fans, I got my MBA up at University of the Pacific in Stockton. I've got to support MMA athletes that are from the cities that I grew up in. I know first hand that Stockton is a tough town, with tough guys in it. Here's a shotout to Nick Diaz for representing Stockton and putting it on the map.