Fedor vs Rogers Main Fight Card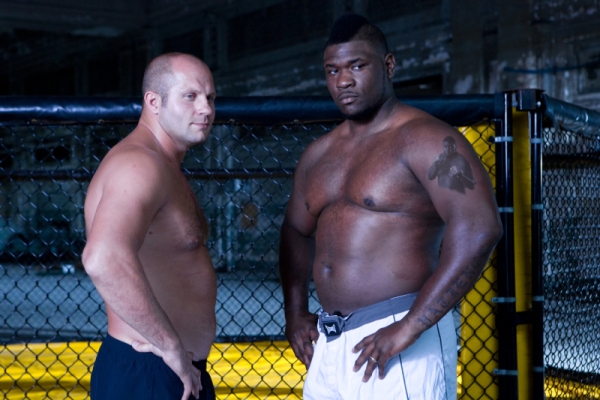 Fedor Emelianenko, the #1 Ranked MMA Heavyweight in the World, To Be Seen for the First Time by a Broadcast Television Audience, Squares Off Against Undefeated American Brett Rogers
Middleweights Jake Shields and Jason "Mayhem" Miller Battle for the Recently Vacated STRIKEFORCE Middleweight Title; Gegard Mousasi and Heavyweight Fabricio Werdum Will Also Appear on the Four-Fight Primetime Card
LOS ANGELES, Oct. 9 – CBS, STRIKEFORCE, M-1 Global today officially announced the fight card for mixed martial arts' (MMA) return to primetime with CBS/ STRIKEFORCE/M-1 GLOBAL SATURDAY NIGHT FIGHTS, Saturday, Nov. 7 (9:00 PM, live ET/delayed PT) on the CBS Television Network from Chicago, Illinois' Sears Centre Arena.
"We're looking forward to delivering an explosive night of world class MMA action on CBS," said Scott Coker, Founder and CEO of STRIKEFORCE. "We have the world's # 1 fighter, Fedor, making his network primetime debut against an undefeated powerhouse in Brett Rogers and, with the stars lined up for the remainder of the card, it is bound to be an exciting night of television."
The following four primetime matchups are confirmed for CBS/ STRIKEFORCE/ M-1 GLOBAL SATURDAY NIGHT FIGHTS on Nov. 7:
* Fedor "The Last Emperor" Emelianenko vs. Brett "The Grim" Rogers
* Jake Shields vs. Jason "Mayhem" Miller (Middleweight Title Fight)
* Gegard "The Dreamcatcher" Mousasi vs. Rameau Thierry "The African Assassin" Sokoudjou
* Fabricio "Vai Cavalo" Werdum vs. Antonio "Big Foot" Silva
(All bouts are pending approval by the Illinois Athletic Commission.)
FEDOR "THE LAST EMPEROR" EMELIANENKO vs. BRETT "THE GRIM" ROGERS:
Simply referred to as "Fedor" by fans around the world, the 6-foot, 235-pound Russian is one of the most dominant fighters in the sport. A master of the Russian military combat system, Sambo, he boasts a record of 30 wins, one loss, no draws with 16 wins by submission, seven knockouts and seven decisions. His opponent, undefeated American, 28-year-old Brett Rogers (10-0) stands 6-feet, 5-inches tall, weighs 265 pounds and brings two of the heaviest hands in the sport to the cage. Both Fedor and Rogers' last victories came against former heavyweight champion Andrei Arlovski.
JAKE SHIELDS vs. JASON "MAYHEM" MILLER
In the night's middleweight title fight (185 pounds), Jake Shields (23-4-1) squares off against Jason "Mayhem" Miller (22-6). Shields, widely considered one of the best fighters in the world, brings an impressive 12-fight win streak to the cage, six of his last seven coming by way of first round submission. Most recently, he defeated world-ranked middleweight "Ruthless" Robbie Lawler in his STRIKEFORCE debut on June 6. His opponent, Miller, a fellow submission expert, is one of MMA's most exciting fighters. The Brazilian Jiu-Jitsu and Muay Thai specialist is the host of MTV's reality series "Bully Beatdown" and trains with two of the sport's most recognizable fighters, Randy "The Natural" Couture and Quinton "Rampage" Jackson. He currently has 13 submission victories on his resume.
GEGARD "THE DREAMCATCHER" MOUSASI vs. RAMEAU THIERRY "THE AFRICAN ASSASSIN" SOKOUDJOU
Gegard Mousasi and Rameau Thierry Sokoudjou will face one another in the night's light heavyweight (205 pounds) bout. Mousasi (26-2-1) of Leiden, Netherlands, recently scored his 13th consecutive victory on August 15, 2009 by winning his US debut and the STRIKEFORCE light heavyweight title in a first round victory over defending champion Renato "Babalu" Sobral on SHOWTIME®. Sokoudjou (7-4), known to his fans as "The African Assassin," has scored six of his seven wins by knockouts and brings an impressive striking game to the cage.
FABRICIO "VAI CAVALO" WERDUM vs. ANTONIO "JUNIOR" SILVA
Fabricio "Vai Cavalo" Werdum will face Antonio "Junior" Silva in a matchup of two promising Brazilian heavyweights. Werdum is a two-time Brazilian Jiu-Jitsu world champion and a submission expert while Silva has nine KOs in his 13 victories. Werdum, a former PRIDE and UFC standout, is coming off an impressive first round submission victory in his STRIKEFORCE debut on Aug. 15 over veteran Mike Kyle. Silva, a fellow 6-foot-4 Brazilian, will be making his STRIKEFORCE debut after compiling a remarkable 13-1 record since he turned pro in 2005.