Karate Master Raymond Daniels Making MMA Debut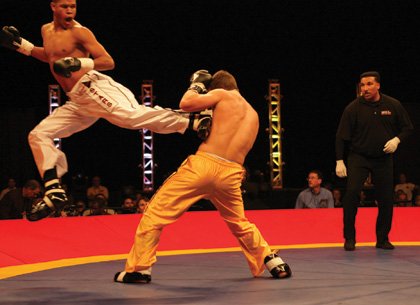 Unlimited Fight News: "Raymond Daniels will make his professional MMA debut tomorrow night (Friday Jul 27) at the Strikeforce event in San Jose. This MMA extravaganza will air live on HDNet at 7:30 PM PST/10:30 PM EST. As stated, this will be the young man's first profession MMA fight and he will be facing Jeremiah Metcalf, an opponent with twelve professional MMA fights on his resume; eight wins, four losses. Metcalf has wins over such notable fighters as Ronald "Machine Gun" Jhun. Metcalf has already had three fights this year and has won them all; two by submission, one by knockout.
While many of today's Mixed Martial Artists are coming from backgrounds such as wrestling and jiu-jitsu, Raymond Daniels comes from a traditional Martial Arts background much like the popular Cung Le, to whom Daniels is often compared. Personally, from what I've seen the unique striking techniques and excitement level that Raymond Daniels brings may even surpass that of Cung Le. Daniels became interested in following in the footsteps of his Father, Frank, at the age of five. Frank Daniels was a seasoned martial artist and Sport Karate competitor. This inspired Raymond to study Kenpo and as he matured, to compete and end up travelling the world facing and defeating all-comers. Currently, Raymond Daniels is recognized as the number one Sport Karate fighter in the world. He holds a 6th degree black belt in Kenpo and Shotokan Karate as well as a 5th degree black belt in Tae Kwon Do."
Raymond Daniels definitely knows how to win in Karate, but I have my doubts about his ability to shine in MMA. While I have seen some remarkable striking from Daniels, I have never seen his ground game. However, one never knows. Maybe Raymond has been training his ground game for the last three years, but hasn't fought professionally or publicly in that style of fighting. It is quit possible that he could surprise some people. One thing is for sure, Raymond Daniels is extremely dangerous to stand with. Check out this Raymond Daniels highlight video and you can make your own call on whether Raymond Daniels has what it takes to be an MMA star. Comments are welcome.