NBA: "Nothing But Ten" Rumor Edition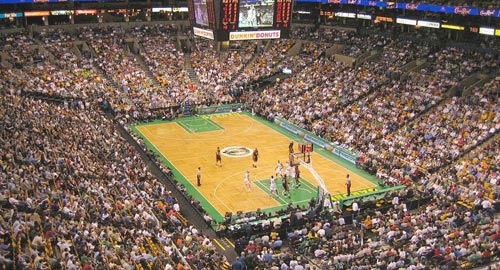 The NBA is filled with the kind of intrigue that is befitting a James Bond novel. The league also has a way of creating villains and heroes — without consulting the players, of course.
There are some rumors floating around the NBA that are funny. Some are salacious, and some are downright diabolical, in nature.
Every time the league opens a door for one player it closes a window for another. Then that player's team starts to resemble street-urchins-in-hoodies. Paint one coach as a "bad seed," and the whole team takes a PR hit.
When did the NBA become a "spy game?" It isn't just a player taking "questionable photos" — we've got potentially crooked refs.  LeBron James as hero/villain/hero; Dwight Howard as the crybaby, and a commissioner who plays favorites.
Somehow the league can get the right combination of players on the right teams to make drama happen. The NBA shed its "thug" image, but it replaced "thugs" with villains of their own design.
Who's up first?
10-7  Sheed, The Nuggets, Mark Cuban and Larry Brown
The NBA wants you to believe that Rasheed Wallace is a menace. He was there for the "Malice at Palace," and he's got a rap sheet the size of "War and Peace."
After all, who wouldn't despise a guy who has 25 career ejections, 313 career technical fouls and 6 career flagrant fouls? The NBA is betting you won't.
We always forget that Sheed came to the Pistons and was "the final piece" in Detroit's "Championship Crown" of 2004. We forget the same way we forget Mark Cuban resurrected the Dallas Mavericks.
Cuban bought the team, changed their business model, and they haven't missed the playoffs since 1999. I've blasted the Mavs — and Mark Cuban — for messing up their own mojo, but he's still a better owner than Michael Jordan.
Just as the NBA would have you believe that Cuban is too involved — or that he eats babies — they would also have you believe that the Nuggets are heartless dirtbags.
Denver's coach, George Karl, is fighting cancer, and the Nuggets lost in the 1st round of the playoffs.  Everyone on the planet is dogging them about not "rallying around their coach."
There are folks who want you to believe the Nuggets don't care, so they wouldn't want you to see this story from Hoopsworld. Travis Heath details how "the players [he] spoke with …became emotional when talking about their head coach."
Dirtbags? More like confused and emotional guys who are having a hard time dealing with their feelings, who got beat by a legitimately good Jazz team.
Then there's another brand of dirtbag — Larry Brown, or so they'd have you believe. He's had 13 coaching jobs in his career and he's actually coached two teams–Spurs and Clippers–in the same season.
Who would we be without coaches to hate?  Too bad no one has a problem with their nomadic friend who moves a lot—you call him "eccentric".
Allen Iverson has issues with Brown and Brown is the jackass.  Brown coaches up a very young Bobcats team this season and Michael Jordan might not want him around because Brown has a history of being a "jacksass".
Maybe Larry just needs a hug? "No, he's a jerk. You can't do that!" See, the NBA has already infiltrated my column
6-4 Joakim Noah, The Bulls, and John Paxson
"They" Said
Chicago Fires Del Negro After Turmoil, Playoff Exit
LeBron James Wins Second MVP Award in a Landslide
Kobe Bryant Already Has His Game Face On
---
Upcoming NBA Games
| | | |
| --- | --- | --- |
| May 13 | CLE @ BOS | 8:00 PM ET on ESPN |
| May 16 | BOS @ CLE | 3:30 PM ET on ABC |
| May 17 | PHX @ LAL | 9:00 PM ET on TNT |
| May 19 | PHX @ LAL | 9:00 PM ET on TNT |
The "incident" between Vinny Del Negro and John Paxson after a Bulls game with Phoenix has it all. Del Negro and Paxson were fighting over Joakim Noah.
Paxson had put a limit on the minutes Noah could play as he recovered from an injury. Del Negro was trying to win games so he wouldn't get fired. Noah wants to play because he's the ultimate competitor.
We'll never know who the "instigator" was. Why? Because John Paxson was going to fire Del Negro anyway. David Stern thinks that John Paxson must be viewed as a playoff hero for the Bulls. If Paxson is anything other than the game-winner in the '93 Finals then the league might collapse.
You see, the league carefully crafted Paxson as the hero-turned-executive. This heroic image went to Paxson's head and he acted out. The league never leaked the details, so I have to assume Paxson was the aggressor.
Meanwhile, Vinny Del Negro was a marginal NBA player who lucked into playoff runs in 2009 and 2010. That's what works for the league.
Actually, Del Negro took the Celtics seven games in the best First Round Series ever played in 2009. Then he got his team back to playoffs after he lost Ben Gordon to Detroit, and Noah for part of the season.
Joakim Noah is a convenient villain for the NBA. He plays in the East. He clashes with pretty boys like LeBron, KG and Paul Pierce, and he's outspoken.
How could the league let him be anything but a villain? Conveniently overlooked, are his 2006 Final Four MOP and two National Titles. He's the firecracker on a young team with potential.
Yet the only thing I can find are stories about how much everybody hates Joakim Noah. You think that isn't by design?
#3  D12=Crybaby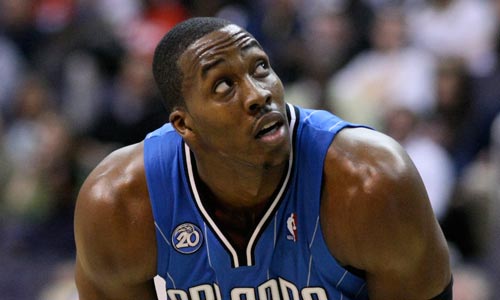 Dwight Howard got fined $35,000 for criticizing officials on his blog. D12 is in the wrong place at the wrong time. He's competing with LeBron James for the title "NBA Hero"—and he's losing.
David Stern had already anointed LeBron when he walked across the platform with the #1 Cavs Jersey. How can Dwight compete?
And before you say that LeBron doesn't complain, he doesn't have to. He gets all the calls. LeBron gets to be the upstanding citizen, and D12 gets to be the crybaby that can't make free throws.
Nevermind that Tim Donaghy looks more right everyday, and Howard is right to be upset about the calls he's taking.
Take Dwight Howard off the Magic and they win 20 games—max. He's the first person to lead the league in rebounds and blocks in consecutive seasons. However, he finishes 4th in MVP voting.
As soon as he missed those free throws in the Finals last year he sealed his fate. The league decided he's the crybaby who can't make free throws. It's unfair, but true.
2.  Kobe Looks Fruity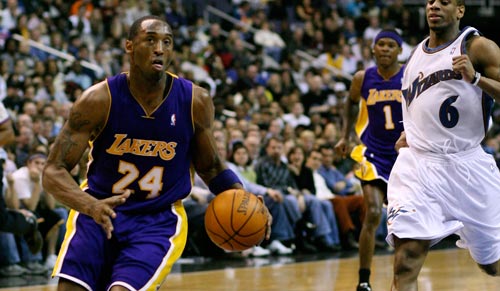 Then Kobe Bryant goes and does a photo shoot for L.A. Magazine where he looked—fruity. That's the way my mom would put it.  Keep in mind that I'm a Laker's fan, but the man has a shawl on his head. A SHAWL!
Kobe seems to be on David Stern's "Wheel of Fortune." Sometimes Kobe becomes the jerk — rape allegations covered to the hilt; he's selfish because he has no one around him — but the man wears a shawl on his head and there's not one word spoken about how wrong this looks?
I can assure you that if Joakim Noah took those pictures, everyone on the planet would accuse Noah of being gay — for the record I believe he's straight.
So why the "protection?" Kobe and LeBron have puppets — D12 and Noah don't. Kobe and LeBron is a sexy match-up — no one liked Kobe v. D12.
If you think David Stern doesn't have his hands all over this, then you haven't been paying attention. The league steers PR where it wants. You can't have people accusing Kobe of being gay right before he could meet LeBron in the Finals.  You just can't.
1.  LeBron James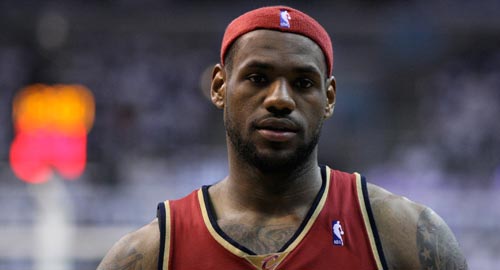 David Stern wants LeBron to stay in Cleveland — yet this is somehow ok. Stern talked before Game 2 of the Celtics/Cavs second round game:
"Hopefully he'll stay. That's the way it should be … It allows teams to keep their own players."
He doesn't get to say that, does he? If you're the boss, don't you have to be impartial? He gave the Cavs leverage with LeBron, and everyone missed it.
Now, when they're at the table, the Cavs can say, "David Stern wants you here; you don't want to disappoint him, do you".
And we all know that disappointing Stern means you'll have a disappointing career. It's not that LeBron got preferential treatment — it's that the Cavs got preferential treatment.
He didn't want the Sonics in Seattle so he let them move. He wants the Cavs in Cleveland, so he's doing them a favor.
Kobe may not be "fruity," and John Paxson might not be an amateur boxer. Larry Brown might be a good guy; Sheed might be a great player, and Mark Cuban might be the best owner in the league.
Those rumors don't sell. The NBA LIVES on rumors. They propagate them every day. I could write this column every week, and it would always be something new.
That's how LeBron gets to be the "King" and Joakim Noah is a jackass.
If there's one rumor that's always true in the NBA it's this: David Stern started it.
Related Articles on SteroidsLive: