Cory Everson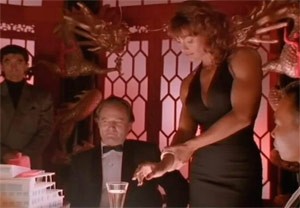 Today we will tell you about the legendary woman, an outstanding American athlete, winner and a real champion, six times awarded with the title of Miss Olympia – famous and unique Cory Everson (Corinna Everson, a shortened version of the name) … But I would like to start not with this …
We will begin, perhaps, with the following: let us remember the tremendous popular film of the 90s, "Double Impact" with all our well-known idol of those years – Jean Claude Van Damme in the lead role. However, it now goes not about Van Damme … Let's brush up on the plot of this movie … In the course of the script the protagonists: twin brothers get involved in a confrontation with a pair of negative characters:
Zhang, a bodyguard who played amazing cult actor Bolo Yeung.
Griffith, who, if you remember, in the film was a beautiful bodyguard girl Kara …
So, very few people know it, but this girl Kara played then, as you have probably guessed, the heroine of our today's article – unsurpassed Corinna Everson. And how she played! – In my opinion, just brilliant! This is about her and her life path will be our story …
Corinna Everson Biography
Cory Everson (Cory Kneuer original name) was born on January 4, 1959 in American small town in Racine, Wisconsin, in an ordinary family of German immigrants with average wealth and ordinary income. Even in junior high school, it became clear that the girl has an extraordinary potential in the field of sport. And when the little Cory surprised everyone, setting a record in this discipline as a jump from their seats, and no one longer doubted that the child is waiting for a real professional sports career. Further evidence of this was the convincing victory with the establishment of the record in the freestyle 50 yards in the high school. Future champion came to the finish line first, leaving behind all their rivals. Of course, after such a high-profile, stunning victories, it drew the attention of coaches and sports instructors all around and further training Cory held exclusively in schools with a sports bias. Successfully graduating from high school, Cory Everson was accepted almost as an external to the university at the Faculty of Physical Education of the University of Wisconsin. 4 years later, having received higher education sports, Cory thrice participated in the American pentathlon, the so-called "Big 10", and all three times the rise in the step of the podium with the number "1", thereby again repeatedly confirmed its unique ability to championship …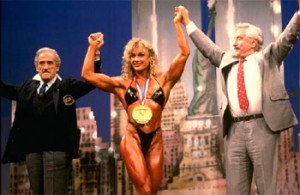 Becoming a triple winner of the pentathlon, Cory decided to go to the fitness and began seriously to get involved in training his body with the help of weights. Like any other sporting arena, she did not want to "fall behind" among the laggards, quickly began to prosper, and get out into the lead. But in 1981 her life took an unexpected turning point – being on the preparation for the next competition (IFBB North American Bodybuilding Championship among the mixed pairs), Cory suddenly felt a sharp pain in his left foot. Accustomed to endure and withstand all the clenched teeth, the future champion did not betray her special significance. As it turned out, in vain – in the three major blood veins left leg on her misfortune, formed clots. Urgently she was sent to the hospital. The situation was so serious that an athlete could easily lose a leg! But, as fate, according to medical fitness, in the literal sense of the word, saved her life – a great physical form allowed Corinna quickly to normalize blood flow and actually save the limb from amputation! But to avoid the negative consequences it was impossible – a courageous athlete was simply doomed to fight blood clots lifetime. Because of its excessive clotting of blood, Corinna was now vital to always be physically active, so the blood does not stagnate! That is, from now on training for athletes become not just a favorite hobby or professional work – as a matter of "life and death". In fact, it meant: "Do you want to live? – Train or die! "– Something like that, like a vial of poison sewn alcoholics … received from the fate of "this additional incentive," Cory, with triple determination and zeal, continued its bumpy ride to Olympus …
What happened next we all know, the table below, in particular its third column filled solely by "unity", he speaks eloquently for itself …
History's most famous wins of Corinna Everson
Year
Competition
Place
Notes
1989
Ms. Olympia
1
–
1988
Ms. Olympia
1
–
1987
Ms. Olympia
1
–
1986
Ms. Olympia
1
–
1985
Ms. Olympia
1
–
1984
Ms. Olympia
1
–
1984
Nationals
1
–
1984
Nationals
1
Heavyweight Category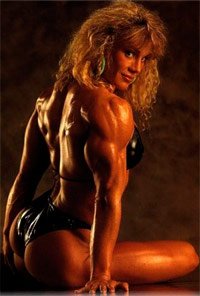 Until now, Corinna very seriously watches correctness of his power, and in particular the extent of the food additives. And because the main landmarks of her life is altruism – helping people to think things through carefully, it is launching a revolutionary line of sports, women's dietary supplements – "Cory Everson's Solutions". Record holder worked tirelessly over their development for a year, using the most significant scientific innovations.
And it was – just the beginning. One only help athletes, altruistic emotional outbursts were not limited to the well-known bodybuilders. It is unusually warm and good-naturedly refers to all people in general and to each person in particular. Especially anxious – to his fans. In one of his interviews Corinna Everson said:
Compared to other stars, my fans never let me hurt. I love them, and they feel it. Always polite, shy and respectful! I try to pay each time, because everyone has some kind of story they would like to share with me. I feel happy that I can help someone, for that they love me. After all, capable of compassion for people who are drawn to each other.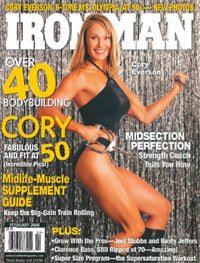 And she helped all my entire life … By the end of his sports career, the result of its philanthropic activities became a huge size sport-medical complex "Mind-Body Retreat", opened in Malibu. There are seminars on healthy lifestyles, proper nutrition, the lessons of improving gymnastics, martial arts and meditation, yoga classes, athletics, stretching, body shaping, aqua-aerobics and more. In fact, this institution came to light only because of the immediate activity and long-term work of the famous Champion.
Despite the large number of achievements in life, Corinna long time suffered from the lack of self-sufficiency, as no win no substitute for a loved one near. The divorce with her husband Jeff Everson, occurred in 1992, it actually became a real stab in the back – the athlete who has lost the mainstay in my life, I had to learn again to take care of itself. However, Cory does not blame and does not hold a grudge against her ex-husband. They say they even kept the warm and friendly relations, bodybuilders and she believes that this life lesson only contributed to the development of new mass in her valuable qualities.
Perhaps the biography of this great woman is not complete without mentioning another interesting point. For a long time the main dream was Cory – the desire to become a mother, because of her illness she was to give birth is absolutely contraindicated. In 2000, her dream came true – athlete adopted a boy. And now she has a son named Boris, by the way, of Russian origin. Cory herself, not without irony, said that it would be useful to introduce a global moratorium on the delivery, for example, for the next five years – "Why give birth to her child, when all around are so many abandoned children who need families?" In part, of course it is what -That right …
Corinna Everson Pics
After completing his professional career as a bodybuilder, Corinna, like so many other celebrities, worked in television,  repeatedly acted in films and all kinds of advertising. She engaged in coaching and teaching, passing her huge experience to the younger generation of bodybuilders. To express herself, as the author of a large number of teaching materials on the subject of training, posing, food and other essential components of fitness and bodybuilding. As we mentioned earlier, it has opened itself to the new role of a business woman – was also a sponsor and investor. Well, and, of course, it has repeatedly engaged as a fitness model …
By the way note the photo posted above a famous glossy magazine … it – unbelievable, but it looks so our heroine is 50 years old! Probably every woman wanted to look like her age. Is not a miracle?
Here, perhaps, and everything we know about the outstanding athlete, an unrivaled champion six times, a beautiful girl, and a unique personality – Corinna Everson (Cory Everson). Let her biography and fascinating history just a difficult way of life – will be for you an excellent example!
Related Articles on SteroidsLive: