MLB Week 13 Sluggers and Slugs – All-Star Edition
The baseball season is approaching the All-Star break and just like every year, fans feel like someone got snubbed. Which players got the raw deal? Was there any movement in Penthouse Power Rankings?
It feels unusual not to give praise to a pitcher for throwing a no-hitter or perfect game. These days they seem to happen almost as regular as Lindsay Lohan arrest updates.
The Boston Red Sox have another player on the DL (Disabled List) bringing their total to nine. The newest injury victim is pitcher Clay Buchholz who joins Dustin Pedroia, Victor Martinez, Manny Delcarmen, Jason Varitek, Josh Beckett, Jacoby Ellsbury, Jeremy Hermida and Mike Lowell. Somehow despite the plague of injuries, they continue to maintain pace with the New York Yankees.
The AL central continues to be a tight race with the Detroit Tigers and Minnesota Twins tied at the top, and the Chicago White Sox trailing by only a game-an-half.
The Cincinnati Reds are trying to create some separation between them and the St. Louis Cardinals. If the Reds continue this play, I'd like to see Dusty Baker become the Manager of the Year.
Twins catcher, Joe Mauer, led players in All-Star Voting. It hasn't been his most impressive year so far with a .303 average and only 3 HRs.
Penthouse Pimpin'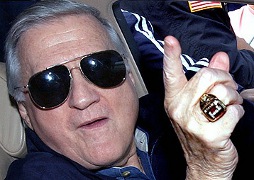 Heading into the All-Star break, the American League and National League top 5 stay the same.
No. 1 – The Yankees currently have the best record (50 – 31). The Yankees have been the most consistent team thus far – which should be the case when you have a roster that could probably beat the NL All-Stars.
No. 2 – The Red Sox have been incredible this season when it comes to bringing in fill-ins for some of their best players. Adrian Beltre has given them something most people didn't expect and I think is a big reason why they've played so well.
No. 3 – The Texas Rangers have cooled off as of late but they still have a 3.5 game lead over the Los Angeles Angels. A lineup with Josh Hamilton and Vladimir Guerrero is like dating sexy identical twins – their both hot so it doesn't matter who's up.
No. 4 – The Atlanta Braves have been one of the best teams all season at filling in positions when players get injured. If the pitching continues to stay on the same course, they will be headed to the post season – Ranked 5th in ERA and 7th in strikeouts.
No. 5 – The San Diego Padres need to make a move to get another bat – I can't stress that enough. The Padres rank among the lower tier in hitting – Pitching on the other hand has been sensational – Ranked 1st in ERA, Strikeouts, and WHIP.
All-Star Breakdown
I have to get something off my chest that I think many of you feel the same way about. The fact that every team must be represented in the All-Star game is garbage.
I think there should be some rules put in place for certain struggling teams to get a player on the roster. One thing they could do is put an attendance minimum for each team. If your own fans don't want to see you, what makes Major League Baseball think that other fans want to see them.
You could also put a minimum number of votes that must be received in order to play. For example: a player from the Royals must receive 25,000 votes before he can represent his team in the All-Star game.
If you're going to make this game count for something (the winner earning home field advantage for their respected league in the World Series), then you should allow the manager to pick the players who will go to the game after the fans vote in the starters.
AL – Starters
C – Joe Mauer, MIN – Good vote by the fans – Lock for the next 5 years in this summer classic
1B – Justin Morneau MIN – Can't argue with this selection – Cabrera is my AL MVP
2B – Robinson Cano NY – Becoming one of the best all around Yanks of all-time
SS – Derek Jeter NY – The Frank Sinatra of baseball – Unless Jeter pulls a "Tiger Woods" the New York Fans will vote him in
3B – Evan Longoria TB – Maybe Beltre, but he won't let you touch his head – Weirdo – Longoria carries the Rays offense at times
OF – Josh Hamilton TEX – Earned a lot of love in the last 6 weeks – Think any player with a shot at the Triple Crown should be voted in
OF – Ichiro Suzuki SEA – Fans appreciate his ability to stay awake in the clubhouse – The best hitter since Pete Rose
OF – Carl Crawford TB – Auditioning for the Yankees this season – I predicted he would have a big season this year and he is delivering
DH – Vladimir Guerrero TEX – Playing better since he donated his hair to Locks for Love – Should get a nice reception from the Angels fans
AL – Pitchers
P – Clay Buchholz BOS – On the DL don't think he's going to pitch – Great 1st half – Replaced by Andy Pettitte
P – Trevor Cahill OAK – Actually deserves to be on the roster – Probably get traded for the next batch of players to groom
P – Fausto Carmona CLE – Lone bright spot for the eye sore Indians now that Shin Soo Choo is injured
P – Neftali Feliz TEX – Throws the heat – Nolan Ryan must love this kid – Welcomed Surprise
P – Phil Hughes NY – Thanks to his breakout first half Chamberlain is where he belongs
P – Cliff Lee SEA – Terrific first half after suffering a pre-season injury from pulling a knife out of his back from the Phillies
P – Jon Lester BOS – The best pitcher in the AL first half start to finish
P – David Price TB – One of major reasons the Rays have had some early season success
P – Mariano Rivera NY – The greatest door slammer of all-time – Mo will retire and still get voted in to the All-Star game. Despite Rivera being a shoo-in, he will be sitting out of the All-Star game this year to rest his injuries
P – CC Sabathia NY – Pitched amazing in his last 6 starts – Supposedly a second half pitcher – Not sure how much better he can pitch – scheduled to pitch Sunday, so by rule may not be eligible
P – Joakim Soria KC – They needed a representative – Leads the league in saves – not mad about him making the team
P – Matt Thornton CWS – Solid out of the pen all season – Ozzie wanted to rep the team, but realized he can't play anymore
P – Jose Valverde DET – Solid contributor, but they should have selected Verlander.
Reserves
C – John Buck TOR – Replacing Victor Martinez – Buck has been part of the slug fest going on north of the boarder
1B – Miguel Cabrera DET – Couldn't get enough votes to be a starter because Detroit's economy doesn't have any people left
2B – Ian Kinsler TEX – Replacing Pedroia – Played nicely since coming off the DL
2B – Ty Wiggington BAL – When he gets announced you'll hear a collective "WHO" – The best the O's have to offer
SS – Elvis Andrus TEX – His speed has made Texas even more dangerous than people have expected
3B – Adrian Beltre BOS – Big reason why the Sox have stayed so close in the AL East
3B – Alex Rodriguez NY – Only made the team because Girardi is managing
OF – Jose Bautista TOR – HRs have been impressive – Batting average looks like the change from a deli sandwich
OF – Torii Hunter LAA – Going to receive the biggest obviation during announcements – one of the most consistent player over the last 8 seasons – Huge day on the day of the announcement
OF – Vernon Wells TOR – Part of the crew of Jays that should be arrested for domestic violence because they have been beating up the ball so bad.
Biggest AL Snubs
I can't believe that Kevin Youkilis didn't make the team, but then again I understand why Girardi selected A-Rod instead. Youk's numbers are better and he has been a bigger reason for his own team's success. Youk is one of five players who still have a chance to be voted in by the fans.
The other guy from the AL I have a problem with not making the squad is Jared Weaver. The guy has a respectable win-loss total, leads the league in K's, and the game is in his own stadium. They will figure out a way to get him in the game I suspect.
NL – Starters
C – Yadier Molina STL – Just proves this is the position with the least amount of exciting players – Solid player
1B – Albert Pujols STL – No question for me, the best player in the game
2B – Martin Pardo ATL – Having a great surprising season, but could do without him on the roster – The reason why the NL hasn't won since '96
SS – Hanley Ramirez FLA – Great player – Hopefully he remembers to hustle for the ball after he boots it
3B – David Wright NYM – NL MVP candidate – Unfortunately this will be the highlight of his season since Mets won't make the playoffs
OF – Ryan Braun MIL – Is having another terrific season with the stick, definitely deserving
OF – Andre Ethier LAD – If it weren't for the stint on the DL he might be having the best offensive season in the NL
OF – Jason Heyward ATL – On the DL, most likely won't play – My choice thus far for ROY (Rookie of the Year)
Pitchers
P – Jonathan Broxton LAD – Having a solid season, but think Health Bell is more deserving
P – Matt Capps WAS – ERA is a little high for a closer but he's been great for the Nationals
P – Chris Carpenter STL – When healthy continues to put up excellent numbers
P – Roy Halladay PHI – Hasn't been the best pitcher in the NL, but goes the distance more than anyone else
P – Tim Hudson ATL – Pitching like he did before Billy Bean got rid of him for the next sack of rice and donkey
P – Ubaldo Jimenez COL – This kid has a no-hitter and the best 13 game start to a season I've ever seen – Kept the Rocks in it at the beginning of the year
P – Josh Johnson FLA – 5 weeks ago I thought he was having a nice year and now could be competing for the CY
P – Tim Lincecum SF – The Freak has some work to do if he wants a 3rd straight CY – Definitely the best thing the Giants have going
P – Evan Meeks PIT – This guy has elite closer stuff and someday will probably be one – Just not in a Pirates uniform
P – Arthur Rhodes CIN – Has pitched better than Cordero all season and kept them close in all the one run or late inning games they've won
P – Adam Wainwright STL – 5 weeks ago Wainwright and Johnson were the 2nd tier for CY – Soon he may be the front runner
P –Brian Wilson SF – The staple to the great pitching staff they have in San Fran
Reserves
C – Brian McCann ATL – It's been an up and down season for the Atlanta catcher, but overall putting together a solid season
1B – Adrian Gonzalez SD – The only threatening hitter in the Padres lineup – I didn't consider him a serious MVP candidate until 2 weeks ago
1B – Ryan Howard PHI – The numbers are solid and has been the Phil's best player – Not an All-Star this year – Manager Manuel Selection
2B Brandon Phillips CIN – I actually believe that he could be in the running for MVP by seasons end – All around tremendous season so far
SS Jose Reyes NYM – Started the season on the DL, since returning has helped spark the Mets Offense
3B Omar Infante ATL – Another great fill-in player for the Braves – Not sure he is a All-Star
3B Scott Rolen CIN – The Reds have gotten 10 times what they expected from Rolen – He is the guy I like as the Reds MVP
OF Michael Borun HOU – A good young player – Definitely a representative player and will be used a pinch runner
OF Marlon Byrd CHC – Talk about a phenomenal surprise for the Cubs – Another surprise for the Cubs was the decline of Lee, Ramirez, and Zambrano
OF Corey Hart MIL – This guy doesn't look like a baseball player, but has been slugging the ball like crazy this year – Looks like a GI Joe
OF – Matt Holliday STL – The numbers are good – For some reason he has become allergic to hitting with runners in scoring position
OF – Chris Young ARI – I am very happy for a young man like Young to go to his first All-Star game – I wish it were deserving
Biggest NL Snubs
Another case of manager favoritism has left Joey Votto off the roster. Not a big shocker that a Phillies manager Manuel went with a Phillies guy when he selected Ryan Howard to the team. Votto has a chance to make the roster by the fan vote-in just like Youkilis.
It's a crime that not one pitcher from the Padres is in the All-Star game. I am most outraged that Matt Latos did not make. The team that is number one in pitching will have everyone resting over the break and I'm sure that is just fine with manager Bud Black.
All-Star Game Prediction
National League 7 – American League 5
MVP – Brandon Phillips
Related Articles on SteroidsLive: