MLB Week 12 Sluggers and Slugs: 1st Half Special Edition
This week marked the end of inter-league play. Allow me to say thank goodness, it is finally over.  Fantasy Tips–Trading players while their value is high. Which players have had the most impact over the first three months, and which players are my favorites to win MVP and Cy Young?
Normally, the highlight of the week would have been Edwin Jackson's no-hitter, but it seems like they're happening almost as often as Michael Jackson got nose jobs. The Tampa Bay Rays have been struggling, and getting no-hit for the second time this season is the perfect indicator.
Tempers are heating up like the temperature of summer. Chicago Cubs' pitcher Carlos Zambrano lost his cool and ended up nose-to-nose with teammate Derek Lee. The Rays' frustrations also started to show through when Evan Longoria and B.J.Upton had a disagreement in the dugout.
Josh Hamilton has a league high 21-game hitting streak going. The only thing hotter than Hamilton at the plate right now is the latest Playboy centerfold.
The Florida Marlins and Baltimore Orioles both have manager vacancies.  To me this is the same thing as seeing a "help wanted" sign in the window at McDonald's. According to two baseball analysts from ESPN, these jobs are very desirable.
Buck Showalter – interviewed for the Os opening and spoke very highly of what an opportunity it would be to coach there. Bobby Valentine – interviewed for the gig that the Marlins have to offer, and to his knowledge is still a candidate.
Penthouse Pimpin'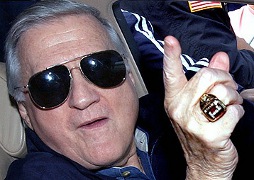 No. 1 – The New York Yankees keep this spot for the second consecutive week. They won 4 of 6 this past week, including a lucky 9th inning 4-run rally, and eventually won the game on a Robinson Cano HR. When I say lucky, I mean they are the ugly dude who picked up a drunk hot chick with low self-esteem at the bar.
No. 2 – The Boston Red Sox are still playing second fiddle to their "Daddys" of the AL East, and trail by 2 games. The most noteworthy stories about the Sox this week are two injuries. Dustin Pedroia and Victor Martinez are both on or headed to the DL. This will have its effects on the recent success they've been having.
No. 3 – Last week, this spot was the Rays', but they haven't hit lately. This week the Texas Rangers moved in and have their eyes on the number one spot. The awful douche bag saying, "Things are always bigger in Texas," doesn't apply to their payroll.  According to CBSSports.com they are ranked 27 in the league and keep winning games.
No. 4 – The San Diego Padres have knocked the Rays out from the penthouse reservation. The Padres may actually be for real – Besides the AL East, the NL West is the only division with four teams, and over .500 winning percentage, and the Padres have a 4 ½ game lead over the San Francisco Giants.
No. 5 – The Atlanta Braves fell one slot after losing three close games to the streaking Chicago White Sox, with only a one-half game lead over the New York Mets.  The Mets are allergic to winning in the last six weeks of the season, so they only really need to worry about the Philadelphia Phillies in the NL East.
Fantasy Frontline
Making trades in anything is tough, because you want to feel like you're getting more than you're giving up. That especially applies to fantasy baseball.  If I get one more trade offer like – Ryan Howard for Mike Lamb and Michael Bourn – I'm gonna punch someone in the face.
My thought on trading is which one of my players has peaked for the season and who has a player that I think will have a big second half.  Obviously if you have a player like Albert Pujols who has had a great start, then keep him under almost all circumstances. Players with consistent histories are the ones you want to target – good or bad.
Hitters
Alex Rios is having a monster first half of the season hitting .311 with 13 HRs, 40 RBIs and 20 SBs. Rios is on pace to set career highs in these categories. It might be a good idea to try and get a frontline pitcher or bust someone in a 2-for-1 type deal.
Brett Gardner is similar to Rios except without the power. Gardner is hitting 40 points higher than his career average, and I feel this has to dip drastically at some point.
Jose Bautista has already surpassed his career high for HRs and is 150 points over his career OPS. No one is that happy to be in Canada, so it has to slow down at some point this season.
Pitchers
Jaime Garcia has started his career pretty nicely, but it appears that teams have gathered enough film on him and it shows. In his last six starts, Garcia has given up 15 ERs. This is his first full season in the big leagues, and his arm will get tired towards the end of the season.
Carlos Silva has clearly over achieved this season, and with a Cubs' organization in disarray, this might be a good time to get max value on him. Silva has 11 QS (quality starts) and 8 wins but should decline as the Cubs become sellers at the trade deadline.
As crazy as this is going to sound – you might want to trade Ubaldo Jimenez. What are the odds that he will pitch as good in the second half as he has in the first? You may also be able to add depth to your roster by getting another ace and closer or power hitter adding the depth needed for a playoff run.
Heroes – Best of the Best
AL Heroes – MVP
Three guys in the American League have taken their turns shining brighter than anyone else in the first three months.
Miguel Cabrera 1B – BA/.332 HR/20 RBI/64 R/55 OPS/1.033
Josh Hamilton OF – BA/.346 HR/18 RBI/57 R/52 OPS/1.009
Robinson Cano 2B – BA/.359 HR/15 RBI/53 R/55 OPS/ 1.002
Although Hamilton has the hit streak going and currently is the hottest player, he finishes third in this particular vote – based on the fact he has too much help with Vladimir Guerrero and Michael Young having a tremendous year.
Cano is surrounded by former all-stars and future HOF (Hall of Fame) players. On the other hand Cabrera has the Detroit Tigers competing for the AL Central. The Central is a pretty weak division comparatively, but none the less impressive and why I think Cabrera is the first half MVP.
Cy Young
This is a two horse race for me between Jon Lester and David Price. Both pitchers are from the AL East and both men are helping fight for a playoff spot against the super power Yankees.
Jon Lester SP – ERA/2.86 W/9 K/111 QS/10
David Price SP – ERA/2.44 W/11 K/84 QS/12
Over the past several months the Sox have been the best team in baseball and Lester has been the most consistent piece to that puzzle. That is the major reason why I have Lester as my first half Cy Young.
NL Heroes – MVP
Technically, Jimenez has been the player with the highest value, but which players brought the wood in the first half?
David Wright 3B – BA/.300 HR/14 RBI/61 R/42 OPS/.928
Joey Votto 1B – BA/.305 HR/16 RBI/50 R/47 OPS/.963
Albert Pujols 1B – BA/.306 HR/16 RBI/51 R/41 OPS/.964
I refuse to believe that the Mets will make the playoffs this season, so that counts out Wright. Votto may rank high, but I don't even think he is the MVP of his team – Scott Rolen and Brandon Phillips.
The St. Louis Cardinals will battle for the NL Central with the Cincinnati Reds and the MVP will come from the team that is victorious. Ultimately, Jimenez has been the MVP thus far, but I believe he will cool and the Colorado Rockies will not make the playoffs.
Cy Young
Jimenez outstanding, but not to the level of Jimenez.
Ubaldo Jimenez SP – ERA/1.60 W/13 K/95 QS/14
Josh Johnson SP – ERA/1.83 W/8 K/107 QS/14
Adam Wainwright SP – ERA/2.47 W/10 K/107 QS/13
If anyone has a chance to compete with Jimenez, it's definitely Wainwright. His numbers will stay pretty much the same throughout the season, and Wainwright has the benefit of playing for the best team of any of these three.
Through the first three months, we have been treated to some stellar play – especially the pitching. It will be interesting to see which players heat up and which ones cool down in the hunt for a playoff spot in October.
Related Articles on SteroidsLive: