Kimbo Slice Paid Half a Milliion Dollars For 14 Seconds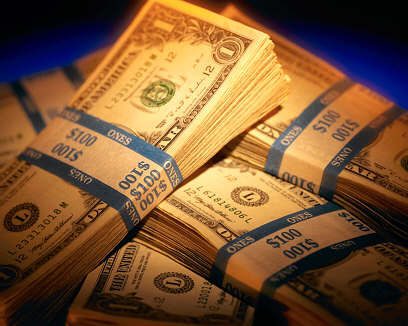 More fighters are making big money in MMA these days. Even with a terrible showing, Kimbo Slice still brought home $500,000 to get Knocked Out in 14 seconds. This does not include any money he probably earned by sponsors, such as Tapout.
Andrei Arlovski who also brought down $500,000 but at least had a good showing, knocking out his opponent. Gina Carano, who probably was one of the biggest draws to the fight and actualy had a pretty exciting fight, only took home $25,000. In my opinion, she got jipped. All together Elite XC paid out over $1,319,000 in fighter base salaries not including insurance, licensed, tax, sponsorships or any other payments.
Here's the break down:
Seth Petruzelli: $50,000 (includes $15,000 win bonus)*
def. Kevin "Kimbo Slice" Ferguson: $500,000*
Jake Shields: $50,000 ($10,000 win bonus)
def. Paul Daley: $12,000
Andrei Arlovski: $500,000 (no win bonus)+
def. Roy Nelson: $80,000
Gina Carano: $25,000 ($10,000 win bonus)
def. Kelly Kobold: $6,000
Benji Radach: $30,000 ($15,000 win bonus)
def. Murilo "Ninja" Rua: $35,000
Cristiane "Cyborg" Santos: $8,000 ($4,000 win bonus)
def. Yoko Takahashi: $2,000
Conor Heun: $5,000 ($2,500 win bonus)
def. Edson Berto: $6,000
Mikey Gomez: $4,000 ($2,000 win bonus)
def. Lorenzo Borgomeo: $1,500
Bryan Hamade: $1,000 ($500 win bonus)
def. David Gomez: $1,000
Nicolae Cury: $1,500 ($750 win bonus)
def. Jorge Bouchet: $1,000