Jeff "The Tagger" Monson – Busted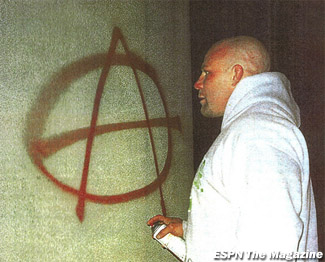 What the heck is the world coming to? Rampage Jackson, going on a rampage with his truck and now Jeff Monson is getting arrested for tagging. Word on the street is that a warrant for the arrest of former UFC heavyweight title contender Jeff Monson was issued following the emergence of a photograph in ESPN The Magazine.
The 37-year-old Jeff Monson, who has a professional mixed martial arts record of 27-8, is photographed tagging the state capitol building in Washington with an anarchy symbol. Apparently, Monson could face up to 10 years in prison or a $20,000 fine if he is found guilty of first-degree malicious mischief, which is a Class B felony charge. The graffiti damages reportedly costed upwards of $19,000 to remove. Monson is expected to turn himself in.
I guess it's not good enough to be a famous MMA fighter. Some of these guys have to find other ways to make headlines.