Carla Cabau
I started to go in for different sports when I was young and lived in Spain: my specialty was athletics m 5000, then I went on with swimming and dives, then due to a problem with my ear-drum I had to stop with them. So I tried to practice free climbing, but I could not stand to remain very thin and I stopped with it definitively. I went in for fighting sports and I have practiced kick boxing for 2 years. I premise I am very fond of these kind of sports and I have been practicing them nowadays too. I moved in Italy where I Worked as aerobics trainer…. When I met Alex my life changed. He convinced me to go in for competitive spirit. Bodybuilding is the sport that most gives me satisfaction in all senses.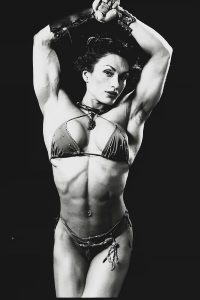 Carla Cabau Personal Data
HEIGHT: cm 170
WEIGHT off-season: kg 76
WEIGHT during competition: kg 71-72
HAIR: black
EYES: green
ZODIACAL SIGNS: Leo ascendant Leo
HOBBY: I love traveling and knowing different cultures. I love animals
too and I am interested in what regards parapsychology …UFO…aliens, and so on. I practice Krav Maga (man-to-man fighting and self-defence used by the Israeli Arm, the security forces, the special and anti-terrorism units, FBI, and so on..)
PROFESSION: recognized CONI-FILPJK bodybuilding trainer, personal trainer, fit box.
EDUCATIONAL QUALIFICATIONS: I attended all the school in Spain. Higher qualification 3a BUBY COU
Next competition in Spain the World Championesships IFBB in September.
My last competition was European championships IFBB in Yalta 2005.
3 place
2003
Deputy world Championess IFBB 2003
2002
I classified select. European WPF Championess
Championess Italian & European WPF Championess
III classified World WPF
2001
I classified G. P. Due Torri
I classified Trofeo Athenus
2000
I classified Cup von Luzern
I classified Voralberger Cup, Austria
II classified G. P. Due Torri 2000
1999
I classified G. P. Cup von Luzern, Luzern Cup
VI classified Due Torri
1998
I classified Grosser Preis von Lichtenstein, Cup of Lichtenstein
I classified Costanza, Bodensee Cup
II classified International Voralberger Cup, Austria
Finalist G. P.Due Torri
1997
Championess regionale
Championess North Italy
I classified and absolute winner at the Regional Championesship
I classified G.P. IFBB Selection for the Mediterranean Games
I classified IFBB Mediterranean Games
I classified IFBB Italian Championesship
II classified Coliseum G.P. , European Selection
1996
Championess regional
Championess North Italy
II classified Italy-Switzerland, Fitness Fair, Locarno
IV classified Genoa IFBB Italian Championesship
Carla Cabau Photo Gallery
Related Articles on SteroidsLive: