Why UFC 107 is Gonna Be Great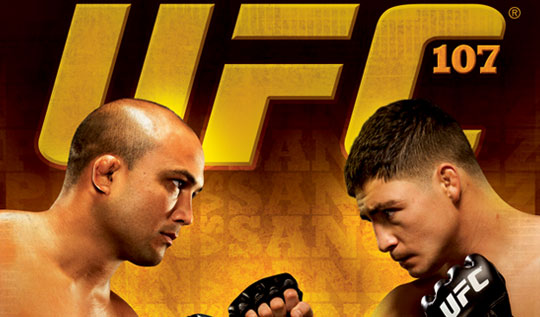 There have been 6 big UFC events, 1 ultimate fight night and a TUF finale since the media frenzy that was UFC 100.  In my opinion, UFC 107 is the best card that the UFC has put on since that famed UFC 100 show this past July.  From top to bottom, it is full of very exciting fights and intriguing matchups.  I have been eagerly awaiting its arrival for quite a while now, having the promotional wallpaper as the background of my computer desktop for over a month.
Since Delphi has already written a very good analysis, I don't feel I need to make a preview/predictions page.  Instead, I'm going to give you some reasons to tune in and join in the fun tonight.  What makes this event so exciting?
Stefan "The Skyscraper" Struve: Stephan Struve is one of the tallest mixed martial artists in the world at 6 feet 11 inches.  He's also one of my favorite UFC fighters.  He's only 21 years old, but he's already participated in 21 professional MMA fights.  Despite being so tall, he's also incredibly quick and agile, gaining 14 of his 18 victories by submission including submission of the night honors in his last bout with Chase Gormley.  His opponent Paul Buentello is no joke, having already received heavyweight title shots in the UFC and Strikeforce.  Struve's only defeat was against powerful striker Junior Dos Santos in his UFC debut, and while Buentello is not as fast or powerful as Dos Santos, he is a more dynamic striker with powerful kicks.  Buentello has some solid experience against some of the best heavyweights in the world like Alistair Overeem and Andrei Arlovski so he should be prepared mentally. I love watching Struve perform, and this would be a big win for him.
Stacked Undercard: One of the UFC's biggest advantages over its competition is its depth.  Unlike many of the rival promotions, the UFC provides solid undercards with several fights that could easily make the main card elsewhere.  For the last 3 UFC pay per views, they've shown 2 undercard fights for free on their cable affiliate SpikeTV.  That won't be happening this time, but I sure as hell wish it would.  This undercard is absolutely loaded with premier talent.  Top UFC middleweights Alan Belcher and Wilson Gouveia will square off in what will surely be an electrifying match.  Welterweight Johny Hendricks will get his 2nd UFC fight since KO-ing Ultimate Fighter winner Amir Sadollah in his debut.  A bout between Brazilian light heavyweights Rousimar Palhares and Lucio Linhares should produce fireworks as well.  The only way we'll get to see any of the fights is if some main card bouts end quickly, so I will cross my fingers.
Toss Up:  I've never seen a card that was more difficult to predict.  Nearly every single fight is between opponents who are evenly matched, and if one fighter is weak in something, he is stronger than his opponent in another department.  Cheick Kongo vs Frank Mir is the classic "grappler vs striker" battle, Struve is a submission expert while Buentello is a regarded kickboxer.  Clay Guida has a manic pace that Kenny Florian hopes he can keep up to and avoid being smothered.  Hell, even the main event for the title is closer than many think.  Diego Sanchez has never been finished, and he's competed against some of the best in the world at both 170 and 155.  BJ Penn of course can be confident, but not certain of victory.
Lots of Title Implications: There are so many fights on this card with people who are coming off title shots or number one contender matches, it's ridiculous.  Frank Mir just had the heavyweight unification fight with Lesnar, Fitch is two fights removed from his GSP title shot and Florian is coming off a loss to BJ Penn for the lightweight title.  If all three of these guys win, they are right back in the mix.  Obviously, their opponents are looking for a big career defining win that can move them one step closer to a title shot as well.  The repercussions of this card are immense.
Frank Mir and Cheick Kongo Hate Each Other:  I was not as pumped for this fight as I was for a couple others on the main card, that is, until Frank Mir opened his mouth.  These days, nearly all fighters try to be diplomats, constantly avoiding drama and praising their opponents so much you'd think they didn't want to fight them.  Frank Mir isn't afraid to speak the truth, even if it fuels his opponent.  When asked about Kongo, Mir said he was a one dimensional fighter with a terrible ground game and that he wanted to rip Kongo's arm off to scare Brock Lesnar.  Mir wasn't afraid to back down at the UFC press conference when confronted by Kongo.  He said,
Your takedowns suck, your takedown defense sucks.
Kongo, one of the more polite fighters in the UFC has really been fired up because of this.  He wouldn't even face Mir at the weigh-ins, rather, he turned his back on him for the media picture.  Kongo is an incredibly dangerous fighter standing or with his ground and pound and this could easily backfire on Mir and his big mouth.  Whatever happens, I will definitely be tuning in to find out.
Two Words: Clay Guida:  Clay "The Carpenter" Guida is one of the most exciting and popular fighters in the UFC.  Not only is he a guy who is constantly mentioned for fight of the night, he's had multiple "Fight of the Year" candidates including his most recent battle with Diego Sanchez at the Ultimate Fighter 9 Finale.  Even if he loses, he puts on a show as he has won 3 fights of the night in losing performances.  Guida has a fanatic pace that wears down his opponents and he is constantly on the offensive pressing forward with his striking or takedowns.  His long caveman-like hair is his trademark, he was even offered $10,000 by Dana White to cut it because they were having problems inputting it into UFC 2009 but he refused and ended up off the game roster.  Whether he can smother Kenny Florian or not, all fans of MMA are in for a treat when Clay is fighting.
Lightweight Title on the Line: BJ Penn vs Diego Sanchez is going to be an awesome fight.  Win or lose, Sanchez is going to leave it all in the cage and constantly put the pressure on BJ.  While BJ is highly regarded as the greatest 155 in the world, Sanchez has earned his title shot by defeating top lightweights Joe Stevenson and Clay Guida after dropping down a weight class.  Neither BJ nor Diego have had a boring fight in at least 5 years and I don't expect anything less than a stellar performance from both fighters.  They've both given fans an in depth view of their training and they have both stepped it up another level for this fight.  It could go all 5 rounds or end in the first, I have absolutely no clue, but it's all on the line tonight.  Regardless, I can't wait to find out, and neither should you.