Welcome to the World of SportAerobics
Aerobic Gymnastics, also called SportAerobics, is the competitive side of aerobic exercise. Most people hear "aerobics" and think of a step aerobics class. Loud, fast music and somebody shouting into a PA while you try to not crash into the person next to you.
This is far from that reality. A step aerobics class would merely be the beginning of a journey into competitive aerobics.
The circuit is large and there are many ways to compete. If you remember the cheesy aerobics competitions form the 80's you'll be pleasantly surprised at the new paradigm.
There are rules and regulations. There are required moves. Gone are the days of boring 80's syntho-music. Gone are the days of faded pink leotards.
In today's competitions the routines are fun, the music is hip, and the sport gives you a chance to compete on your level.
Take a dive and see what aerobics competitions actually look like today. Excuse me, SportAerobics.
What in the Heck Is This?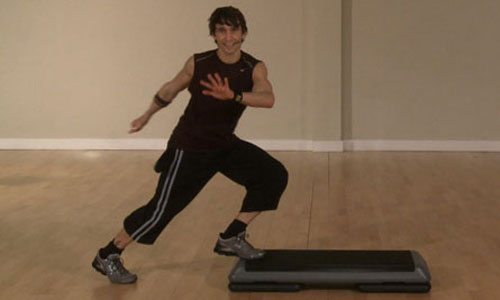 Back in the midst of fitness craze of the 80's, a couple of sports marketers founded SFI (Sport Fitness International). They aimed to give those involved in aerobics and fitness a competitive outlet.
Shortly after forming SFI in 1983, rules and regulations were adopted for the first National Aerobic Championships in 1984. The sport expanded rapidly and the USCAF was formed in 1989.
This is the era you remember—faded pink leotards, shiny spandex and cheesy syntho music. As the sport grew and expanded, 1990 saw the first World Aerobics Championships.
Nowadays they don't just call it Aerobics. The term SportAerobics was adopted in the 90's. Today some folks use the term "Extreme Aerobics" when discussing the sport's "Olympic" potential.
And that's where they're headed too. Just imagine the combination of your toughest aerobic workout, judges with score sheets, 1 minute and 45 seconds to glory and Olympic Gold on the line.
If that isn't extreme then I haven't met it yet!
They Have Rules for These Things?
Nowadays the Association of National Aerobic Champions (ANAC) uses the FIG (Federation of International Gymnastics) Code of Points. This brings an "Olympic" legitimacy to the activity.
This goes far beyond the 3 "judges" at something like a Cheerleading competition. Every competitor has requirements that must be met. Each requirement also has a proper technique.
This is key, as in all fitness activities, because improper form reduces the effectiveness of your workout or could get you injured. As a side note, nothing drives Heather more crazy than poor technique.
Also, the "legitimized" points system has SportAerobics poised to become an Olympic sport. Do we know when this will actually happen? No.
However, if you think about it, every other Olympic athlete works out for their sport. This would be the Olympics of working out. Just imagine your step instructor slamming a 1 minute and 45 second routine at the Olympics.
If you think the Olympics are far-fetched then you can compete under the USCAF (United States Competitive Aerobics Federation) in national events. Or, you could work your way up to ANAC's World SportAerobic Championships.
Perhaps this is your time? Take a look at the rules http://www.sportaerobics-nac.com/rules.htm and see if you've got what it takes.
I've Never Even Heard of this Before!
There is a complete schedule of SportAerobic competitions scattered throughout the year. The reason you haven't heard of them is because they are not televised all that often.
This isn't the kind of thing you can "accidentally" see on TV as you surf the channels. You've got to seek it out, but if you do you will be impressed and inspired.
We're just in time this summer for the International Aerobic Championships. They will be held from July 19-24 in Las Vegas, Nevada.
I can think of no better reason to head to Vegas, do some shopping, get inspired to work out, and then hit a buffet at Caesar's!
In conjunction with the World Championships there will also be the World Youth and World Junior Aerobic Championships. This is a place way to see young people in action.
As I stated from the very top—this is not your Grandma's step aerobics class. Obesity is an international epidemic for our kids and seeing kids in top physical shape—and enjoying themselves—should be quite an inspiration.
Of course, if you can't make it out to Vegas there is a full calendar of events at www.sportaerobics-nac.com.
Ok, I'm Inspired. Now What!?
2010 Aerobic Gymnastics Championship Events in Las Vegas, NV
USA National Aerobic Championship (July 19)
International Aerobic Championship (July 19-24)
International Youth Aerobic Championship (July 19-24)
FIG Aerobic Gymnastics World Series USA (July 19-24)
---
"They" Said
Aerobic Gymnastics
Aerobics — How to Succeed
Aerobic Conditioning Options
You get a choice. You can compete by yourself, in a mixed pair, or in groups of 3 or 6. This is great for those of us who are shy and might need the help of a group.
If you like being the center of attention, then go for 1:45 of hard work—as that's how long your routine is—and you have to fit in all of the following elements.
You must:
Start a "Jumping Jack Phrase" that lasts 32 counts—with your music—that moves, and begins and ends in a "standard" jumping jack position. Are you sweating yet?
Do four forward leg kicks. Yes, you're kicking yourself in the face. I know it's sounds crazy, but think of how impressed you are every time you see someone do this. You know you want to!
In the meantime, you can be traveling around the stage, changing directions, and alternating leg kicks. If you thought 1 minute and 45 seconds wasn't a long time you'll reconsider when you do THAT for 1:45.
It's the combination of these elements into an exciting routine that makes this a fun activity. The people who do this usually seem to be having fun, and it makes you want to have fun too.
If there's one thing that everybody enjoys it's an infectious enthusiasm. Heck, I want to try some of this right now—but I can't yet.
Can't Do Any of That?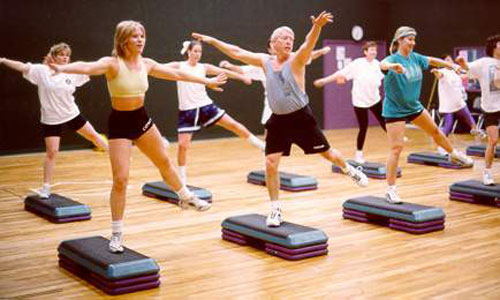 Make friends at the gym. Don't belong to a gym? Join one!
You can get some of the best instruction from someone at the gym an aerobic instructor, personal trainer, or even other members who know what they're doing. If you look at friends at the gym as helpful tools in your "program" then you'll go far.
If you are regularly working out you will regularly see improvement in the elements you need for a routine. Also, you will see your energy level shoot through the roof, which will make you feel better almost instantly.
Above all else—enjoy yourself! Working out should be fun. Aerobics should be fun. Getting in shape should be fun. The people who compete in SportAerobics are having fun.
Attend a competition, get inspired, and maybe one day we'll see you at Worlds or even the Olympics as an "extreme" Aerobisizer!
Related Articles on SteroidsLive: