UFC 109 Recap and Thoughts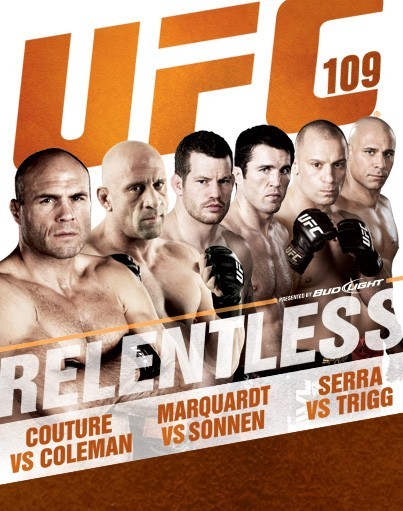 Yes, I had talked a little trash about the main event fight between Randy Couture and Mark Coleman, but in all honesty, I was pretty excited for the rest of the main card.  Nate Marquardt and Chael Sonnen were duking it out for middleweight number 1 contender status, Paulo Thiago and Mike Swick were trying to get back in the mix at welterweight, and both Demian Maia and Matt Serra were trying to become relevant again in their respective divisions after setback losses in their last fights.
The event kickstarted with a matchup between former welterweight champ Matt "The Terra" Serra and former two time title challenger Frank "Twinkletoes" Trigg.  While both guys were coming off losses in their last fights, Serra looked much better in his decision loss to Matt Hughes than Trigg did in his first round knockout by Josh Koscheck.  I felt as long as Serra took the fight seriously, this wasn't going to end well for Trigg.  Trigg decided to help Serra's cause by talking a ton of trash to give Serra some extra motivation for the fight, and Serra responded in kind.  As expected, the shorter Serra patiently waited for an opportunity to load up on his big right hand and he unleashed it on Trigg halfway through the first round.  Trigg collapsed, stopped intelligently defending himself and it was all over.
Serra has competed against some tough welterweights in his past 4 fights which includes two bouts with Georges St. Pierre, and I firmly believe he still has what it takes to compete with the upper echelon of the division.  I would love to see him against a Mike Swick, Paulo Thiago or maybe the Jon Fitch/Thiago Alves loser.  Trigg, on the other hand looks just about done.  I don't see the UFC keeping him after back to back one sided first round knockout losses.  He's got a fantastic personality and has done a good job in the announcer's booth in the past.  I hope he gets back to that before he takes any more punishment to his brain and loses his sense of humor.
In a battle of middleweights looking to get back on track, Demian Maia controlled Dan Miller for a decision victory in what was by far the most boring fight of the main card.  Styles make fights, and this fight simply was a rare poor decision by UFC matchmaker Joe Silva.  Both fighters are competent on the ground, with Maia having a distinct advantage, and neither fighter is dangerous on their feet.  Miller had a slight advantage with the standup but he appeared hesitant because he was afraid of Maia taking him down.  Maia came out swinging against Nate Marquardt at UFC 102 and paid the price with a first round knockout loss, but he continues to improve his standup.  Against Miller, he mainly looked to counter punch and landed several flush shots and kicks to the head while avoiding most of the damaging blows in return.  Maia took control in the third round with some takedowns and top control and that was all she wrote.
While Maia's striking has improved, I don't think he will ever finish a fight that way.  The problem is Maia doesn't have any power whatsoever.  I'm not sure Miller as much as flinched even after absorbing Maia's hardest punch with his face.  I have no quarrel with Maia improving his striking, if only to help avoid getting tagged when he's working to get the fight to the ground, but he shouldn't be trying to keep fights there.
In one of the most impressive performances of the night, Paulo Thiago unleashed hell on Mike "Quick" Swick to win via technical submission in the 2nd round.  The first round was more of a "feeling out" period with Thiago landing several leg and body kicks, but the second was where all the magic happened.  Swick landed a pretty heavy shot to Thiago and when he rushed in, Thiago made him pay with a hard left hook that dropped him.  Thiago followed Swick to the ground and immediately latched on a D'arce choke that put Swick to sleep before he could even think about tapping out.
This was an incredible performance by Thiago, who in his first 4 UFC fights has already run the gauntlet of AKA welterweights Josh Koscheck, Jon Fitch and Mike Swick and has come through with a 2-1 record against them.  While the next welterweight contender is most likely going to be the winner of the Josh Koscheck/Paul Daley fight, I would love to see Thiago face off against the Jon Fitch/Thiago Alves winner to see who gets the next title shot after that.  Swick on the other hand, appears to be in a downward spiral.  The only solution I can see is to move back up to 185 pounds.  There is less competition there, and his speed advantage would be much more apparent.  I think he can still contend down the line, but he would be better off to put on a little muscle and jump up a weight class, kind of like what Nate Diaz and Diego Sanchez have done in the last month.
By far the biggest surprise of the night was in the number one contender match between Nate "The Great" Marquardt and Chael Sonnen.  Marquardt was a 5-1 favorite and was expected to roll through Sonnen en route to a rematch against Anderson Silva, but Sonnen had other plans.  Sonnen, an All-American wrestler and Olympic alternate, took the fight to the ground early and kept it there for much of the fight.  While he didn't try to advance his position much, he unleashed a ton of ground and pound on the helpless Marquardt who appeared to have no answer for Sonnen's takedowns and top control.  Marquardt tried to answer in the 2nd round with a sharp elbow from the bottom that opened up a big cut on Sonnen's forehead, but it was right between the eyes and wasn't impacting Sonnen's vision.  After the cut opened up, much of the 2nd and 3rd rounds became a bloody mess with Sonnen pounding away on Marquardt.  The crowd rose to its feet in the last minute of the 3rd round when Marquardt locked on a guillotine choke that had Sonnen's face turning purple, but he couldn't hang on long enough to end the fight.  Marquardt reversed positions and unleashed a series of heavy shots on the ground as the bell rang, but it was too little too late for "The Great".  Sonnen pulled out a unanimous decision victory in what ended up winning the "Fight of the Night" award.
For Sonnen, this was by far the biggest victory of his career, and his fighting style will provide a very tough challenge for whoever wins the UFC 112 title fight between Anderson Silva and Vitor Belfort.  Both have had problems in the past with tough top control wrestlers and that is exactly what Sonnen brings to the table.  Sonnen talked a ton of trash about Silva going into this fight and it would create a media frenzy if he were to get to face him.  For Marquardt, it's back to the drawing board.  It took him 2 1/2 years to work his way for another shot at the middleweight title, and hopefully he can improve his takedown defense and get back in the hunt soon.
The main event between Randy "The Natural" Couture and Mark "The Hammer" Coleman was just as many expected.  Despite being a year older, Couture looked and moved like a fighter 10 years younger than the 45 year old Coleman.  The first round was all Couture as he exploded with several jabs and hard shots from the outside against Coleman, who decided that he should block them with his face.  Coleman never even tried for his patented takedowns and instead decided to let the last half of the first round take place in Randy's domain, the clinch.  Couture unleashed a fury of dirty boxing elbows and uppercuts from the clinch and Coleman offered very little resistance.  The second round began with more of the same, except this time Randy went for a takedown from the clinch after softening up Coleman with some punches.  After gaining mount, Coleman gave up his back, got flattened out and Randy slapped on a rear naked choke.  Coleman had too much pride to tap and instead went to sleep in what is more than likely his final fight in the UFC.
Randy looked fantastic in this fight, but it's hard to gauge exactly how good his performance was considering his opponent.  Age has definitely become a factor for Coleman, who despite training as hard for this fight as he has ever trained, appeared very very slow in the cage.  Coleman simply didn't have the capability to hang with Randy in terms of speed here, and it's sad because he once defeated Couture in a freestyle wrestling match in 1987.  As I said before, I really wish this fight had taken place 13 years earlier, but that's how things go sometimes.  Father time catches up to all of us eventually, and somehow Couture has avoided him thus far.  I know he has a shorter window for a title shot than other light heavyweights, but I would still like to see the Rashad/Rampage winner get the next chance.  I would not object to Couture getting a title shot if say, the winner of the Rashad/Rampage fight was injured and out for the foreseeable future,  but that is the only scenario I see it happening for now.
Overall UFC 109 was pretty good, not great, but the main card was entertaining.  The undercard was probably the most disappointing I've ever seen, with 5 of the 6 fights going to decision, but top prospect Phil Davis impressed me with his UFC debut against a very tough light heavyweight in Brian Stann.  I think as long as he continues to improve, he will be a force in the division in a couple years.
Related Articles on SteroidsLive: