UEFA Re-Claiming Control of Soccer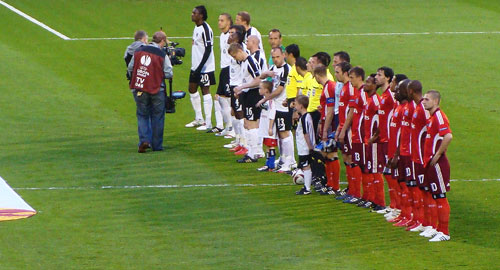 European Soccer is one of the biggest clusterf***s on Earth. Nothing compares to their multiplicity of leagues, gigantic stacks of cash and spoiled players.
Well, it seems that UEFA (Union of European Football Associations) is tired of the stacks of cash and spoiled players. I know the cash and the spoiling come in one package — but roll with me here.
UEFA has announced that it will pass rules to curb the excessive spending of certain clubs. Plus, they are going to deal with all the rich playboys who can write off their clubs' losses with their own money.
It's been a long time coming, but something had to be done. I haven't covered soccer in this space before, but trust me when I say — I've been following this for quite a while.
However, I will not get "historical" in my assessment of these new rules. Let's stick with current events that any average sports fan could have seen covered in the past six to nine months.
European Soccer is teetering on the edge — even if some of the numbers suggest otherwise.
What Kind of Rules Are We Talking About?
Starting in 2012, teams will only be allowed to cover losses of $55 million, and that's over a 3-year period. In 2015 and the three years following, only $37 million can be covered.
Now, that may not sound like a lot of money because these clubs are so big — but remember that some teams borrow money to cover losses. Under the new rules that will not be allowed.
Of the over-700 hundred "premier" teams in all of Europe, they lost a combined $708 million last year — even though they took in $14.1 billion. WOW!
The kind of rules we're talking about aren't just about money — they're about the money that is being spent. I could sit here and pretend that this is all a numbers game, but only one "high profile" team has gone bonkers financially:
Portsmouth of the English Premier League. They were put on Administration and docked league points for not being able to meet payroll on time — amongst other financial issues.
No, it's not that. UEFA is "concerned" about that, but they don't care about that. The "upper crust" sensibility of snooty soccer patriarchs has been offended.
These Stars Can Be Real Bitches
My favorite — actually this makes him my least favorite — target is Cristiano Ronaldo.  The boy can play soccer, but he's a terrible leader and a prima-donna to boot.
Real Madrid had to borrow money to sign this dude, then they got bounced from the Champion's League and couldn't even win the Spanish Premier League, known as La Liga.
Barcelona spent a lot less money on "talent" and developed Leo Messi — their best player and arguably the best player in the world. They didn't go crazy to "buy" players — as they say in Europe. They played–at the "star position" — with what they had.
Now, they may spend money, but I don't think they'll be spending the same money that Real Madrid spent. Did I mention that Barcelona won the Spanish Premier League this year?
Real Madrid put their finances in the toilet to sign someone who couldn't make the team markedly better. What's worse is said "spoiled superstar" really acts like a little girl.
So, Where Are the Bitches?
Remember Cristiano Ronaldo?  Bad leader — overpriced?  Yeah, that guy. He's the spoiled superstar from Real Madrid. Even before the season was over, he made mention that he was dissatisfied with his coach — Manuel Pellegrini.
Well, he didn't say he was "unhappy? — he just said he wouldn't mind having Jose Mourinho as his coach. He hinted at his displeasure in the press because he knew that was enough to sway the ownership.
Did I mention that Jose Mourinho just won the Champion's League with Italy's Inter Milan? He's leaving the reigning Champion's League titlelists right after he won it.
There are players like this all over Europe. You've got David Beckham using the game to fuel his own stardom. You've got players sleeping with teammates' wives. "Bitchassness" –as Diddy would say — is rampant in European Soccer.
Dems Da Bitches
You see, this dude who Real Madrid had to borrow money to sign is now trying to dictate who his coach should be when HE is not performing on the field.
Plus, the team gave in and fired Manuel Pellegrini and hired Jose Mourinho. The "Snooty Soccer Patriarchs" have been offended.
Every player and every coach has to feed their "machismo" with ego-driven rants to an overzealous media. Every player and every coach thinks this is normal — so they keep doing it.
Franck Ribery got suspended for the Champion's League final, and while he was appealing to the Court of Arbitration for Sport, he was implicated in an underaged prostitution ring.
It's a never-ending cavalcade of mudslinging, preening, posturing, and general male "pissing matches." If the NFL thinks it has the market cornered on testosterone — they're wrong.
This is what UEFA is really afraid of. True, they don't want teams to fold, and they don't want people to lose their jobs, but they're worried about their image.
Hey, does Roger Goodell have family in Europe?
It's All About Image
Every time fans picket a stadium because they want their Owner to sell the team–UEFA cringes.  Every time an ex-owner calls out the current-owner to sell the team–like they did in Liverpool–UEFA cringes.
Every time Cristiano Ronaldo opens his stupid trap — UEFA cringes.
Every time Leo Messi plays — UEFA smiles. UEFA wants to smile more. They want to homogenize soccer. I'm not saying that good behavior is bad, but I'm not going to allow for a pending genocide either.
UEFA wants to start the slow "sterilization" of European Soccer. The more limits they put on club spending — the less chance they will have to put up with divas like Ronaldo.
No one wants to be seen as the "elitist/overpaid/bitch-haven/stupid-sport-that-Americans-don't-play." That's what soccer is right now. The fans are fed up. The clubs are fed up. UEFA is fed up.
What's the rumor here? It certainly isn't the passing of the new spending rules. The rumor is simple. It calls out to everyone.
"UEFA aims to stop superstar footballers from controlling the sport."
The Obvious Parallel
Player Stats
Cristiano Ronaldo 09/10
Real Madrid
Forward
Games
29
Goals
26
Assists
7
---
"They" Said
Mourinho Officially Introduced at Real Madrid
UEFA Confirm Curb on Spending
Manchester United Says They Will Meet New UEFA Spending Criteria
Look at LeBron James. He was tired of Mike Brown being his coach so the Cavs finally fired Mike Brown.
The Boston Celtics made the NBA Finals and the "Three Amigos" are getting interviewed while the best player on their team — Rajon Rondo — has to sit backstage and watch.
Alex Rodriguez leads the New York Yankees to the 2009 World Series Championship, and no one gives a bit of credit to Brian Cashman or the Steinbrenner family for bringing him in.
The elites of UEFA are pissed off that they don't get to rule the sport, and they want to take it back from these young bitches who make too much money.
Just imagine a bunch of old, former soccer players sitting around and smoking cigars. When they are done reminiscing about the "old days" they say to each other, "I hate these stupid bitches!"
Can I Blame Them?
Nope. I hate stupid/overpaid/overindulged/posturing/preening superstars. Why can't everybody be like Leo Messi in Barcelona?  Normal guy who makes a lot of money, plays well, and doesn't open his mouth.
This is what UEFA is looking for. They want good boys to play nice with their toys.
Can I start a new rumor?  This is a good one.  UEFA wants all European Soccer players to dye their hair black in honor of Leo Messi and his high "morale standing."
They also want everyone to bow to a Wayne Rooney alter and then write them thank you notes everyday for paying out $856 million each season to the 32 teams who play in the Champion's League.
You know what? That last one should've already been true. Rumor or not — European Soccer players need to learn who butters their bread.
Related Articles on SteroidsLive: