The California Kid Is The Undisputed World Champion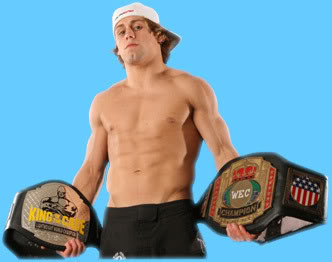 It has been proven. Uriah Faber has shown the world that he is the 145 champ and it's not looking like anyone will be taking away his belt any time soon. In an all out war, Jens Pulver and Uriah Faber banged it out for 5 full, action packed rounds. It was hands down, one of the best fights I have ever seen. While Pulver showed his heart and iron jaw, Faber kept bringing devastation in every way possible.
Many people under estimated Faber, as stated in my earlier article, because he has not fought many big MMA names during his reign as WEC feather weight champ. While having an impressive MMA record, until tonight many MMA fans did not realize that The California Kid is not only a good fighter, but he may be one of the best ever!
Faber has shown that he can not only fight with the best fighters in the world, but that he can completely dominate them. While Uriah's recent victory against Jens Pulver was by decision, it was not a close decision. Uriah brought a daunting pace for a full 5 rounds seeming to never get tired. His 5th round punches looked almost as quick and crisp as his first.
Unexpectedly, Uriah dominated Pulver over and over again with a relentless over hand right and an unforgiving left. When the fight went to the ground, Uriah showed that he could bring his signature elbow work down on even the worlds best martial artists. Mastery of every aspect of MMA was displayed by the kid.
Who will be fighting Uriah Faber next? Put up the bat signal. It's going to take a super hero to stop The California Kid.