Thankful For MMA
In the spirit of the holidays, I thought I would sit down and ponder what I am thankful for in the world of mixed martial arts, and there is certainly a bounty of things to be grateful for.
-I'm thankful that Fedor fought for free on CBS.
-I'm thankful for the superfight with GSP and BJ Penn last February.
-I'm thankful for Gina Carano.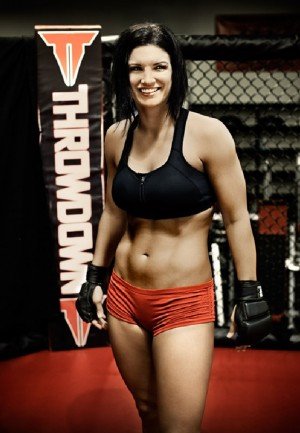 -I'm thankful for the sheer volume of amazing MMA cards that Strikeforce, UFC and WEC put out week after week. This sport never ceases to amaze me.
-I'm thankful for the mainstream media attention for UFC 100. It was truly awesome to see my Podunk hometown newspaper feature a UFC event on the front page of the sports section for the first time.
-I'm thankful for the inverted triangle choke.
-I'm thankful for the hundreds of fighters who sacrifice their bodies training and sparring every day for my own personal entertainment. This sport wouldn't be as great as it is if not for the dedication of its professional athletes.
-Lastly I'm thankful for the opportunity that SteroidsLive.com has given me to share my passion for mixed martial arts with the world. I'm nothing special, just a humble kid who fell in love with a sport after watching it for the first time about four years ago. Thanks again everyone!
Are you especially grateful for something MMA related? Tell us what it is in the comments below!
Related Articles on SteroidsLive: