Sowing Seeds of Good Health: Flax
Last week we talked about the wonderful health benefits of hemp seed in our seed series. Now, I realize that I've ranked flax as my third favorite in the group, and because of that you might think it doesn't have a prominent place in my diet. You'd be wrong.
Actually, flax is third because it's a bit better known that either chia or hemp. However, there is still much to learn about this little seed. Settle in and come along for a ride through history, plus read about the newest research on flax's fight against breast cancer!
Just the Flax, Ma'am
The use of flax seeds can be traced back over 5,000 years to the ancient Babylonians, though written records "only" place them in medicinal use around 650 B.C. The ancient Egyptians used it as a laxative, and it's been popular ever since.
Hippocrates, known as the father of Western medicine, prescribed flax seeds to combat abdominal pain. Today we know that these little powerhouses are good for more than just tummy troubles, but the fiber content certainly helps with elimination as Hippocrates suggested!
Flax seeds contain vitamins B-1, B-2, B-6, C, E, and carotene. They also have iron, magnesium, potassium, zinc, calcium, and phosphorus. That's quite a lot of nutrition in such a tiny package!
It's available for purchase in both golden and brown colors, which are nutritionally nearly identical. If you're new to flax and find that the somewhat fishy flavor is bothersome to you, perhaps try the golden variety. It's slightly milder, with a buttery-nutty flavor.
If you're a vegan/ethical eater, you can use flax to replace eggs in much of your cooking in addition to using it for its nutritional properties. It is also gluten-free, making it safe for Celiacs.
Health Benefits of Flax
There are three general ways to use flax, just like with chia and hemp: whole seeds, flax meal, and flax oil. The whole seed is wonderful for adding fiber to recipes, and when it's toasted adds a lovely nutty flavor to food.
Of course, one of the biggest benefits of fiber is keeping the colon cleared out and healthy. This may also prevent colon cancer, which is the second leading cause of cancer death in the United States (after lung cancer). More than 56,000 people succumb to colon cancer each year in the United States.
Flax oil is fantastic for the brain and circulatory system because it is so rich in omega 3s and alpha lenolenic acid (ALA). They reduce pain and inflammation (especially in the case of arthritis) and lower bad cholesterol.
For the most nutrition, be sure to buy flax oil in black containers, and buy in small quantities. The oil becomes rancid within three months of being expelled, and you don't want to waste money on larger quantities. You may choose to use the seed instead, consuming two tablespoons per day of ground flax.
Milled flax (flax meal) is high in protein for a plant source, coming in at 22%. That makes it a wonderful addition to a higher protein diet, especially because it helps the body assimilate other proteins better.
It's also fantastic for growing strong hair and nails, as well as improving skin. I've read of people whose eczema came under control after adding one tablespoon of flax oil or two tablespoons of flax meal to their daily diets.
Another fantastic property is the potential ability to hep control blood sugar in patients with diabetes, similar to chia. Because the seeds contain good amounts of protein, fat, and fiber, they slow the uptake of carbohydrates into the blood stream, thereby resulting in more stable sugar reads.
Best Uses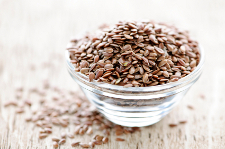 While many tips will tell you to just sprinkle a tablespoon on your morning oatmeal, that will only serve as fiber to clear out your intestines (and there's nothing wrong with that). To get the full benefit of flax seeds, however, you've got to grind them.
This is a simple proposition, especially if you have a spice grinder or a blender. You just toss them in, grind away, and you've got usable nutrition. An alternative would be to buy flax meal, but the oils in flax become rancid rather quickly, so freshly ground is always best. If you buy meal, be sure to keep it in the fridge.
Another reason to use the whole (milled) seed in addition to just flax oil is the presence of lignans. Lignans are a super-protective antioxidant, which are abundant in flax seeds. Flax has 100 times the lignan content of any other known food! These life-saving antioxidants are being studied as a preventative for breast cancer.
I like to toss a bit of flax oil into my daily green smoothie. It's also fantastic as the base for homemade salad dressing, just use half flax oil in place of your olive oil. Some people find that to taste too fishy, so you may want to start with one quarter flax oil and work up to half (or more)!
One of the very best ways to use ground flax seed is to sprinkle it onto yogurt or kefir. When foods are rich in sulfated amino acids, they help incorporate the essential fatty acids (EFAs) into the cell membranes, making them more available to the body.
Flax Recipes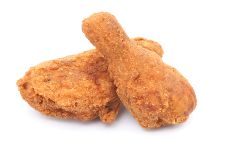 Oven Baked Flax Fried Chicken
Recipe from Flaxhealth.com
4 boneless, skinless chicken breasts
1/2 cup bread crumbs
1/2 cup ground flax seed
1/4 tsp garlic powder
1/2 tsp black pepper
1 tablespoon parsley
1 tablespoon Parmesan cheese
1/4 tsp Italian seasoning to taste
olive oil, for dredging
Wash and pat dry chicken. Dip chicken in olive oil. To make breading combine the bread crumbs, flax seed, garlic powder, black pepper, parsley, Parmesan cheese, and Italian seasoning in a plastic bag, seal and shake to blend.
Coat chicken in the flax breading. Place breaded chicken breasts on a baking sheet and bake, uncovered, in a 375-degree oven for about 25 minutes, or until chicken is done and a golden brown.
Protein Balls
Recipe from Flaxhealth.com
1/2 cup creamy peanut butter
3/4 cup nonfat milk powder
1/2 cup ground flax seed
1/2 cup honey
1/2 cup crushed flaked cereal, such as corn flakes
One or two of the following:
1/3 cup sunflower or hemp seeds
1/3 cup chocolate or carob chips
1/3 cup walnuts
1/3 cup chopped dried fruit
Combine peanut butter, milk powder, flaxseed, honey in a bowl and mix well. Stir in your chosen add-ins. Roll mixture into small balls and then roll balls in crushed cereal. Place on waxed paper. Chill in the refrigerator for at least 1 hour before serving. Makes about 16 protein balls.