Sowing Seeds of Good Health: Chia
Much is made of the importance of nuts in our diet, and with good reason. Seeds are often left off the list, either as an assumption that we know how to use them, or out of sheer ignorance. I think there are five seeds that are essential to a well-rounded diet, and today we're going to look at the first one.
Paramount in a balanced diet, for me, is chia. Yep, I mean the very same black seed of 80′s clay animal fame (personally, I loved the sheep). The chia seed is absolutely packed with nutrition, and couldn't be easier to use.
Going to Seed
Chia was prized by the ancient Aztecs as both a currency and a food. Brings new meaning to the phrase "you are what you eat," no? The seed is comprised of more than 60% Omega 3 fatty acids, making it the most Omega 3 dense food on Earth! More importantly, they are a good balance of Omega 3s and 6s.
Besides the (super special) content of essential fatty acids, chia is also rich in boron, calcium, magnesium, iron, phosphorus and contains loads of fiber. Chia makes a gentle, natural laxative, too.
According to Dr. Andrew Weil:
"Chia is undergoing something of a renaissance after centuries of neglect. It was a major crop in central Mexico between 1500 and 900 B.C. and was still cultivated well into the 16th century A.D., but after the Spanish conquest, authorities banned it because of its close association with Aztec religion (Indians used the seeds as offerings in rituals)."
If you read Born to Run by Christopher McDougall, you probably know all about chia, though you might not know it. He writes about pinole, which the Tarahumara runners carry in their pouches for energy on their ultramarathon-length runs. Turns out, pinole is just roasted and ground chia seed and maize!
Chia for Health Conditions
A fantastic aspect of this plant is that predators stay well away because of the plant's natural protections which make it poisonous to them. What does this mean for you? Well, it's almost always grown organically because pesticides aren't necessary. No herbicides or pesticides in sight, it's a cheap health food.
As this precious seed is surrounded by liquid, gel-like sacs form around the seed. In fact, chia can absorb up to 10 times its weight in water! This makes it a fantastic addition to the diabetic diet. It slows the absorption of carbohydrates in the blood stream, giving them more consistent blood sugar readings.
When suffering from nasty heartburn, a teaspoon of chia swallowed straight, followed by as little water possible may help tremendously. Chia seed soaks up whatever liquid it comes into contact with. In this case, it sucks in gastric acid, providing you with sweet relief on the cheap.
If you're overweight, chia can help you shed excess pounds. Oh yes, for the same reason they assist in regulating blood sugar and extinguishing heartburn, these little seeds will help your tummy feel fuller, longer, with less food consumption. What's not to love?
Chia is gluten-free. Don't let the fact that the plant looks strikingly similar to wheat fool you, even Celiacs can indulge in a gluten-free chia delight!
Doesn't Matter if You're Black or White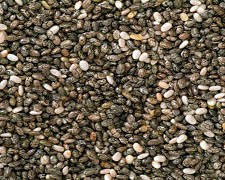 Chia seed comes in a range of colors, from a soft ivory to jet black. Most individual seeds are a mottled dark gray, but the overarching impression is that they're black.
You can buy white chia, if you prefer. They're a bit costlier (as there are less white seeds and have to be carefully sorted), but you may prefer them for aesthetic purposes.
In chia fresca, for example, the white seeds look pretty. Most experts agree that there's no nutritional difference between the colors, though some say that the white seeds have a bit less protein. My bags of seeds have white mixed with gray and black, so any way you slice it, you're getting the nutrition of all of the colors.
Chia Uses
I confess that once I decided to add chia to our diets, I was a bit stumped as to how to incorporate it. The quick and dirty is that you can use it to top just about anything. Chia has virtually no flavor, so you can add it to smoothies, salads, whatever you normally eat.
However, I'm a concrete example kind of gal, and I needed more information, especially because most of the recipes with chia are for sweets. I've had to come up with my own ideas for savory chia applications, but here are my favorite tips:
1. Add chia seed to scrambled eggs. In fact, that's how I get about half my daily recommended intake (which is two tablespoons). It's great because I'm getting a nutrition-packed breakfast that keeps me full until lunch time!
2. Toss on top of salads. We use a homemade apple cider vinegar dressing and sprinkle the seeds on after the salad is assembled and dressed.
3. Tell your kids that they're "chia sprinkles." I'm not into tricking kids in terms of nutrition, but they do go one really easily, and let's face it, sprinkles make everything more fun!
4. Use in smoothies and baked goods in place of flax seed. This is especially useful because you have to grind flax to release its mucilaginous properties. This is not so with chia, so it saves you the trouble of washing your blender jar of spice grinder (though you may grind it if you like).
5. If you have something that is finished cooking but not all the water cooked off, such as rice or beans, toss some chia in. I did this tonight for my lentil "baked beans." The lentils were perfectly done but still soupy. Instead of cornstarch or flour, or pouring off precious flavor, I just tossed in 1/4 c. chia seed!
Chia Recipes
Now that we've established how to eat chia on the fly, let's get serious about packing your diet with nutrition. Enter the formal recipes. I know, dedicated recipes for chia something may not be as much fun as in-the-moment creativity, but it's certainly useful when you want to bring a healthy treat to your next soiree.
You'll be the belle of the ball and the talk of the town when you boast that your treat is not only lip-smackingly delightful, but also packed with nutrition and brimming with healthy vitality. Trust me on this one.
Chia pudding isn't only for the holidays, it's equally fab in this crazy heat. It's nice because you don't need much to feel full and satisfied. I've also come across a delightful chocolate chia pudding variety that looks out of this world!
Holiday Chia Pudding
By Kristen Suzanne of KristensRaw.com
Yield 1 1/4 cups
1/4 cup chia seeds
1/4 cup dried coconut, shredded & unsweetened
1 cup water
1/4 cup raw cashews (soaked 1 hour, drained and rinsed)
4 soft medjool dates, pitted
2 cloves
1 teaspoon lucuma powder*
1/2 teaspoon powdered ginger
1/4 teaspoon vanilla extract
1/8 teaspoon cinnamon
Place the chia seeds and coconut in a small bowl, briefly stir to mix, and set aside. Blend the remaining ingredients until smooth. Pour the blended cashew mixture into the bowl with the chia seeds and coconut and stir. Wait a few minutes and stir again.
You'll notice the chia seeds beginning to take on a gelatinous texture. Wait another few minutes and stir. Do the "wait and stir" once more, and then place the Holiday Chia Pudding in the refrigerator for about 15 – 20 minutes (or longer, if desired). Then, enjoy.
This recipe will stay fresh when stored in an airtight container for 4-5 days, so feel free to nibble a spoonful here and there – cold or not! It's all good! *If you don't have lucuma, then you can make this recipe without it… still delicious.
Chia Herb Couscous
Recipe modified from Chiaforhealth.com
4 teaspoons butter
2 medium green onion chopped
3 cloves garlic, finely chopped
2 Tablespoons chia seed
2 cups vegetable or chicken broth
1 1/3 cups uncooked couscous
1/2 Teaspoon Real salt
1/4 cup grated Parmesan cheese
4 teaspoon chopped fresh basil
Melt butter in a 3 quart nonstick saucepan over medium high heat. Cook the garlic and onions in the margarine until the onions are crisp-tender, about 4 minutes. Add the chia seeds and lightly toast for about 30 seconds. Stir in the couscous and salt. Add the broth to the saucepan.
Bring the mixture to a boil, then remove from the heat. Cover and let stand about 5 minutes. When ready to serve, take a fork and fluff the couscous. Stir in the fresh basil and the Parmesan cheese.
Banana Muffins
Recipe modified slightly from Foodnetwork.ca
2 cups whole-wheat pastry flour
1/3 cup ground chia seed
1/4 cup Sucanat or palm sugar
2 teaspoons baking powder
1/2 teaspoon baking soda
1/4 teaspoon Real Salt
1/2 teaspoon freshly grated nutmeg
1 teaspoon cinnamon
1 cup pureed overripe banana
1 cup nut, seed, or rice milk
1/4 cup grade B maple syrup
1 1/2 teaspoons pure vanilla extract
3 tablespoons coconut oil
Preheat oven to 375°F (176°C). In a large bowl, combine the dry ingredients, sifting in the baking powder and baking soda. Stir through until well combined.
In another bowl, combine the pureed bananas, milk, maple syrup, vanilla, and oil. Add the wet mixture to the dry mixture, and gently fold and mix through, until combined. Scoop mixture into a muffin pan lined with cupcake liners.
Bake for 23-25 minutes (less time for smaller muffins, longer for larger), until a toothpick inserted in the center comes out clean. You may also add 1/3 c. chopped nuts or mini chocolate chips for more pizzazz!
There you have it, lots of ways to use the small but mighty chia seed. Let me know what you think about the recipes, as well as the creative ways you use them yourself!