Phil Jackson Tells Us How He Feels—Or So We Think
Lakers' Head Coach Phil Jackson has a way with words. He's the "Zen Master." He makes a living getting in people's heads.
How else can someone coach Michael Jordan, Kobe Bryant, and Shaquille O'Neal to a combined 10 NBA titles? Those 3 egomaniacs certainly can't do it all by themselves.
Since Phil convinced Michael to share, convinced Shaq to stand under the rim, and convinced Kobe to acknowledge his team, that must mean he can do anything—right?
It doesn't help that the Phoenix Suns are playing the Lakers in the Western Conference Finals—and their star player isn't American—he's Canadian.
What does this have to do with anything? Stay with me . . . you'll see!
The Comment
Phil told an ESPN columnist, "Am I crazy, or am I the only one that heard [the Legislature] say, 'We just took the United States immigration law and adopted it to our state?'"
He then followed that one up before Game 1 with:
"I've been involved in a number of progressive political issues over the years and I support those who stand up for their beliefs. It is what makes this country great. I have respect for those who oppose the new Arizona immigration law, but I am wary of putting entire sports organizations in the middle of political controversies. This was the message of my statement. I know others feel differently, even in the Lakers organization, but it was a personal statement. In this regard, it is my wish that this statement not be used by either side to rally activists."
Just let it soak in for a minute. It seems like he doesn't know what he believes—but I can assure you that he does.
The Backlash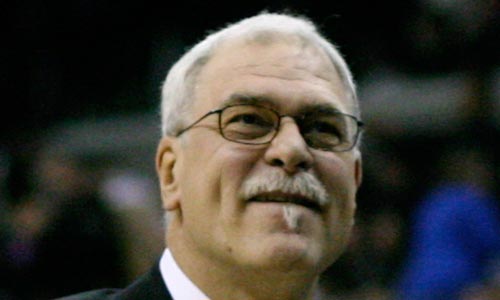 As soon as Phil said that he didn't want his comments used to "rally the troops," they were used for that purpose anyway. He's the most famous coach on the planet—of course those words were going to be everywhere!
You had him saying out of one side of his mouth that he supported the law and another side saying he was denouncing it. Phil put himself in the middle of a mudslinging match.
What's funny is that he diverted attention for the Suns wearing "Los Suns" jerseys to protest the new law.
Phil Doesn't Really Care that Much
Everyone wants to take this to the extreme. Phil isn't an extreme person. Have you ever watched his locker room talks? Ever seen a video of him in a timeout? He's laid back and he does his job well.
Anyone who thinks Phil is far to one side or the other is crazy. He doesn't care about this law that much.
He may find it uncouth. He may find it appropriate. But, he certainly isn't losing sleep over it. Phil cares about one thing—winning.
He knows how to do that. He knows basketball. He's won 11 NBA titles—as many as Bill Russell—and we think he gives a flip about a stupid governor in Arizona and a stupid immigration law?
To him, that's what it is—stupid. But, it's also an opportunity.
What Does It All Mean?
I don't claim to be a mind reader. I can't judge the intent of Phil's comments with 100% accuracy, but I do know that he is a professional "mind game player." He knows Steve Nash is Canadian.
He knows that if he chimes in on the subject he'll have the best player on the Suns—Nash—thinking about his own "non-American-ness."
That's it. It's that simple. I think Phil realized he could get at the Suns in general—and Nash specifically—by addressing an issue that has nothing to do with him.
Can you imagine the evil laugh he cackled? The second he realized Nash would be sitting at home saying, "Which is it Phil!? Pick a side!"
Steve Nash has come out and called the law "misguided." Now he thinks Phil Jackson is misguided. Do you think Steve Nash looks at Phil with a little more disgust now?
You bet he does!
Phil Jackson Is a Genius
Coach Stats
Phil Jackson (Career)
Games
1558
Wins
1098
Losses
460
Win-Loss Percentage
.705
Wins over .500
319.00
Games (Playoffs)
312
Wins (Playoffs)
219
Losses (Playoffs)
93
W-L% (Playoffs)
.702
---
"They" Said
Phil Jackson, Steve Nash Trade Playful Jabs Before Series
On Phil Jackson's Lakers Coaching Staff, Familiary Breeds Contentment
Los Angeles Lakers' Phil Jackson Says Phoenix Suns' Steve Nash Carries Ball
---
Upcoming NBA Games
| | | |
| --- | --- | --- |
| May 22 | ORL @ BOS | 8:30 PM ET on ESPN |
| May 23 | LAL @ PHX | 8:30 PM ET on TNT |
| May 24 | ORL @ BOS | 8:30 PM ET on ESPN |
You don't win 11 NBA titles—10 as a coach—by accident. Phil knew that this hot-button issue would be on the minds of the Suns' players for the entirety of the Western Finals.
He seized an opportunity and decided to throw a little gameplay out there. You know the best part?
Phil was asked if it's hard to prepare for Steve Nash and he said: "Yeah, because you can't carry the ball like he does in practice." Then Phil made a motion like he was palming the ball. "You can't pick that ball up and run with it."
Nash had already laughed that one off, only to have Phil later come out with his opinion on immigration. That's the master stroke of an evil genius right there.
Now Steve is sitting at home saying, "You don't support immigrants AND you're saying I carry the ball? OH HELL NO!"
Steve Nash is pissed—just like Phil wanted him to be.
Will this Equal Wins for the Lakers?
Remember, I said that the only thing Phil cares about is winning. The rumor isn't: "Phil Jackson messed with Steve Nash's head." The rumor is: "Phil Jackson messed with Steve Nash's head and the Lakers are scoring 120 points a game on the Suns."
I know it is really subtle and you may not even believe me, but please trust in this: Phil Jackson is the "Zen Master." He won't leave any stone unturned.
His team is a calculated machine that feeds on opportunity. If Amar'e Stoudamire is in a bad position—Lamar or Pau takes him to the hole.
Steve Nash needs to be held back—put Derek Fisher on him to tire him out. On the other end of the floor, D-Fish isn't doing a lot and Nash falls asleep.
This formula is not fool-proof. The Lakers lose games—they've lost games in these playoffs.
Phil made comments about Kevin Durant's play, and Durant got mad. That's just enough anger to open a door for the Lakers.
Phil sees the immigration issue, remembers Steve Nash is Canadian, sees the "Los Suns" jerseys . . . .
And,an opportunity is born!
Related Articles on SteroidsLive: