Non-Conference Crap In November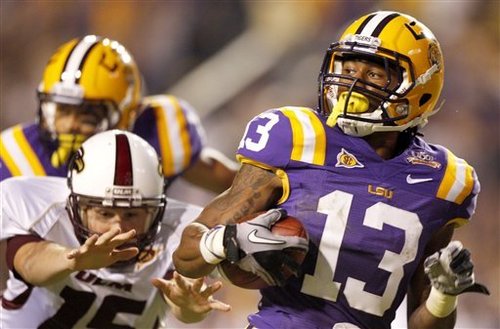 This week we had Auburn take on Georgia and win in a shootout. Oregon had to tangle with a pesky Cal team that only lost by two points. (This Oregon team is the same one that scores about 60 points a game.)
South Carolina had to beat Florida in "The Swamp" to earn a berth in the SEC title game. Oklahoma State had to vex their demons against Texas, and Alabama had to dispatch a feisty Mississippi State team.
Meanwhile, in a parallel universe, LSU had The University of Louisiana at Monroe. You know, the hardcore football school. You've never heard of it? Well, shame on you, because LSU needed a break in the middle of their schedule.
Every year we have big schools throttling crap schools late in the year instead of playing conference games. It's like getting the week off. Sure, Wisconsin beat Indiana 83-20, but at least Indiana was a conference opponent and had to be respected. There had to be game-planning going on.
So we really think LSU did any sort of preparation for ULM? I don't think so. Talk about an unfair advantage! From where I'm standing that equates to an unofficial bye week.
Everyone Does It
I could write this every weekend. Some team that should be in the thick of its conference schedule takes a week off to pummel some horrible team. In college basketball they get this stuff out of the way at the beginning of the season because the NCAA controls scheduling more heavily.
In college football these teams can do whatever they want. Where's the NCAA regulator that says, "Hey, you can't take crap teams after October 1st!"?
As good as LSU might be, they scheduled a crap team late to see if they could sneak under someone else's loss (or to solidify their already great/undefeated season.) They planned ahead and it almost worked. Too bad Auburn and South Carolina won.
One day, it will work. Some big school will crush a non-conference pile of crap and sneak into the national title picture or the BCS while everyone else is playing tough conference opponents.
And we wonder why college coaches usually don't pan out in the NFL. They get three or four weeks off a season. NFL coaches never get a week off. I wonder what Bill Belichick, Jeff Fisher, or Tony Sparano could do with a couple extra weeks off every season. I bet it's more than Les Miles can do.
General Patton's Previous Vents: