THIS Is Why the BCS Calculations Are Stupid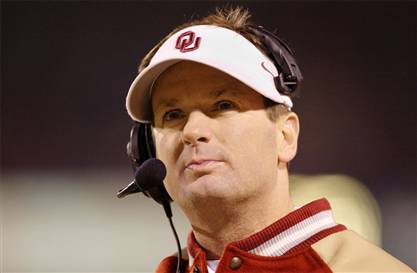 Remember last week when Oklahoma ended up #1 in the initial BCS rankings? I know, I know, I was wrong about Boise State being at the top, but I was just following what some "expert" said. What does he know anyway?
Oklahoma ended up #1 even though Oregon was tops in all the polls and they score about 50 points a game. I guess I could live with it, but I had this nagging feeling that Oklahoma would screw it up at some point. They would eventually prove themselves unworthy.
It only took one week.
Oklahoma went out to Columbia, Missouri and lost to the Zou 36-27. I could have said I called it, but I didn't. How in the world could Oklahoma lose to Mizzou after they got to the top of the BCS rankings?
They would have had an easy time staying there, and no one would have questioned it outside of the "we hate the BCS and want a playoff" conversation. Now we have reason to question the whole system.
Or Should We Be Questioning Oklahoma?
Bob Stoops landed in Norman in 1999. He changed the culture and won a national title in 2000. However, he's lost the national title game in 2003, 2004 and 2009. Plus, he was just #1 in the BCS and lost after hardly holding the spot for one week. Did I mention he makes $5 million a year? This is hardly worth $5 million annually.
And did it ever occur to anyone that when he won that national title that team was only half his own recruits? That's about like Barry Switzer winning the Super Bowl in Dallas. That wasn't Barry's team — it was Jimmy Johnson's team.
Am I saying Bob Stoops is a bad coach? No. Am I saying that Stoops' teams underperform on a regular basis? Yes. And given that he won a title when only half the team were "his kids" I can assume that he recruits mentally weak players.
This means that, in some weird, cosmic, indirect way, the BCS rewards teams who play cupcakes are mentally weak. The BCS rewards teams who can't hold the top spot. The BCS rewards teams that can't uphold the integrity of the BCS selection process.
Yes, I just dissed Bob Stoops and the BCS based on one loss to Missouri. Have you got a better reason for the loss?
Here's a better question: Can we even explain the calculation process? I think it goes something like this: Pick the wrong teams, hope for only two undefeateds, and pray that stupid teams like Oklahoma lose when they get the #1 spot.
Too bad the BCS knows we won't stop watching, because this is ridiculous.
General Patton's Previous Vents: