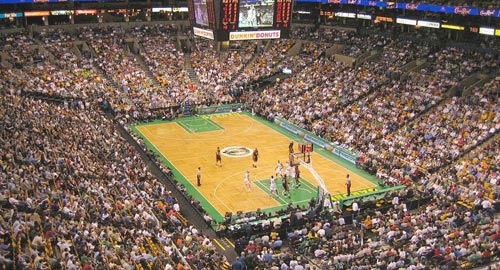 I love stirring the pot — it's this little thing I do. So, when considering how to wind up the end of the NBA season I couldn't just give awards. Everyone gives out awards.
No, I wanted to recognize the mediocrity and failures in the NBA. So often we take up all our time annointing the Most Valuable Player, but what about the Least Valuable Player?
Some guys — Kobe, Tim Duncan, Chauncey — were meant for success. Others were not. Some guys can make an impact — Kendrick Perkins, Leandro Barbosa, Derek Fisher. Others cannot.
Today we honor those who simply are not successful, don't live up to the hype, make bad decisions, are bad teammates or just suck. I think you'll especially enjoy the award for sucking.
So, without further ado — The General's 2010 NBA "Anti Awards."
Worst Management
…and the award goes to. It's a tie! Danny Ferry and LeBron James! Come on up gentlemen. Here's the Cleveland Cavaliers' superstar and their General Manager.
Ever since LeBron became the superstar that he is, the Cavs have given total control of the team to him. Sure, Danny Ferry — come here and give me a hug buddy — has been acting as the General Manager, but he only approves the deals LeBron wants.
Boys, you get to share this award because you put together the 2009-2010 Cavaliers. You had the best record in the league; you were everyone's favorite to represent the East in the Finals; and you crapped out.
LeBron, your desire to have a "winner" like Shaq on your team sure didn't work out for you, did it? Your team was a little more than eight points worse every game with Shaq on the floor.
Danny, it's your job to tell LeBron that Shaq had help winning his four rings. That help was named D-Wade, Kobe, D-Fish and Phil Jackson.
For your bad ideas, willingness to act on those ideas, and a misunderstanding of the game's history, you clearly deserve this year's Anti-Award for Worst Management.
Worst Performance by a Superstar in the Playoffs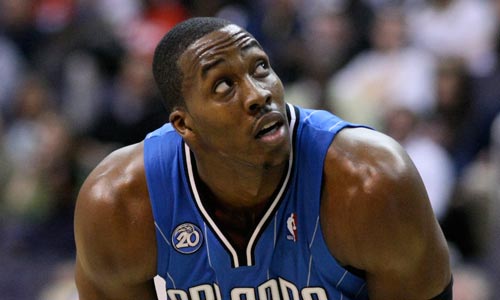 …and the award goes to. Another tie! LeBron James and Dwight Howard! Come on down gentlemen! The two best players in the Eastern Conference – neither of whom will be in the NBA Finals.
LeBron and Dwight, you both gave into Rajon Rondo. In fact — come out from backstage, LeBron. Don't be shy — Rajon Rondo is probably the new best player in the East.
How's that for a reversal of fortune, huh LeBron? Who would've thought his Rondo's time at Kentucky would actually help him?
Since you both got beat down by the same guy in two different series, and both of you stopped trying halfway through your next-to-last-loss, you both deserve this award. What a coincidence you're out here again, LeBron.
Dwight, didn't you learn anything from losing to the Lakers in the Finals last year? We were so proud of you when you watched the Lakers celebrate after totally "owning" you in the Finals.
Today, we can only acknowledge that you allowed your team to send away Hedo Turkoglu and replace him with Vince Carter. Didn't LeBron tell you that he makes all his team's personnel decisions?
You need to get on that next year, Dwight.
Let's give them a hand!
Most Embarrassing PDA
"They" Said
NBA Best and Worst
Which of the Worst 7 Teams in the NBA can Make the Playoffs?
2010 NBA Finals
…and the award goes to…Ohio Governor Ted Strickland. Come on up while we watch your winning entry.
Need we say more Governor? You've made a complete fool of yourself over someone who hasn't been to the NBA Finals since 2007, when he accidentally won the Eastern Conference.
Let's give the Governor a hand!
Least Effectual Player from a 2009 Finals Team
…and the award goes to…Marcin Gortat. Come on down Marcin. Hobble that Nike Swoosh tattoo up here and pick up this award.
Marcin, you were such a great fill-in for Dwight Howard last year. You made such a great name for yourself that your Nike tattoo became front page news when you wanted to sign with Reebok.
3.8 points last season and 3.6 points this season have never seemed so different. You made yourself into "trade bait" after last year's Finals loss.
This season I don't think we could get one team to admit your 3.6 points per game are attractive. Good job NOT following up a career-making year with a better one!
Marcin Gortat everybody!
Worst Tank Job
..and the award goes to. The New Jersey Nets! You gave up after your first game and banked solely on Jay-Z having a minority share of your team — so you could land LeBron. Come on down so we can honor your pathetic state.
Mikhail Prokhorov, come on down too. You're the proud owner of this disgusting franchise!
You went 12-70. You lost 7 of your last 10 games this season. You're hoping to use Jay-Z's 1 percent to get LeBron — after you move to Brooklyn.
You fired Lawrence Frank for doing nothing with — nothing! You hoped that sucking the whole year would get you the first pick in the lottery and you ended up with the 3rd pick. No frozen envelopes here!
Now you have to pick Derrick Favors — you know, the kid from Georgia Tech who totally wasn't worth the hype?
New Jersey Nets — you gave us — by far — the worst tank job this season. Congratulations on setting your franchise back at least 5 more years!
Give them a hand everybody!
Least Valuable Player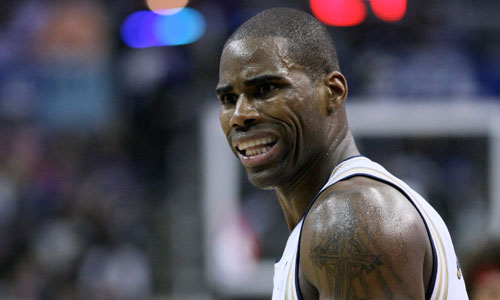 …and the award goes to…Antawn Jamison! Come on up Antawn, Antoine, we don't know how to say your name!
You were supposed to be the "missing link" for the Cavs this season, and you couldn't come through. You only averaged 32 minutes a game and 15.8 points in your stint with the Cavs.
We know you can only do so much, but shouldn't the "missing piece" play more minutes and be on the floor with LeBron more? You weren't very effective were you? Kinda makes you wish you were still in Washington, doesn't it?
By the way Antawn, we suggest that you hold a press conference and tell us how to say your name. If we give you another award, we want to get it right!
Thank you all for attending the 1st Annual NBA "Anti-Awards." Enjoy the completion of the NBA Final between the Los Angeles Lakers and the Boston Celtics.