MLB WK 6 Sluggers and Slugs
As we approach the quarter mark of the MLB season, several teams continue to leave us perplexed by their poor play. Some teams are trying to emerge into real playoff contenders in a division we thought other teams would absolutely win.
The .500 baseball that the Boston Red Sox are playing is going to lead to a drunken summer and heavy anticipation for the New England Patriots' kickoff.
The San Diego Padres are starting to come back to Earth after getting swept by their division rivals, the Los Angeles Dodgers at home. They need to channel the energy of Ron Burgundy if they want to stay in the race.
The Tampa Bay Rays continue to stay atop the AL East and are sporting the best record in baseball. If they could get the senior citizen communities to come out and support the team, maybe they would be able to sign Carl Crawford at season's end.
The New York Mets plummeted to the bottom of the NL East and confirmed that the early season success was only an accident.
Another surprising team is creeping towards joining the penthouse (power rankings). The cellar remains the same, but what teams this week are in danger of joining the bottom three for next week?
Who were this weeks Heros and Zeros from around the diamond?
Penthouse Pimpin' and Cellar Dwellers
Today's MLB Games
Tuesday May 18

AL

NL

MIN @ TOR 12:37 PM ET
MIL @ CIN 12:35 PM ET
CWS @ DET 1:05 PM ET
ARI @ FLA 1:10 PM ET
CLE @ TB 1:10 PM ET
PIT @ PHI 7:05 PM ET
BOS @ NYY 7:05 PM ET
NYM @ ATL 7:10 PM ET
KC @ BAL 7:05 PM ET
COL @ CHC 8:05 PM ET
LAA @ TEX 8:05 PM ET
WSH @ STL 8:15 PM ET
SEA @ OAK 10:05 PM ET
SF @ SD 10:05 PM ET
HOU @ LAD 10:10 PM ET
Watch any MLB game on the MLBN and other select networks, or visit your team's website!
No. 1 – The Rays success is wonderful for baseball; it shows that even teams with lower payrolls can be competitive with the big boys. The old Michael Jordan Nike commercial said, "Its gotta be the shoes," well for the Rays, "Its gotta be the glasses" (Manager Joe Maddon's glasses).
No. 2 – The New York Yankees are maintaining pace with the Rays in the AL East and are only trailing by two games. Everyone wants to talk about the age of the Yankees and how much money they have. Well, to me that's a recipe for happiness and success; just ask Hugh Hefner, Bruce Willis and George Clooney.
No. 3 – The Philadelphia Phillies have joined the top three by winning 8 of 10. This week they get back leadoff man, Jimmy Rollins. Rollins is like fireworks on the 4th of July; you really can't start the party until they go off.
Much to everyone's surprise, the Cincinnati Reds are banging on the door of the top three. One solid week could help Ohio forget about the collapse of the Cleveland Cavaliers.
No. 28 Kansas City Royals – No. 29 Houston Astros – No. 30 Baltimore Orioles – All three of these teams have talent, but not enough to win. The Os and Royals are building from young talent, and the Astros are on the verge of trading aging talent for young prospects.
The Seattle Mariners are in desperate need of a bat in the middle of the lineup. The pitching is set with Cliff Lee, Felix Hernandez and the emergence of Doug Fister. If some of those guys don't get it going and they don't trade for a bat before the deadline, a bunch of those guys might be running charter boats in the Pacific Northwest.
Heros and Zeros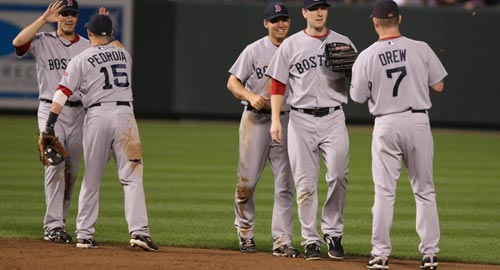 AL Heros
North of the border, Jose Bautista was trying to compete with the Montreal Canadians for headlines this past week. Bautista hit .444 with 4 HRs and 8 RBIs. I wish The Toronto Blue Jays good luck competing with hockey. The only people who care about baseball in Canada are the people who left the country during the Bush administration.
The O's outfielder, Luke Scott, has the perfect name and also looks like a cast member from the original cast of "90210." This week he was pimpin' at the plate like Luke Perry, hitting 10 for 20 with 3 HRs and 8 RBIs.
The Los Angeles Angels have had little to cheer about thus far this season, but a week by newly-acquired Joel Pineiro was amazing. Pineiro pitched 15.1 scoreless innings and struck out 12. Fellow Angel Joe Saunders managed to show some signs of life after losing his last four starts, and threw a complete game shutout.
AL Zeros
The Red Sox woes this season are a combination of bad pitching and hitting. The week by catcher/first baseman Victor Martinez hitting 1 for 18 with no HRs pretty much sums up the start to the season. If Martinez thinks there are some dangerous, crazy people in his native Venezuela, have a couple more weeks like this at the plate and then go out to dinner.
The Yanks C.C. Sabathia struggled against the Detroit Tigers allowing six runs and surrendering two long balls. All-time great closer for the Yankees, Mariano Rivera, also gave up a game-winning grand-slam to Minnesota Twins struggling slugger Jason Kubel.
NL Heros
Shane Victorino has been filling in for the injured Rollins atop the Phil's order, and this week exceeded expectations. Victorino hit .435 with 7 RBIs and scored 8 runs.
The Washington Nationals Ryan Zimmerman is going to need an MVP-type season for the Nats (20-18) to continue this kind of play. Zimmerman belted 3 HRs and knocked in 8 RBIs with a .345 average.
The smell of desperation from the Dodgers looking for pitching may have disappeared this week with two stellar starts from Chad Billingsley. Billingsley won two games and posted a 1.42 ERA. Fellow youngster Clayton Kershaw also chipped in with his second consecutive 7-plus inning start.
NL Zeros
The Milwaukee Brewers definitely had a week they would love to forget, losing six straight. So would slugger Ryan Braun who went 2 for 14 without managing to score a run, hit a HR or bring home an RBI. It's tough to win games when your No. 3 hitter can't even get three hits in a week.
Stop me if this sounds familiar, the Arizona Diamondbacks pitching staff disappointed again this week. Dan Haren struggled this past week giving up 10 runs in 10 innings over two starts. Perhaps the D-Backs will be able to look for pitchers on the Phoenix Suns' roster next week, as I am sure their season will becoming to end when facing the Los Angeles Lakers this week in the NBA.
Related Articles on SteroidsLive: