MLB Week 7 Sluggers and Slugs
The major league baseball season kicked off inter-league play this week, which reminds me that the only thing more overrated is MTVs The Hills.
So what if a couple of New York Mets fans got to arrive at the office on Monday and talk smack to New York Yankees fans. The Yanks are going to make the playoffs, and the Mets will try not to finish in the basement of the NL East.
Besides the few big inter-city rivalries like New York, Chicago and Los Angeles, does anyone really care? I'm sure the state of Ohio was on the edge of their seats for the match-up between the Cleveland Indians and the Cincinnati Reds.
On the pod-cast last week, I said the Boston Reds were facing a do or die week. They stepped up big time by winning 5 of 7 against the Minnesota Twins, Philadelphia Phillies and the Yanks. They didn't gain or lose any ground on the Tampa Bay Rays, but Monday starts a big three game series at Tropicana Field.
What team lost their best hitter and now is on the rise to joining the "Penthouse" power rankings. I am increasing my rankings for the top and bottom from three to five. Which team is joining the rat infested "Cellar?"
Also, in this week's "Heros and Zeros," who is the player swinging a hot stick that made the Rays even more dangerous?
Penthouse Pimpin'
Upcoming MLB Games
Tuesday May 25

AL

NL

CWS @ CLE 7:05 PM ET
ATL @ FLA 7:10 PM ET
OAK @ BAL 7:05 PM ET
PHI @ NYM 7:10 PM ET
BOS @ TB 7:10 PM ET
PIT @ CIN 7:10 PM ET
NYY @ MIN 8:10 PM ET
LAD @ CHC 8:05 PM ET
TEX @ KC 8:10 PM ET
HOU @ MIL 8:10 PM ET
TOR @ LAA 10:05 PM ET
ARI @ COL 8:40 PM ET
DET @ SEA 10:10 PM ET
STL @ SD 10:05 PM ET
WSH @ SF 10:15 PM ET
Wednesday May 26

AL

NL

CWS @ CLE 12:05 PM ET
ATL @ FLA 7:10 PM ET
TEX @ KC 2:10 PM ET
PHI @ NYM 7:10 PM ET
DET @ SEA 3:40 PM ET
PIT @ CIN 7:10 PM ET
OAK @ BAL 7:05 PM ET
LAD @ CHC 8:10 PM ET
TOR @ LAA 7:05 PM ET
HOU @ MIL 8:10 PM ET
BOS @ TB 7:10 PM ET
ARI @ COL 8:40 PM ET
NYY @ MIN 7:10 PM ET
STL @ SD 10:05 PM ET
WSH @ SF 10:15 PM ET
Watch any MLB game on the MLBN and other select networks, or visit your team's website!
No. 1 – Rays – They run through teams like the humans did Pandora in "Avatar." Ownership must find a way to keep this squad together.
No. 2 – Los Angeles Dodgers – NL leading hitter Andre Ethier goes on the 15 day DL, the McCourt's ugly divorce, and yet the Dodgers keep winning. Sign Roy Oswalt.
No. 3 – Yankees – They have stumbled a bit of late, but if they can avoid any serious injuries to Mariano Rivera, they'll challenge the Rays for the AL East.
No. 4 – Phillies – Roy Halladay finally came back to reality, but the offense keeps slugging away. Jimmy Rollins needs to stay healthy for long term success.
No. 5 – San Diego Padres – This could be their last week in the penthouse party. The Padres must win 4 of 6 to stay ahead of the Dodgers.
Cellar Dwellers
No. 26 – Seattle Mariners – This team, on paper, looks like a naked super model, but they play like a fat chick doing jumping jacks, bouncy and all over the place.
No. 27 – Kansas City Royals – I say this with a straight face, but the Royals actually have some young talent. By the time they blossom, it will be in a Yanks or Sox uniform.
No. 28 – Indians – This team is not built to win games; they barely meet the requirements to accept the real fans money. The ownership and management should be ashamed.
No. 29 – Houston Astros – Rumor has it Oswalt wants out. This is just another sign pointing to how bad things are in Houston. Management should start trading for prospects.
No. 30 – Baltimore Orioles – Manager Dave Trembley is going to stroke out from watching the Os play. Even with a lead in the 9th I'll bet they lose.
Heros and Zeros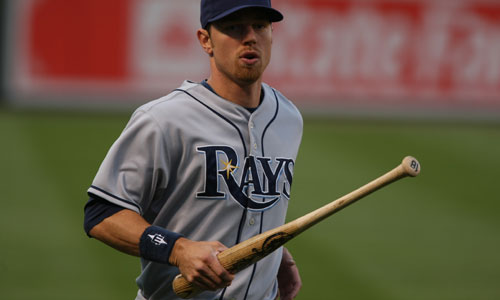 AL Heros
The Rays surprise from last season, Ben Zobrist, had been alright up until this last week. Zobrist went off like an MVP hitting .500 in 28 ABs, with his first two HRs and seven RBIs.
Toronto Blue Jays third baseman, Edwin Encarnacion, had a career week, and most of it was away from Canada (take from that what you will). Encarnacion belted 6 HRs and 11 RBIs.
The Oakland Athletics received some more superb pitching from another youngster this week in Gio Gonzalez. Gonzalez notched two wins with 1.80 ERA and struck out 9.
AL Zeros
The Red Sox scrappy little slugger Dustin Pedroia had the Sox fans looking for ways to mainline Samuel Adams with his pathetic week. Pedroia hit .107 with no HRs and no RBIs.
Zach Grinke and CC Sabathia both had weeks they would love to forget. Neither ace won a game; both had ERAs 4.50 or higher, and both men surrendered three HRs.
NL Heros
Adam LaRoche kept hope alive for the Arizona Diamondbacks with a healthy week at the dish. LaRoche hit .435 with three HRs and eight RBIs.
The big red fantasy machine had three guys ranked in the Yahoo top 25 fantasy batters. Scott Rolen, Joey Votto and Laynce Nix combined to hit 8 HRs with 24 RBIs, and all hit well over .350. If these men would have been married to the baseball, they would have been arrested for spousal abuse the way they beat it up.
D-Backs flame thrower Edwin Jackson was sitting down batters this week like American kids competing in a Chinese spelling bee. Jackson was the victor in both games he pitched with 2.87 ERA and sat down 21 batters on strikes.
NL Zeros
The Mets Jason Bay gave the fans something to smile about, but David Wright gave them a reason to binge drink. Wright hit a dreadful .167 with no HRs.
The Phillies got Halladay to be the ace of the staff, and this week he was anything but that. In two starts Halladay had a 4.91 ERA and choked against the Red Sox when they needed him to make a statement.
Source list Below:
http://tampabay.rays.mlb.com/tb/ballpark/index.jsp " Tropicana Field"
http://www.mtv.com/shows/the_hills/season_6/series.jhtml "The Hills"
http://www.avatarmovie.com/ "Avatar"
http://mlb.fanhouse.com/2009/10/28/dodgers-owner-frank-mccourt-wife-jamie-beginning-ugly-divorce/ "McCourts ugly Divorce"
http://www.i-yankees.com/?p=20518 "avoid any serious injury"
http://sandiego.padres.mlb.com/index.jsp?c_id=sd " must win 4 of 6″
http://kansascity.royals.mlb.com/team/roster_active.jsp?c_id=kc "have some young talent"
http://www.mlbtraderumors.com/roy_oswalt/ "oswalt wants out"
http://articles.baltimoresun.com/2010-05-23/sports/bs-sp-cowherd-column-orioles-0523-20100523_1_orioles-manager-sam-perlozzo-dave-trembley "Manager Dave Trembley"
Related Articles on SteroidsLive: