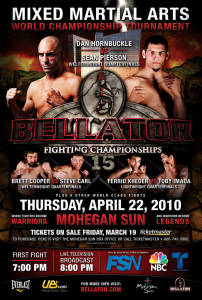 Hopefully not overshadowed by the NBA playoffs, baseball and the NFL draft, Bellator is having their 3rd event tonight starting at 8 pm live on FSN around the US.  The stars did not align tonight for me, so I won't be able to view the event live.  I'll most likely have to wait until the Cincinnati Reds game is over.  So, technically, this blog won't be live but I'll do my best once the show gets rolling and I do plan on participating in the post-fight press conference afterwards.  Stick with this post throughout the night as I'll be updating about the event as I see it.Here are tonight's scheduled main event fights:
Welterweight Quarter-Final: Dan Hornbuckle vs. Tyler Stinson
Welterweight Quarter-Final: Jacob McClintock vs. Ryan Thomas
Welterweight Quarter-Final: Brett Cooper vs. Steve Carl
Featherweight Quarter-Final: Patricio Freirevs. William Romero
8:14 pm – And we're live!  Patricio Frerevs vs William Romero will be the first fight I get to see.
8:17 pm – WOW very nice transition from a toe hold to a heel hook to gain a submission victory for Patricio Pitbull Freirevs.  That guy is nasty!  Romero screamed out in pain before submitting.
8:21 pm – Pitbull didn't waste any time that fight, getting it to the ground early and going for the submission immediately.  The four semi-finalists for the featherweight tournament will be Pitbull, Wilson Reis, Joe Warren and Georgi Karakhanyan.
8:25 pm – Pitbull will face Reis in the semi-finals.  Should be an exciting clash of excellent Brazilian jiu jitsu practitioners.
8:30 pm – Time for Jacob McClintock vs Ryan Thomas.  Thomas is getting a chance at redemption after the controversial loss last week, but McClintock is straight up nasty.  This should be a pretty good fight.
8:39 pm – Wow, great action in the first round.  McClintock aggressive early, takes Thomas's back but Thomas is patient, reverses and put McClintock on his back.  Once he got into McClintock's guard, Thomas gained dominant position with a mount and then a postured up half guard to pound out the victory via TKO.  Thomas is very emotional after the big win.
8:44 pm – Thomas calls out Ben Askren in his post fight interview.  I hope they make it happen.
8:56 pm – Time for Tyler Stinson vs Dan Hornbuckle.  Horbuckle is legit and I predict him to win by highlight knockout.
9:03 pm – Stinson goes for a takedown and Hornbuckle uses his amazing flexibility to lock in a triangle choke from the bottom.  Fantastic submission victory for Dan Hornbuckle.
9:09 pm – Hornbuckle very classy in his post fight interview.  Tells current champ Lyman Good he'd better be training because he's coming for that title.
9:18 pm – Time for Steve Carl vs Brett Cooper in welterweight action.  This fight should be exciting.
9:22 pm – Brett Cooper is one hairy dude
9:27 pm – Round 1 is in the books, very back and forth.  I'll give it to Steve Carl though for more time spent on top plus a very nice flurry of punches halfway through the round.  10-9 Carl
9:33 pm – Second round is complete.  Much more stand up this time, Carl is leaving his hands too low and eating several jabs from Cooper.  I'll give the round to cooper.  19-19 thus far.
9:34 pm – Time for the 3rd round, it all comes down to this one in my opinion.
9:40 pm – Great finish to the fight with Brett Cooper laying on some ground and pound from Carl's guard.  Carl looked tired at the end, it might cost him the fight.  We'll see.  It depends how the judges scored the 2nd round IMO.
9:42 pm – Official decision is in, split decision for Steve Carl.  Crowd is booing big time.  I agree, should have been Cooper.
And that's a wrap!  Check out Bellator.com at 11 pm eastern time tonight as they stream their postfight press conference live.