Kimbo Decisions Alexander…What the Hell?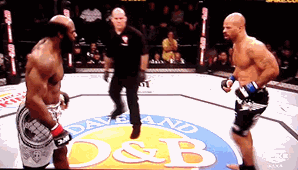 In what was the most anticipated fights of the The Ultimate Finale 10, Kimbo Slice outlasted Houston Alexander to eek out a decision victory.  Yeah, that wasn't a typo.  I'll be completely honest with you, I did not see that result coming.  Here's a couple excerpts from my twitter that I posted while the fight was happening…
Worst and lamest start to a fight i've ever seen. Circle circle circle. So boring
Un-****ing-believable how could they dance like that in the first round?
I cannot ****ing believe that went the distance.
Everyone and their grandmother thought this fight was going to be a brawl that would last a total of 30 seconds, but from the opening bell, Houston failed to engage.  All he did was circle Kimbo counterclockwise, occasionally throwing a weak inside leg kick at Kimbo's front leg.  The first round was one of the most boring rounds in UFC history (and that includes Silva/Leites and Quarry/Starnes).  The crowd literally booed for a good 5 minutes from the halfway point of the 1st round until the beginning of the 2nd.
The second round started out the exact same way except this time Kimbo decided to man up and engage.  They traded blows and then Kimbo did something I never expected, he went for a takedown.  It wasn't just a takedown, it was a viscous slam.
I was stunned,  I never thought I'd see Kimbo literally throw Alexander to the ground like a rag doll.  He pummeled Houston in the second round that could have easily been scored 10-8 for Slice.  In the third, both fighters were completely gassed, Houston dropped Kimbo with a leg kick but Kimbo landed better punches and also had a decent takedown to take the decision victory.  Once the final horn sounded, both fighters bent over and began breathing heavily like 80 year old marathon runners (pictured above).
I will never understand Houston Alexander's strategy.  Not only was it ineffective, it was boring as hell.  This is a man who knocked out Keith Jardine in his UFC debut, and then he knocked out feared striker Allesio Sakara in his 2nd UFC fight.  Kimbo Slice was easily KO'd by Seth Petruzelli, an Ultimate Fighter season 2 reject who was outweighed by 30 pounds.  What was Houston afraid of?  This was a very winnable fight for him that he completely threw away.
UFC President Dana White had this to say about Houston's performance:
I don't know what Houston Alexander's corner was doing, but that was the worst game plan they could have ever come up with.  I am not sure if Kalib Starnes was training him or what, but that wasn't the Houston Alexander I had seen fight before.
If you wanted more proof that Dana White was disappointed with Houston Alexander, he was cut from the UFC today.
All in all, the only fighter that came out of that fight looking decent was Kimbo.  It was very obvious that he has been working hard on his ground skills, his grappling and his patience with American Top Team in the 5 month layoff that takes place between taping of The Ultimate Fighter and the grand finale.  He was able to cut down to 212 pounds for this fight and he was by far  the stronger fighter.  I hope he can cut an additional 7 pounds and fight at light heavyweight because he will have a big size and strength advantage over many of the UFC's 205 pounders and there are several intriguing fights for him there.