Kim Couture Is Back In The Cage, And Winning!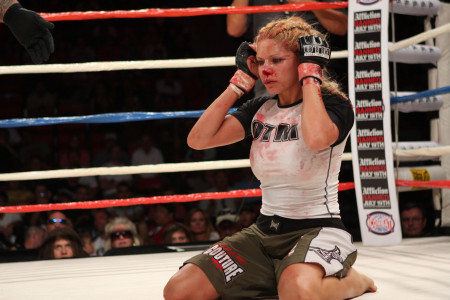 They say, when you get knocked off the horse, the best thing to do is to get up, dust yourself off and climb back up in to the saddle. The longer you wait to get back on, the harder it is. This is the same for MMA. If you suffer a loss, the best thing to do is get another fight and get a win. It is all about keeping your confidence level up.
Kim Couture knows this and on November 21st , at Strikeforce Destruction, Kim Çouture got back in the cage and ended up with her first professional MMA win. After a grueling start to her MMA career a few months ago, resulting in a broken jaw, Kim has shown that she belongs in the cage and will likely have many more fights to come. Kim came out on fire with guns blazing in her match up against Lina Kvokova. When asked how she came back so strong from such a tough first loss Kim said
"Randy is always telling me you have to train as intense as you would be in a fight, so to take that intensity level up every day while you're in there," she said. "I don't think I would be as far along if I didn't have that loss."
For the majority of the fight, Kim chased Linda around the ring, throwing punches and knees. Kim told reporters
"I was just trying to get a clean shot. I felt that I could knock her out if I could get in there," she said. "It's a lot harder when someone's turning they're head away from you. I just wasn't expecting that."
None the less, Kim Couture kept pouting it on and emerged victorious via TKO in the first round. Now that's the way to get back in the saddle!
Here are the results of the rest of Strikeforce Destruction:
1. Zak Bucia def. Adam Steel via submission (guillotine choke) – R1 (0:35)
2. Alvin Cacdac def. Jose Palacios via submission (RNC) – R2 (3:10)
3. Darren Uyenoyama def. Brad Royster via unanimous decision
4. Luke Rockhold def. Nik Theotikos via submission (RNC) – R1 (3:06)
5. Joe Riggs def. Luke Stewart via TKO (strikes) – R2 (2:05)
6. Kim Couture def. Lina Kvokov via TKO (strikes) – R1 (1:44)
7. Duane "Bang" Ludwig def. Yves Edwards via unanimous decision
8. Renato "Babalu" Sobral def. Bobby Southworth via TKO (cut) – R1 (5:00)
9. Scott Smith def. Terry Martin via KO – R1 (0:24)
10. Brian Schwartz def. Lemont Davis via TKO (punch) – R3 (2:22)
11. Kurt Osiander def. Josh Neal vai TKO (strikes) – R1 (2:16)
12. Eric Lawson def. Tony Johnson via submission (RNC) – R1 (1:28)
13. Bobby Stack def. Cyrillo Padilha via unanimous decision
Photo: Mikes Responts