Don't Miss WEC 48, You'll Regret It Forever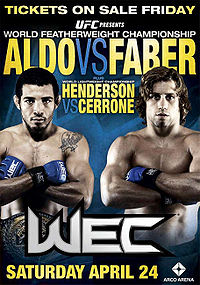 I've spent a lot of time praising the WEC for their fantastic shows they put on.  Their fighters really know how to bring it, and they are always matching up the best against the best.  Never has that been more true than tomorrow night when former featherweight champ Urijah Faber takes on current champ Jose Aldo in Sacramento.  While the UFC and Strikeforce are coming off back to back disappointing shows, the WEC is on a 47 event winning streak.  These guys care so much about their sport and they put so much effort into their performance that I don't think it's possible for one of their shows to underperform.  Despite my ever increasing expectations, these little guys have yet to let me down.
I haven't been this pumped for a show since UFC 100, and that's saying a lot considering all the MMA events that have taken place since then.  The WEC is owned by the UFC parent company Zuffa and they are pulling out all the stops for this, the first pay per view event the WEC has ever attempted.  UFC president Dana White has taken control of promoting the event, announcers Joe Rogan and Mike Goldberg will be cageside and even Bruce Buffer will be the ring announcer.
While the WEC fighters are smaller weight classes than the UFC, there is nothing small about the excitement they bring.  The first fight of the night will be a bantamweight match between Antonio Banuelos and Scott Jorgensen.  This is a rematch of a controversial WEC 41 match that saw Banuelos come away with split decision victory.  Since that time, Jorgensen has been on a hot streak with a fight of the night win over former contender Takeya Mizugaki and most recently an insane 30 second submission victory over Chad George.  Banuelos has only fought once since their last meeting, a decision win over Kenji Osawa.  Jorgenen has improved drastically over the past year and this time, I think the judges will get it right if (and that's a big if) the fight goes to decision.
The second main card fight of the night should be an awesome style matchup between lightweights Anthony Njokuani and Shane Roller.  Both men have been on a roll lately, with each having suffered their only loss in the WEC to current champ Ben "Smooth" Henderson.  Roller picked up a submission of the night victory over Danny Castillo at WEC 44, but it's Njokuani who has been racking up all the awards.  He has managed to pick up 3 straight knockout of the night performances, most recently blasting Chris Horodecki with a headkick and following up with punches at WEC 45.  This is the classic grappler verses striker matchup as Roller will look to get Njokuani on the ground while Njokuani plans on keeping his distance, looking for an opening and finishing the fight there.  Njokuani has all the hype right now and will likely get a title shot with a win, but I think Roller has the tools to shock MMA audiences.
Next up is a very important fight between The Ultimate Fighter season 5 runner up Manny Gamburyan and former featherweight champion Mike Brown.  This is likely a number one contender match with the winner getting a title shot against the Aldo/Faber winner later in the show.  Brown was on a roll at featherweight racking up 10 straight wins (2 over Faber) before losing his title to Aldo last November.  He is out for revenge, and with a win, his next fight is going to be an exciting rematch regardless of who he faces.  Manny Gamburyan is 2-0 in the WEC since dropping down to featherweight.  Most recently he put on a striking clinic en route to winning a decision over former contender Leonard Garcia.  Both fighters are excellent wrestlers, with Gamburyan being a little more focused on his Armenian judo.  Brown will definitely have the striking and power edge, as long as he can stay off his back he will have a solid shot at earning his rematch.
The co-main event is a lightweight title fight between Ben "Smooth" Henderson and Donald "Cowboy" Cerrone.  Their last fight in 2009 for the title was a top 10 highlight with many fans divided on who actually came out the winner.  The judges scored it for Henderson, but it honestly could have gone either way.  Cerrone and Henderson have both performed admirably since, each racking up 3rd round submission victories.  Like before, Henderson will look to utilize his grappling advantage while Cerrone will try to keep the fight standing.  If it does go to the ground, both men have dangerous submission skills, as Cerrone nearly had Henderson multiple times in their last fight.  I honestly have no clue who is going to win this fight, all I can guarantee is that it's going to be incredible.
Last and most importantly is the headline fight between Urijah "The California Kid" Faber and Jose Aldo.  Faber was once hailed as the greatest featherweight on the planet, and he has been the face of the WEC for several years now.  If you didn't know any better, you'd think he was the current champ with all the attention he's been getting from the media coming into this fight.  He'll be fighting in his hometown of Sacramento and Jose Aldo wouldn't have it any other way.  He actually suggested to the WEC matchmakers to hold the fight in Sacramento so that he can prove just how good he is by beating the hometown favorite in front of his fans.  Faber lost his title to Mike Brown, and then lost again in a rematch that was a 2009 fight of the year candidate.  In his comeback fight he took out top contender Rafael Assuncao via submission, which shut up anyone who suggested he was done.  Aldo has been a one man wrecking machine in the WEC, recording 6 straight knockout wins en route to becoming the champion.  His 8 second double flying knee knockout of Cub Swanson is still one of my all time favorite highlight reel KO's I've ever seen.
This fight has all the makings of become legendary.  Faber has that "never give up" attitude that fans love, fighting Mike Brown for 5 rounds despite two broken hands.  Aldo has the striking skills to devastate anyone and everyone, and has even been mentioned as a possible contender for the UFC lightweight title down the road.  Both men are incredibly entertaining to watch and Dana White has promised the fans that this will go down as one of the best fights of the year.  I whole-heartedly agree.  The WEC has a stranglehold on the top bantamweight and featherweight talent in the world and this is a true #1 vs #2 matchup.  Get your popcorn ready.
If that isn't enough to convince you, Spike TV and Versus will both be airing a one hour special on Saturday night that will showcase two undercard fights.  The first will be a lightweight match between Alex Karalexis and Anthony Pettis.  The next, and a fight I'm really pumped for is a featherweight bout between Leonard Garcia and "The Korean Zombie" Chan Sung Jung who is making his WEC debut.  Make sure to watch that, as it will be available for free.  If you choose not to see the WEC 48 event, you'll be missing out on history.  Just remember that I warned you.