Bellator 13 Recap and Thoughts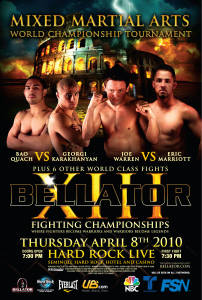 Bellator Season 2 debuted last night and I wasn't lucky enough to see it live.  FSN thought that a Detroit Tigers game had higher priority but at least I was able to see it on tape delay at 10 PM.  I'm very excited about the Bellator's potential as a promotion and I think this is the season that they make the leap into the mainstream.  Not many other companies outside of Dream still hold tournaments to determine their champions, and despite these tournaments not lasting one night, it still hearkens back to the first UFC events.
This was a very exciting fight with a ton of action both standing and on the ground.  Karakhanyan really worked his kicks when the fighters were separated and his knockout knee was a sight to see.  If he can continue to get back to his feet after being taken down, he's going to be really dangerous in the tournament.
The next fight was also a featherweight battle between Dream finalist and Greco Roman Olympian Joe Warren and M-1 veteran Eric Marriott.  In the first round, Warren quickly shot in for a takedown and tried to ground and pound while Marriott was working the closed guard and constantly looking for submissions.  Marriott went for a leg, but Warren spun out to get the fight back standing.  After another takedown, Marriott locked on an armbar that looked to be deep.  Warren, instead of spinning out of it, used a brute force escape by lifting Marriott off the ground.  In the last 30 seconds of round 1, Marriott locked in a triangle choke that again looked like it could finish the fight, but Warren waited it out, sitting in the triangle like a lame duck until the bell sounded to end the round.  Warren was in top position nearly all of round 1 but I gave the first round to Marriott for attempting to, and nearly finishing the fight with his submissions.
In both round 2 and 3, Warren went unhindered with his takedowns and proceeded to lay a beating on Marriott.  There wasn't much resistance in terms of submissions the rest of the way and Warren wound up winning a unanimous decision.  I think Warren has a lot of skill with his wrestling and clinch but he's still very raw.  This was only his 4th professional fight and it looked like it in terms of all-around skill.  If he wants to win this tournament he's going to have to improve his submission defense because he looked lost out there when Marriott had him in the armbar and triangle.  It's not easy to be great at MMA when you are still so one dimensional, even if that one dimension is very good.
I was very eager to see the next fight, a first round lightweight battle between Roger 'El Matador' Huerta and undefeated Chad Hinton.  Huerta was by far Bellator's biggest signing for their tournament and he needed to deliver here to live up to the hype behind him.  The first round was very competitive as Hinton showed no fear of Huerta in either the stand up or the ground, working his knees in the clinch and taking Roger's back after a takedown.  Huerta took the round though when he staggered Hinton after a very nice straight right.  Roger poured it on as the round ended with a very nice ground assault.
The second round was all Huerta as he got an early takedown and really started beating up on Hinton.  Hinton appeared to wear down as Roger bloodied him up a bit and kept improving his position, nearly ending the fight in the last minute of the second with some serious punches from on top.  Dominant second round by Huerta, easily scored 10-8 in my eyes.   As the third round started, Huerta pressed forward with some nice striking.  Hinton spun around to take his back but Huerta counters with a beautiful somersault reversal.  When Hinton let go and Huerta latched on to one of his legs, forcing a submission via kneebar in the first minute of the third round.
I thought Roger Huerta performed very well.  His conditioning was in tip top shape and he really got stronger as the fight moved into the later rounds.  He had a ton of pressure to perform well and he delivered.  If he wasn't already, he should be the clear favorite to win this tournament and get a shot at Eddie Alvarez's lightweight title.
The last fight of the night was another lightweight bout between Carey Vanier and Joe Duarte.  Duarte was a last minute replacement for Janne Tulirinta, who couldn't make into the US this week with visa issues.  The announcing team joked that it was a stoppage by beaurocracy.  Duarte had to drop 15 pounds in two days to make weight for the fight, so conditioning was likely going to be a factor.  Vanier started strong with some very nice leg and body kicks before getting multiple takedowns.  His second takedown was a very nice slam, but Duarte got it back to standing and fought back with some knees to the body in the clinch.  The second round started out very close with Duarte trying to land punches and even getting a takedown but Vanier stood back up and landed a takedown of his own followed by some nice hammerfists.  As the round finished, Duarte tried to lock in a kumura but he couldn't gain enough control of Vanier's wrist to get his arm behind his back.
In the third, Duarte looked noticeably tired as Vanier started pouring it on.  Vanier really started punishing Duarte on the ground, powered through a last gasp guillotine attempt from Duarte and eventually forces a stoppage after Duarte stops fighting back from the constant assault of punches and hammerfists from above.  I thought Vanier looked pretty good out there, his striking was decent but it was his takedowns and ground and pound that sealed the deal.  If he can be successful at getting the fight to the canvas, he'll have a shot at making a run in this tournament.
All in all it was a very exciting first night of fights for Bellator, and I can't wait for next week when we get to do this all over again.