2008 New York Pro Review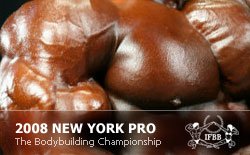 The last Saturday was a big day, as on May 10 another IFBB shredded bodies battle took place in New York – 2008 NY Pro. It included the 202 and Under Show, Women's Bodybuilding and Man's Bodybuilding. Here are the results of this fantastic event and some great photos of it.
The 202 and Under Show
This competitions involved 16 competitors, who strive for qualifying for the 202 and Under competition at 2008 Olympia, where the new show 202 and Under Class will be added. Here are the top five in this show:
5. Roc Shabazz,
4. Charles Dixon,
3. Jason Arntz,
2. David Henry,
1. Kevin English
Kevin English demonstrated a better physique, than David Henry, much wider as well, this is why he appeared as the best of this show, according to the judges at least.
Man's Bodybuilding
Among men there were the following top five competitors:
5. Craig Richardson,
4. David Henry
3. Ronny Rockel
2. Kevin English
1. Kai Greene
In spite of the fact, that Kai Greene was sick before the competition and was even recommended not to enter the show, he demonstrated perfectly toned muscles and was very well balanced, so, nothing could even hint at his recent disorder. He was the best one.
Women's Bodybuilding
There hasn't passed much time, since the Women's Bodybuilding has been held as part of this event. This was a great show. Here's the top five women in this show:
5. Debbie Laszewski,
4. Dena Westerfield,
3. Rosemary Jennings,
2. Jeannie Paparone,
1. Cathy LeFrancois
Cathy LeFrancois looked sexy and demonstrated a perfectly balanced physique at the show. Her great condition brought her the victory. She is strong, but still very feminine looking.
Image source: bodybuilding.com
Related Articles on SteroidsLive: