Yosiyuki Yoshida Is Greatful And Confident For His Upcoming Fight With Josh Koscheck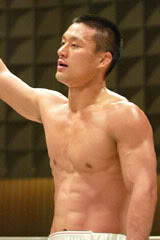 Yoshiyuki Yoshida is looking forward to his upcoming fight with Josh Koscheck at UFC's Fight for the Troops on December 10th. This will only be Yoshida's second time in the Octagon, but he is getting a more than generous chance to make a name for himself in MMA. A win over a top 5 Welterweight like Josh Koscheck is sure to be heard around the world. It is very humble, grateful, and surprisingly confident about this match up. Here are some quotes from Yoshida in a recent MMA Weekly interview:
"First of all, I would like to say thank you to Josh Koscheck for taking this fight," Yoshida stated. "Ever since I was told that my next opponent is Koscheck, for the past two months or so, I have been training thinking about just fighting Koscheck. Physical strength, wrestling, and boxing – I believe, in those departments, Koscheck is better than me, so I have been working hard on that."

"Ever since I signed with the UFC, I am ready to fight anybody. For me this is nothing but a huge opportunity," said Yoshida of facing Koscheck. " I would like to use my brain to fight. By utilizing (my) opponent's strength to win the fight, that is the magical formula of judo."

"I really appreciate this opportunity UFC has created for me, but this fight is a headliner because Koscheck is a very popular fighter," Yoshida commented. "And of course, he is one of the Top 10 welterweights in the world, and I am sure most people won't even think about me winning this fight. But I am telling you this now, you are going to be surprised by the outcome of fight!"
Keep you eyes peeled for Yoshida. He's hungry for the win and seems to know both Koscheck's and his own strengths and weaknesses. Josh Koscheck on the other hand, is coming off a recent loss to Thiago Alves which is always tough for a fighter. A win by Yoshida would be a huge boost up to the higher ranks of the UFC. Mean while another loss by Koscheck could be very damaging to his career.