Who Can Bring Down The "Last Emperor"?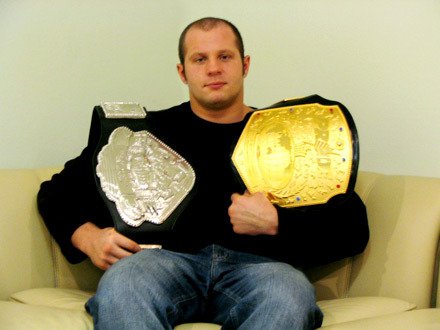 Coming off a stunning knockout against one of Russia's most dominate fighters, Fedor Emelianenko looks to be unstoppable in his weight class. He has only lost once due to a cut, and that was in 2000. Twenty-six more fights and nine years after his first and only defeat, Fedor looks like he is the best pound for pound heavy weight fighter. Even his decision victories have been unanimous, defeating amazing athletes like Mirko Cro Cop and Antonio Nogueira (twice).
So who, in my opinion, can defeat Fedor? If you're thinking Brock Lesnar, you're wrong. Lesnar is simply a hyped up fighter to garner profit from the wrestling community. Therefore, the only man that stands a chance in defeating Fedor is Frank Mir. Mir has knocked out Nogueira, submitted a giant (Lesnar), and crushed practically every opponent I've seen him fight.
The only way for this meeting to take place between Mir and Fedor, however, is if Affliction goes under, which according to Dana White is in their future. Fedor will then be forced to sign with the UFC and fight the Hulk (Lesnar). Lesnar will get absolutely destroyed by Fedor, and the real heavy weight champion, Frank Mir, will pull out a victory via decision against Fedor. That's my prediction for the future of the MMA heavy weight division. If Mir fails, or Lesnar is unable to win due to some fluke, then Fedor in the heavy weight division will be like Faber in the feather weight division and GSP in welterweight division; unstoppable. Until Fedor signs with the UFC, the emperor will continue to reign in the other MMA venues at heavy weight.